African fishmeal factories under fire
Due to concerns over the pollution they generate and the impact they have on local forage fish stocks and the fishermen who traditionally rely on them, in the last few weeks, fisheries representatives and environmental activists in Mauritania, Senegal and Gambia have been complaining about the effects of foreign-owned fishmeal factories.
Despite the fact that West Africa has been hit hard by illegal, unreported and unregulated (IUU) fishing, a number of nations are promoting the exploitation of their remaining fish stocks to produce fishmeal for export to fish and other livestock farmers, mainly in Asia – a trend that is facing an increasing backlash.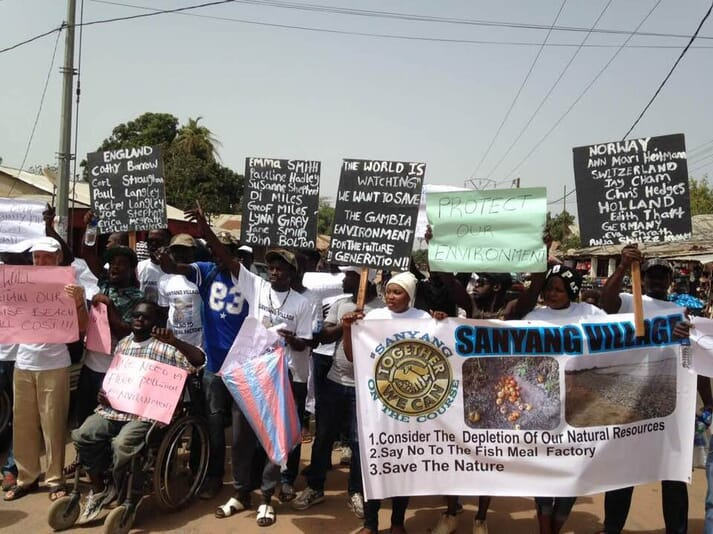 In June, Gambia's Parliamentary Select Committee on the Environment ordered the closure of the Nessim Fish Meal Factory, located close to the beach at Sanyang, after it was confirmed that it was operating without a waste treatment plant and discharging waste products directly into the sea. Prior to this, in June last year, the company paid a $25,000 bond in an out-of-court settlement, after the Gambia National Environmental Agency had taken it to court for bad waste management practices. And last month, demonstrations and media wars took place between Golden Lead, a Chinese-run fish feed factory with plants located in Gunjur and Kartong, and local residents backed by environmental activists.
For many Gambians, fishmeal factories are threatening their economic survival, because the discharge of waste, the foul stench and the emission of smoke are already affecting the tourist industry. Tourism is the main employer and foreign exchange source for Gambia, with most European visitors attracted by the white, sandy beaches and beach-front hotels.
Meanwhile, in the town of Nouadhibou in next-door Mauritania, where there are 32 fishmeal plants, many of the 120,000 population are incensed by similar discharges. Equally, in Senegal, there is increasing concern among local populations about the operations of 12 foreign-owned fishmeal plants.
Fish stock concerns
As well as the pollution issue, there is also a concern that stocks of shad (known locally as bonga) and sardinella, major food sources in the region, are suffering due to their use in the fishmeal factories. Large industrial trawlers owned and hired by the fishmeal companies are threatening the long-term availability of fish. Matters are worsened by the fact that artisanal fishermen prefer selling their catches to the fishmeal factories, risking the livelihoods of thousands of female fish processors who traditionally rely on smoking, drying and salting these fish.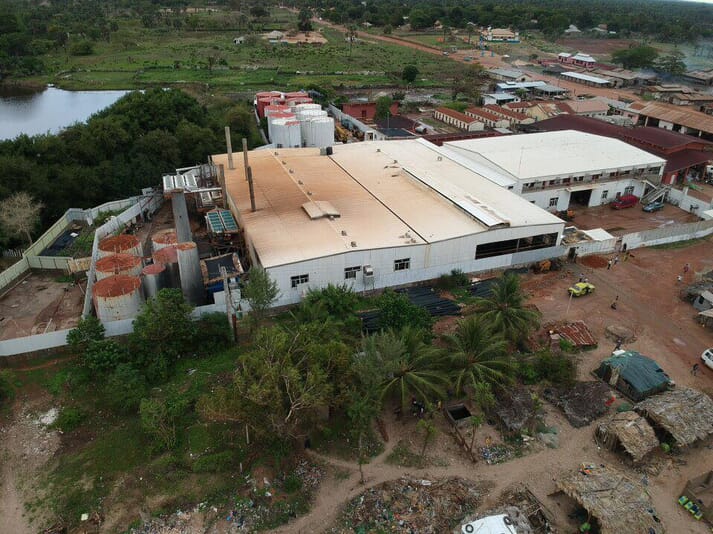 West Africa's coastal resources have experienced more than a decade of IUU fishing by large foreign vessels, and overfishing by both local and foreign vessels. Under the World Bank-sponsored West African Regional Fisheries Programme, countries from Mauritania to Ghana are being assisted to develop and implement better management systems to restore fish stocks in the long term. There are also some aquaculture projects in this programme, which aim to enhancing fish output in the short and medium term. In Ghana such projects include the $53 million Dam Restocking programme, which is bringing fish production to 300 reservoirs and dugouts and offering training for pond and cage farmers.
Inefficient
Meanwhile, there are concerns about the efficiency of the fishmeal industry, with 4-5 kilos of forage fish typically used to produce 1 kilo of fishmeal. As a result, activists are asking governments to encourage these fish to be used directly for human consumption, and only allow the use of fish byproducts for fishmeal. Indeed, the Thai Union-owned Pioneer Food Cannery and the Thunnus Overseas Group's plants in the Ivory Coast, which export their products mainly to Europe, process their waste products into fishmeal for sale to local poultry and fish farmers. However, a Chinese investor operating in Mauritania dismisses this suggestion as currently unrealistic, due to the huge investment involved in setting up the fishmeal plants.
According to the IFFO, African countries contribute significantly to global fishmeal supply. Morocco is the largest producer with 84,000 tonnes, followed by South Africa with 69,000 tonnes, and Mauritania with 62,000 tonnes, Angola with 21,000, Mauritius with 13,000 and Senegal with 9,000. Angolan President Joao Lourenco aims to increase fishmeal production to 30,000 tonnes within six years, as he attempts to limit the country's dependence on oil exports.
As a result of such attitudes companies such as Golden Lead in Gambia, Flash Africa in Senegal and the Hong Dong Group in Mauritania are likely to continue to produce more fishmeal to fuel aquaculture in China and other Asian countries and Mauritania, for example, exports 43,000 tonnes out of 62,000 tonnes of its fishmeal to China.
However, protests against their operations are likely to increase and Nana Kofi Mensah, leader of a group of migratory Ghanaian fishermen who ply their trade all over West Africa, believes that authorities in the three countries should act quickly to avoid the depletion of shad and sardinella, as happened with anchovies in Ghana.
"Anchovies were more than abundant along the coasts around Ghana. Poultry and livestock farmers depended solely on anchovies. But today, we hardly catch any anchovies at all. They have vanished from our coast. The people of Guinea Bissau, Mauritania, Gambia and Senegal depend heavily on bonga and sardinella. Governments must act quickly to avoid trouble," he says.