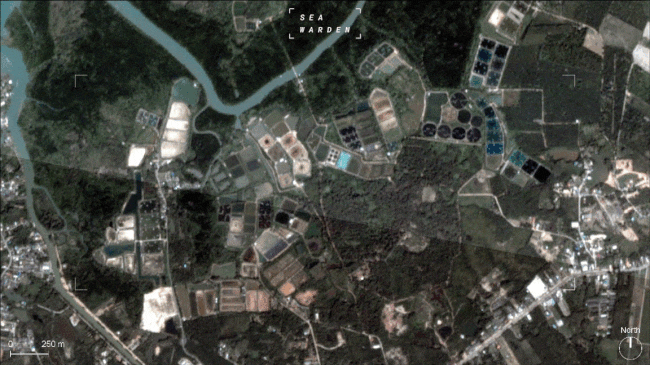 Controlled intensification

In September 2020, WWF published Future Proofing Shrimp Production, a policy guide summarising the shrimp farming sector as: "largely characterized by unindustrialised producers and unsustainable practices. It requires the use of natural resources that can, without proper management, result in negative impacts, such as natural habitat conversion, water pollution, over-exploitation of marine fisheries for fish meal and carbon emissions associated with electricity and farm fuel."

The guide identified controlled intensification as a solution to making shrimp farming more sustainable. Intensive production systems produce higher amounts of shrimp per land area by using more precise methods, and with responsible practices can reduce impact to local water quality and disease risk by minimising farm interaction with the external environment. However, shrimp farming is dominated by smallholder producers who lack access to formal credit necessary to adopt more intensive production methods.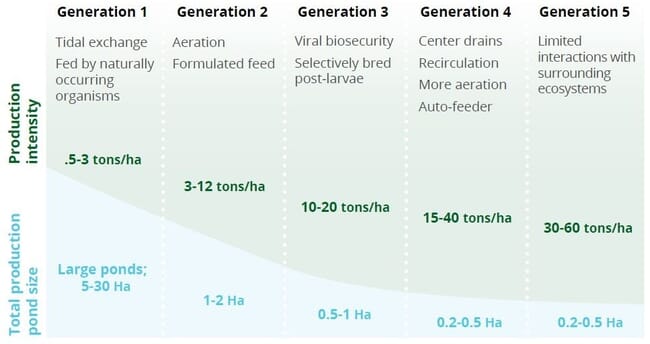 Challenges

To accelerate the transition to controlled intensification, WWF identified intentional direction of capital to shrimp farms as a key driver. While investments have the potential to generate high returns, there are major challenges, including the fragmented and sometimes remote distribution of farms, and limited data on production and financial performance. These issues complicate the identification of suitable farms and increase financial risk to the lender. These issues raise several considerations:

Can we reduce the cost of conducting due diligence to enable deployment of investments to smallholder farms at scale?
How can we ensure investments are used properly and help farmers follow responsible production practices?
How can sustainably produced shrimp be traced through the supply chain to maximise outcomes for both farmers and consumers?
The solution
Remote monitoring technologies, including satellite observations and mobile phone data collection, can address the data challenges that are currently preventing the successful delivery of capital needed to fund sustainable shrimp farming practices.
SeaWarden's* solution is to provide a framework where remote monitoring plays a key role in every step of the acceleration process: from finding farms suitable for investment, to farmer onboarding, to production and portfolio monitoring, to supporting traceability through the supply chain.



Phase 1: farm selection
We plan to identify ideal farm candidates by analysing satellite observations, weather data, official production records and other forms of big data. Historic datasets spanning many years provide a deep understanding of farming practices and performance. Key data elements (KDEs) generated by this process classify ponds based on eligibility criteria defined by the impact financier.
Phase 2: onboarding farms
Contact with eligible farms will be made by collaborators based in the area. To apply, interested farms need to provide additional information using their mobile phones. KDEs that cannot be collected by satellite observations are then verified by photos and videos submitted by the farmer. By combining historic observation data with farmer-submitted information, we generate digital farmer profiles that enable impact financiers to conduct their due diligence process.
Phase 3: deployment of funds and resources
The impact financier then releases funds to selected farms, with the stipulation that these funds are used to make specific farm improvements – such as the installation of automatic feeding devices, plastic pond liners, construction of water treatment and settling ponds. Depending on the agreement, resources can be deployed as a combination of funds, equipment, feed credit and technical support. Afterwards, farm improvements and purchases are verified by remote monitoring.
Phase 4: responsible production and portfolio monitoring
Ongoing satellite observations and farmer submitted production data ensure that production adheres to responsible aquaculture production standards. Remote monitoring data is analysed in real-time, supporting farmers with management advice, market insights and early warning of disease events in their area. Remote monitoring also enables impact financiers to efficiently monitor many farms within their portfolio, and provide additional resources when needed.
Phase 5: post-production transparency and traceability
Having production records collected through remote monitoring greatly simplifies the audit process for certifications provided by programmes like ASC and BAP. These globally recognised certifications boost brand recognition and improve access to markets with stricter sourcing policies. Furthermore, by integrating remote monitoring data into existing traceability platforms, we can enable pond-level traceability through the supply chain, a major benefit for retailers and consumers.
A closer look at remote monitoring
How does remote monitoring work? Our approach is powered by satellite observations from commercial and open-source platforms, and information submitted by farmers using mobile phones (verified by geotagged photo and video evidence). Our approach enables us to detect and monitor millions of ponds, located anywhere in the world. We acquire new observations weekly and combine them with historic datasets that extend several years into the past. By using purpose-built AI to automate the analysis process, we are able to develop a deep understanding of shrimp farming practices and performance – at farm, regional and global scales.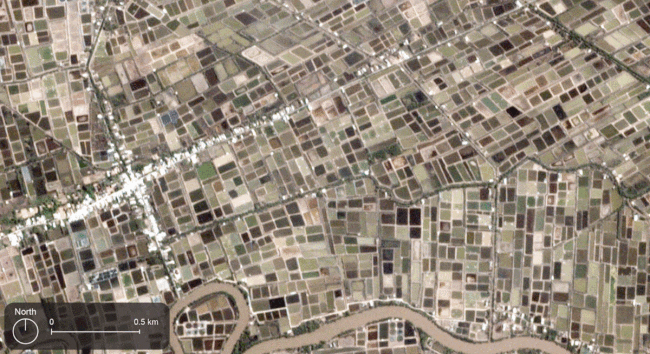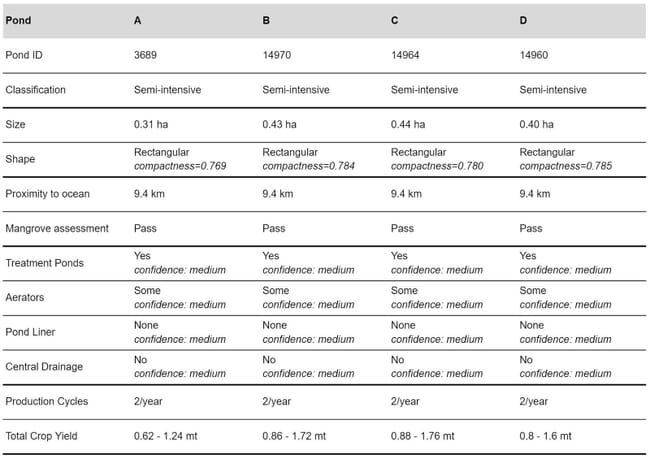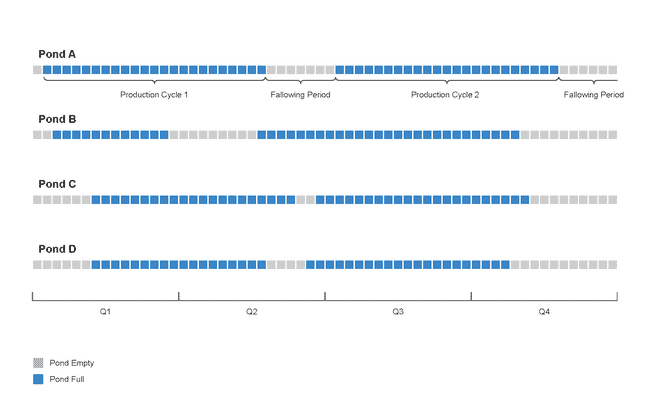 Chatbots and mobile messaging platforms for farm data collection

The wide adoption of mobile phones enables farmers to share additional KDEs that are verified by geotagged photo and video evidence. Using regionally popular messaging platforms – like WhatsApp, Zalo, Viber, and LINE – is an effective method for collecting additional verification data. It also establishes a communication channel, enabling farmers to receive advice on operations, market insights and early warning of local disease events.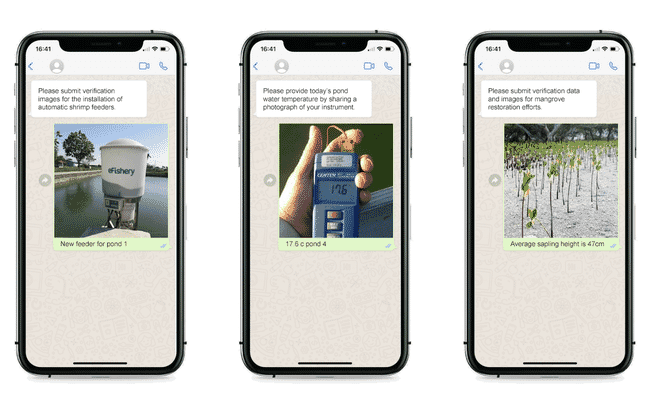 Cost

By focusing on economies of scale and automation, we offer region-scale assessments at USD $5 per square kilometre, and farm site monitoring for USD $10 per month, per farm. Low-cost remote monitoring can accelerate the transition to sustainable shrimp farming practices by benefiting every stage of the acceleration process: customer discovery, due diligence, production and portfolio monitoring, compliance, and supply chain traceability.
Implementation
Impact Financiers
By providing remote monitoring as a service, we can scale-up existing aquaculture-focused investment programmes while improving returns on investments. We make impact financing as simple for the financier as possible. All they need to do is: 1) select a region of interest, and 2) define their criteria for funding eligibility. Companies like Indonesian-focused eFishery are optimised to accept investor funds, and deploy them successfully to eligible farms.

Local support
The success of impact financing relies on having local support on the ground to conduct farmer onboarding, training, and provide technical support. In the Indian state of Gujarat we are trialling our remote monitoring approach with MVJ Group, a company that provides inputs, operation support and export services to hundreds of shrimp farmers in the region. In Indonesia and Vietnam we are working with ThinkAqua, an NGO focused on improving the welfare of the region's smallholder aquaculture producers.


Certification programmes
Globally recognised certification programmes, such as the Aquaculture Stewardship Council (ASC) and Best Aquaculture Practices (BAP), understand the value of using remote monitoring to support annual audits and to make certification more accessible to smaller scale producers. This year Sea Warden is partnering with ASC to trial remote monitoring to support improver programmes that will accelerate smallholder farms' bids for certification in Indonesia and Vietnam.
Traceability technology
Tamper-proof data systems powered by blockchain technology can enable farmer-to-consumer supply chain traceability. Our partners at Envisible have demonstrated the use of their platform Wholechain in supporting smallholder agricultural and seafood producers. By appending remote monitoring data into systems like Wholechain, the level of transparency reaches new levels: every crop sold can be traced back to the farm of origin and it can be verified whether the farmer followed responsible production standards.

What is the full potential for remote monitoring?
This article has covered why impact investing is critical to accelerating the transition to sustainable shrimp farming practices, and how low-cost remote monitoring can scale up impact investing efforts, while supporting certification and traceability efforts. However, remote monitoring can provide additional solutions for the shrimp farming industry:

Feed and other input suppliers: optimising feed production and distribution by tracking regional production activity.
Equipment providers: identification of sales opportunities using farm-level equipment surveys and growth trends.
Conservation: scaling up farm-level social and environmental improvement efforts while enabling area-based assessments.
Government: farm permit tracking, detection of disease events, and validation of production statistics.
Further information
Sea Warden is seeking partnership opportunities with businesses, NGOs, and government organisations and can be contacted via seawarden.io/contact
*SeaWarden is one of Hatch's portfolio companies, but The Fish Site retains editorial independence.