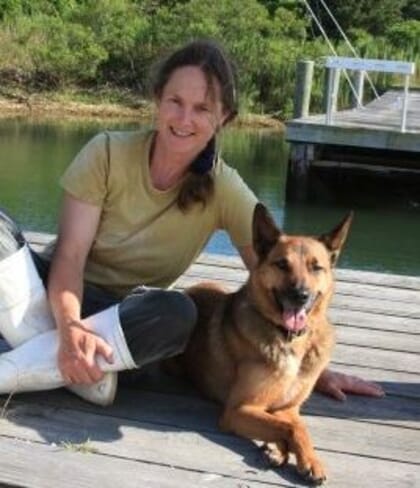 Groton, Connecticut
I met oyster farmer Karen Rivara and hatchery manager Danielle Buttermore at the Noank Oyster Cooperative in Groton. It was raw and raining outside as I walked into the building that serves as the oyster broodstock and spat production facility: the space for processing and storing harvested oysters, and storage for a small group of farmers operating in the local bays and estuaries.
Buttermore's enthusiasm for the work is infectious. She attended the Marine Science Magnet High School of Southeastern Connecticut nearby and has been with the co-op since 2016. Currently a student of the University of Connecticut graduate school, she oversees the production of over 10 million spat, as well as cultivating algae for feed in a separate room. There is no glamour in what she does. The work is multi-faceted, dirty, technical and requires practical problem solving at every turn.
"I have always been interested in aquaculture and was part of an aquaculture programme in high school. My father worked in septic services, and my brother is in plumbing, so it makes a lot of sense. My whole family is 'hands-on' and we all work with water," she explains.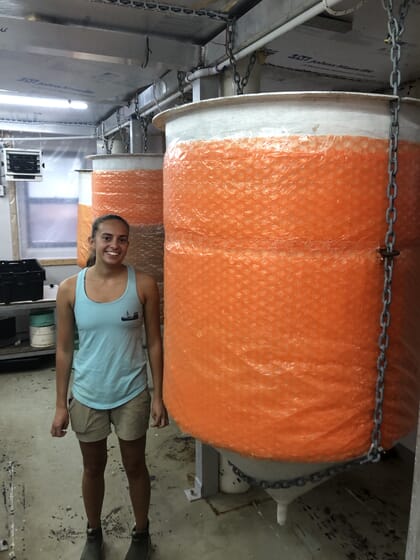 Every step of the process is under continuous improvement – from how the spat grow-out tanks get cleaned, to the best setup for the broodstock flow-through tanks. She possesses a skill set that can only be captured by hands-on experience. Her expertise encompasses a difficult range of skills to capture in a typical college programme: plumbing, feeding, algal cultivation, shellfish biology, broodstock health, process improvement, data management, quality assurance and genetics.

The oysters from the Noank Oyster Cooperative are bottom cultured in the area by five separate farmers, each with their own leases. The natural oyster population was devastated, mainly by pollution and over-harvesting to feed the appetite of New York City, which is just a few hours to the west. The different leaseholders practice both single set and reef structures.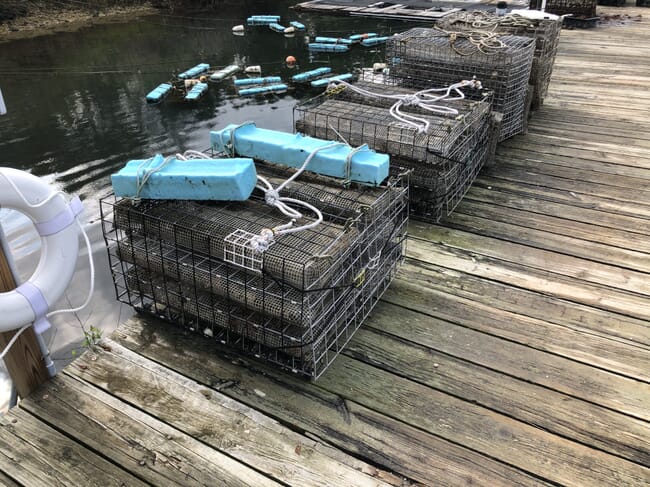 Social acceptance is a key term used by Rivara, in particular for her Groton operations.

"Over there at Ram Island we have a separate lease to allow the market size oysters to depurate in the more open waters to prepare for market. The Groton Shellfish Commission works with us very closely and supports our work. One of the wastewater treatment facilities on the Mystic River has installed UV treatment equipment because they knew that we operated in the watershed. A group from Connecticut SeaGrant has work going on some of our oysters and their ability to filter feed and clean water. Social acceptance is a huge part of our success here," she says.
Long Island, New York

The next day I met up with Rivara across the Long Island Sound, on a plot belonging to the Peconic Land Trust, which is nestled on the edge of North Fork wine country. This is where she manages the spat production in a small greenhouse facility, with space underground. This land was set aside by the trust specifically for aquaculture uses, and Karen provides the spat to just over 20 leaseholders in the Peconic Bay and surrounding areas. The leases here are smaller and the farmers all use cage culture.
"There are a different set of pressures here," Rivara explains. "There is competition on the water with the traditional baymen of New York and with recreational boaters. Property along the water is in high demand and that can limit access to working waterfront. It can be difficult for people who want to work on the water."
A small enclosure was dug out on the trust land and then later opened to the bay to provide a man-made marina, working pier and makeshift nursery and shellfish incubator. The setup was a result of the work of the previous owner on this land, the Plock family's Shelter Island Oyster Company. Without this resource, preserved by the trust, it is hard to look out over Great Peconic Bay and the beautiful homes packed along its shores and imagine where this group would be able to operate.
The history of oysters in this part of Long Island is foundational to the region. Greenport, NY on the north fork was a centre for activity in the oyster harvest to supply restaurants and markets all along the island into Manhattan. The crash in the industry is the stuff of legend. After years of over-fishing and development on Long Island, what once was a prized natural resource disappeared from these waters and had to fight to hold on.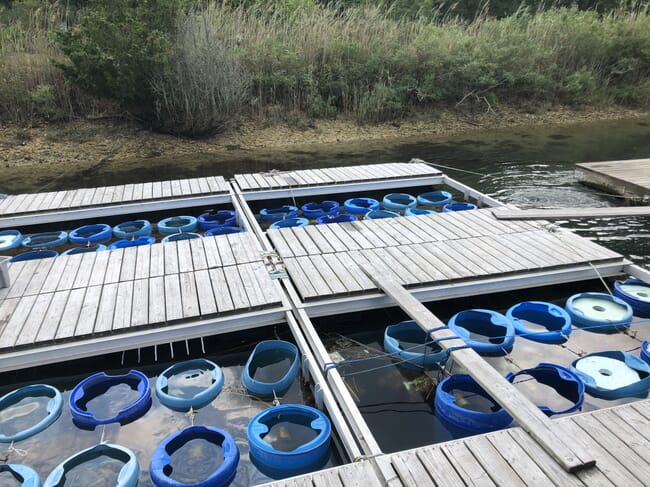 "We as farmers just can't satisfy the demand in the market with wild harvest any longer," Karen laments. Shoreline development and pollution, along with sedimentation from erosion and increased runoff, don't allow the oyster populations to rebound as they once might have. There are numerous initiatives and projects that are working to restore these waters and bring these resources back. Here in New York the list of partners that she works with includes well known groups such as the SPAT program through the Cornell Cooperative Extension, the Billion Oyster Project, and smaller initiatives like the Friends of Bellport Bay.
Self-taught skills

Rivara got her start in 1983 at the Shinnecock Hatchery on New York's Long Island and by 1994 she was experimenting with a homemade hatchery in her basement at her house in Shirley, New York.
We talk for hours about the hatchery operations and the myriad of different setups and experiments that have been tried. Every foot of the shoreline has a story to tell about the working waterfront heritage here, and change. She has dozens of people counting on her and it is hard not to be impressed by the amount of boards and committees, equipment, timelines and issues being juggled and managed by her team each day.
"We just can't naturally harvest and sustain the species and environment anymore. Farming the way that we do in Connecticut and New York is sustainable, and it's a good thing," Rivara reflects. "It's emotional. You know that you are doing something good by providing the environmental benefits of filter-feeders and working to help restore the environment."
Looking out over the water, she confesses: "Farming is an addition. You aren't going to get rich doing it. But I love it."