"A significant step for disease management" in the salmon sector
A new service that automatically alerts salmon farmers to non-notifiable diseases – such as pasteurellosis, CMS, AGD – in their area has been launched by Manolin today.
According to the startup, this is the first and only available system to notify farmers about the risk in their area of non-notifiable diseases – which are not currently tracked by Norwegian government regulators.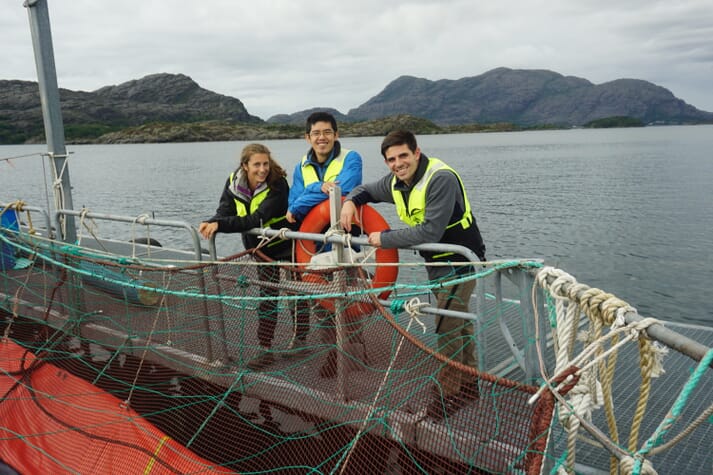 "Outbreaks of these diseases are growing and pose a huge threat to the industry. We're excited to let farmers instantly share critical disease information within a secure farmer-only network. This will give farms more time to plan biosecurity measures that can minimise the impact of these diseases for their area and the entire industry," said Tony Chen, co-founder and CEO of the data analytics startup, in a press release.

Manolin's* industry member data shows that non-notifiable diseases caused fewer than 1 percent of total mortalities from 2012 to 2016, but increased to 10 percent in 2019 and 9 percent in 2020. So far in 2021, non-notifiable diseases have comprised 7 percent of total reported mortalities.

According to a Norwegian Veterinary Institute 2020 report, "The Health Situation in Norwegian Aquaculture," the number of localities diagnosed with cardiomyopathy syndrome (CMS) more than tripled between 2010 and 2020, from 49 to 154. The annual survey of fish health personnel and Norwegian Food Safety Authority inspectors found that CMS was considered the most important mortality-related problem in farmed salmon in 2020. There has also been a concerning increase in outbreaks of pasteurellosis since 2017.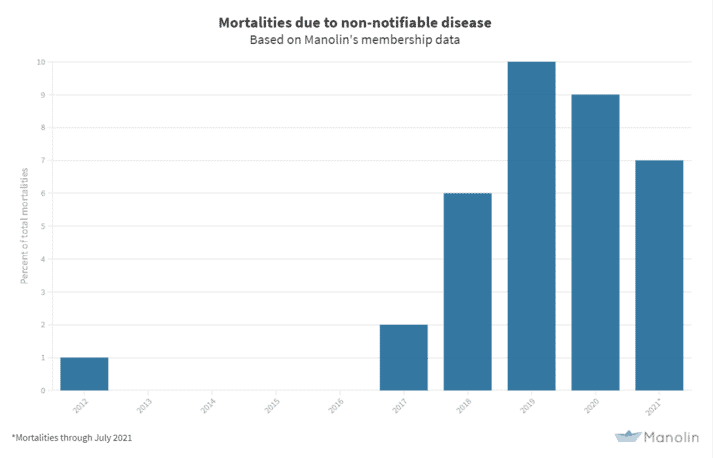 "We are excited about this update and believe it's a significant step in disease management for this industry. For us, having a way to securely share relevant disease information within the network means we not only have more time to prevent the disease, it also allows others in the area to do the same," says Kristian Botnen, CEO of Lingalaks.
Along with new disease alerts, Manolin released new benchmarking tools and geospatial analysis on its platform today. Users can create a free account at app.manolinaqua.com to explore current and historic disease, lice and treatment data in their area.
*Manolin is part of Hatch's investment portfolio, but The Fish Site retains editorial independence.