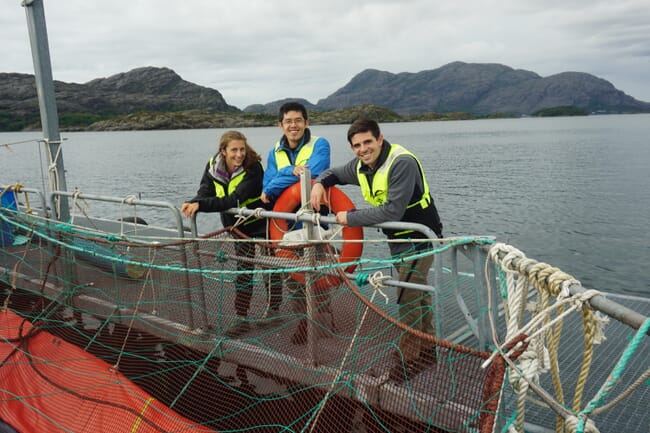 The new version is now able to predict the onset of ISA too, having previously been used primarily to forecast the likelihood of a PD outbreak. According to the Norway-based startup, the latest version of the software has been shown to have a prediction accuracy level of over 93 percent.

Manolin's platform automates farm data collection, analysis and insights - offering the only commercially available disease forecasting tool for fish farmers in Norway. The company's machine learning models power this by filling the gaps in existing farm and industry data and forecasting risk of PD for farmers, through both a dashboard and daily email alerts. The ISA prediction model will now be included in the existing dashboard and alerts.
"This is a true breakthrough moment for our company and the industry as a whole. The last few months have been a culmination of many years of work – integrating numerous data silos, filling the gaps in industry data, expanding on academia's disease research, and making it accessible for all farmers with user-friendly software," says Manolin* CTO and co-founder John Costantino, in a press release.
Manolin's machine learning models are powered by millions of data points – including live disease outbreak reports, oceanographic forecasts, marine sensors, boat traffic, marine activity across all of Norway's 600 active farms – and more than two decades of historical data.
Tore Holand, who is board member of several Norwegian fishing farming companies, said: "It's important for the industry to continue to raise its standards. Manolin has built a tool that doesn't replace, but works with, farmers' experience and expertise. With these types of insights, farmers can keep finding new ways to rethink their processes and improve. To be a part of the future, one needs to keep up with the technological advances."
Manolin's customers represent some of the most innovative and sustainable farms in the world, including Kvarøy Fiskeoppdrett, Lingalaks, Firda and Hofseth Aqua.
The company currently has 257 platform users, while five companies – with 50 farm sites – are on its essentials tier.
"Right now, we're working with Norwegian salmon farmers, but we see this technology having the potential to help farmers across all species and countries down the line," said a spokesperson for the startup.
Manolin raised 8 million kroner (£679,000) in the autumn of 2020 from Boost VC, Hatch and Innovation Norway, and the team recently grew its fish health and engineering teams. The company is currently expanding its advanced forecasting tools to include feeding, growth rate and mortality models for farmers.
*Manolin is part of Hatch's portfolio but The Fish Site retains editorial independence