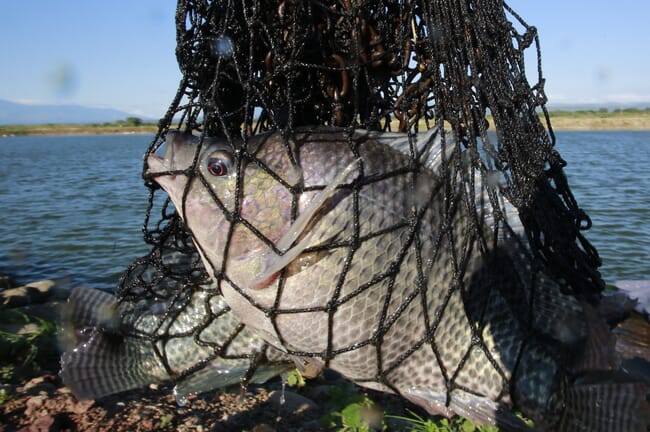 JDE Peet's new global policy, which Lever Foundation helped the company draft, will require fish suppliers to avoid high stocking densities, use less-cruel slaughter practices, and regularly monitor for water quality and disease. More specific parameters and requirements in each of these areas are being further developed and shared directly with the company's suppliers.

The policy will cover the over 100 countries JDE Peet's operates in, with the fish welfare requirements primarily impacting the company's 230+ OldTown restaurants in Malaysia, China, Singapore and Indonesia, which feature fish as a staple menu item.
"By 2025, we will require all direct suppliers of farmed fish ingredients for our products to perform regular monitoring of water quality and disease, avoidance of high stocking densities and humane slaughter practices," the policy states.

"Like our customers, JDE Peet's is concerned with the welfare of farm animals used in the group's supply chain and is committed to improving farm animal welfare across our global supply chains," JDE Peet's announced in its updated policy. "We require our direct suppliers of ingredients from animal origin to engage in continuous improvement to promote better standards in quality, safety and animal welfare respecting the Five Freedoms."
"Lever congratulates JDE Peet's for improving the welfare of fish along with other farm animals throughout the company's global supply chain, including in China and Southeast Asia," said Kirsty Tuxford, Corporate Engagement Manager at Lever Foundation, which worked closely with JDE Peet's on drafting its new guidelines. "We hope other leading food companies will follow JDE Peet's example in comprehensively addressing fish welfare across global operations."
JDE Peet's new policy will also end the use of eggs from caged hens; require chicken suppliers to adhere to Global Animal Partnership's standards on stocking density, enrichment and litter; and require beef suppliers to prohibit tail docking and castration without painkillers and provide sufficient enrichment and litter.
"Lever Foundation was very helpful from the beginning of our collaboration," noted Jacek Szarzynski, Partner at JAB Holdings, the German parent company which owns JDE Peet's as well as brands including Krispy Kreme, Panera Bread, Caribou Coffee, Einstein Bagels and Pret A Manger. "By introducing Lever's insights into the regional supply chains of our portfolio companies, they quickly accelerated the path."
A growing number of companies have begun to address fish welfare in global supply chains. Unilever, Tesco and Nestle are among the international food leaders who have added fish to their animal welfare standards.