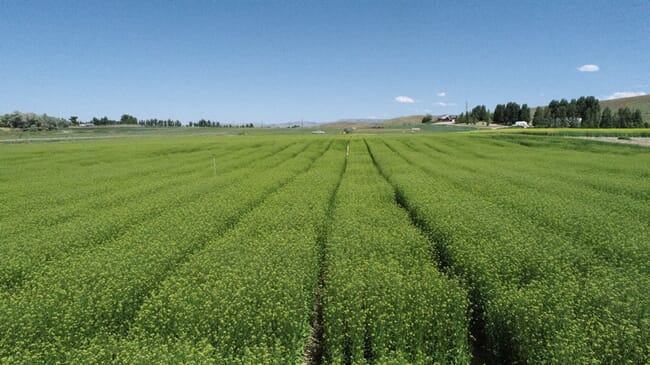 The US-headquartered bioscience company has applied for a Regulatory Status Review (RSR) with USDA-APHIS Biotechnology Regulatory Services (BRS) under the SECURE Rule for proprietary elite camelina varieties containing genes enabling the plant to produce the eicosapentaenoic acid (EPA) component of omega-3 oil.

Once a specific plant developed through genetic engineering is found not to require regulation, new varieties of the plant containing the same genetic modification would similarly not be regulated.
EPA is a polyunsaturated fat (PUFA) that is primarily supplied in the human diet by the consumption of oily fish such as salmon, anchovies, and mackerel. Fish obtain EPA through the consumption of algae.
In spring 2023, Yield10 planted omega-3 (EPA) Camelina at acre-scale in the US to begin the ramp up of seed inventory for future planting as well as to produce oil for use in business development activities.
"We believe that Camelina represents an ideal platform for the sustainable, land-based production of high value, omega-3 oils targeting the significant market opportunity in animal feed and human nutrition," said Dr Kristi Snell, chief science officer of Yield10 Bioscience.
"This RSR filing is a key milestone for our team as we execute our strategy to develop Camelina for large-scale production of omega-3 oils. As we await the response to our RSR filing, we remain focused on conducting seed scale-up activities to generate seed inventory for regulatory activities and future grower contracts."

In late 2020, Yield10 signed a collaboration agreement with UK-based Rothamsted Research to support the development of omega-3 oils in Camelina. In addition, Yield10 signed an exclusive option to sign a global, exclusive or non-exclusive license agreement to the Rothamsted omega-3 technology. Yield10 has prioritised the deployment of the EPA component of omega-3 in Camelina as the initial oil profile for commercialisation. Yield10 also plans to produce the EPA component of omega-3 co-deployed in Camelina with its advanced technology for a robust trait package including herbicide tolerance. The company plans to follow this with the development of advanced EPA plus docosahexaenoic acid (DHA) producing Camelina varieties.