The Global Salmon Initiative (GSI) has 14 members, representing 50 percent of global salmon aquaculture tonnage. Established in 2013, it drove rapid uptake of Aquaculture Stewardship Council certified salmon throughout the industry, resulting in around 40 percent of the industry being certified today, including 60 percent of GSI member production.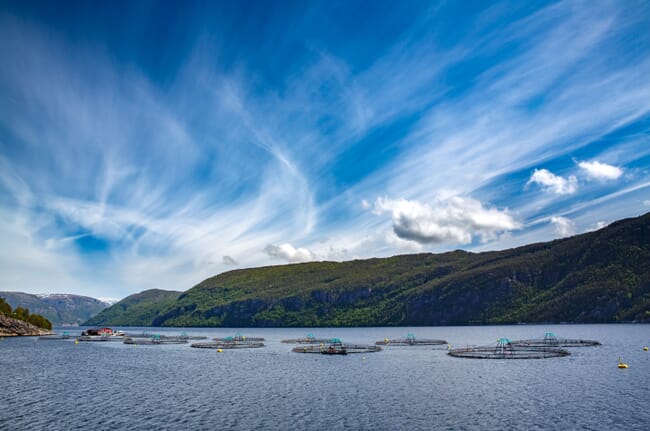 According to WWF: "GSI has enabled information-sharing relating to better environmental practices, increased trust and produced clear results among members, and shared them publicly, demonstrating that pre-competitive collaboration is not only possible but can prove beneficial to companies' bottom lines. Other industries can learn from this example how to make progress on sustainability goals collectively, while also improving reputation and saving money."

By forming the GSI, members committed to voluntarily reporting on the key indicators of sustainability performance, including metrics on fish escapes, antibiotic use, and marine ingredients in feed, among others.
And, according to WWF: "Though difficult to quantify, there is a significant perceived improvement in reputation amongst members of the GSI as a result of these efforts."
Although, WWF concedes, "it is unlikely the GSI will meet the target of full certification by 2020 (current estimate is approximately 75 percent), the progress towards certification in still considerable and significant. Several members have pointed to certification progress and collective problem-solving on sustainability issues as one of the main drivers for considering the GSI as a successful collaboration and optimal use of resources."
Disease and sea lice management are, according to WWF, among the areas in which information sharing has been most beneficial.
Disease control
"For individual companies, the prospect of finding the right non-pharmacological solutions would seem insurmountable, but with the GSI, a working group was formed to share experiences of treatments with data on their efficacy, ecological soundness and other factors, as well as accelerate the identification and development of innovative nonmedicinal approaches," says the report.
Common non-medicinal treatments for sea lice cited by the report include laser treatments, hydrogen peroxide baths, and the use of cleaner fish.
"Various companies had used these treatments individually, but by sharing insights, they learned that by rotating practices such as these three treatments, the length of time each was effective increased considerably," explains the report.
Feed efficiency
WWF notes that feed efficiency "is another key area in which the GSI has made a demonstrable impact on its members' businesses… both in terms of feed conversion ratio (FCR) as well as the amount of fishmeal and fish oil required".
"For years, the salmon farming industry had been criticized for having a high FCR, with ratios quoted anywhere from 1.5:1 to 3:1. Prior to the timing of formation of the SAD and GSI, FCR ratios were even higher, often quoted at 4:1 or more, numbers that often got cited past the timing of their reality due to misinformation. Today the feed conversion ratio has dropped to around 1.2:1, while the goal is to get down to a 1:1 ratio. It seems clear that, individually, companies would have found it hard to achieve this level of progress. While FCR was trending in this direction prior to the GSI's formation, this provides another example of industry using influence to encourage innovation at a faster pace and towards a more significant result," the report reflects.
The report also documents the reduction in the inclusion of fishmeal and fish oil in feed formulation – by 17 percent and 9 percent, respectively – thanks to the uptake of non-marine fish sources such as algal oils.
Social licence
One area that the report's authors are not able to quantify is whether the reputation of the industry has been improved or not by initiatives such as GSI.
"There is some anecdotal evidence that this might be the case, although this has not been measured by the GSI. There is more coverage of salmon aquaculture than in the past, but it appears that it may be less critical, on the whole, than previously. That research was beyond the scope and budget of this work," the authors note.
Conclusions
The report concludes that: "The need for sustainable aquaculture is no longer a question, but an important part of future global food systems. The business case for pre-competitive collaboration is a case for change at scale that would not be possible for individual companies, and which would take the market far longer to achieve without collaboration. At a time when natural resources are being depleted far more quickly than they can regenerate, and pressure on the food system mounts, the lessons learned from the GSI can be applied to other industries to enhance bottom lines and accelerate progress towards sustainability across industries and the planet. The GSI is the leading example of industry leadership in transforming an entire sector towards a more sustainable future."
The full report can be accessed here.