Hide, who has been involved in tilapia production for 12 years, is currently responsible for the technical operations of Spring Genetics hatchery in Miami. He has also been closely involved in setting up a tilapia hatchery with sister company FAI do Brazil – a facility which currently only employs women in the key husbandry roles.

Here he speaks to The Fish Site about how the growth of the aquaculture industry – and its increasingly sophisticated nature – may be helping to break down gender barriers in Latin America.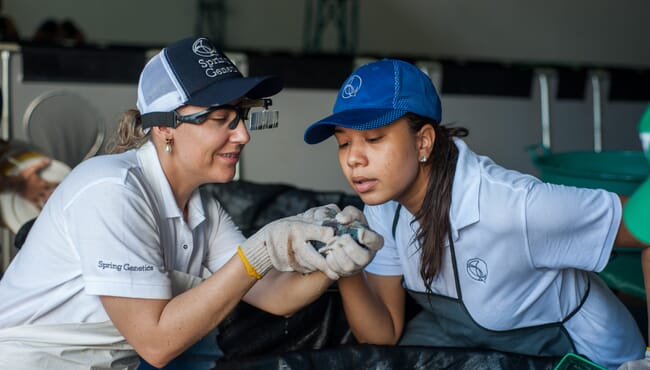 What's your impression of the aquacultural opportunities for women in the Americas?
Until recently, aquaculture on this side of the world has been dominated by men – especially in areas related to production that demand physical activities such as harvesting and hand feeding. By contrast, a high percentage of the women involved work in processing plants, while another smaller proportion work as veterinarians, in sales and in production activities.
What's the perception of women's roles in aquaculture?
The perception in Latin America is that technical or physical activities are best performed by men, but I'm involved in hatchery production and I have seen that in hatcheries women often outperform men in technical roles such as egg incubation, fish counting, disinfecting – in basically all hatchery functions women often have better results than men.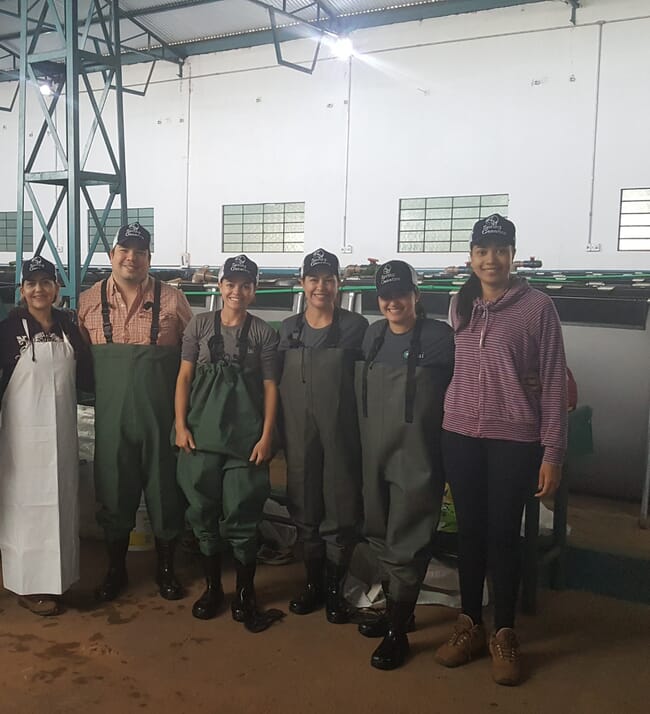 Are Spring Genetics and your sister company FAI do Brazil unusual in the region in terms of their gender balance?
Yes, I believe both are unusual and this is especially the case in FAI's Brazilian hatchery. Not many companies have only women performing all the farm activities, including those that require physical work, but the only part of the Brazilian operation that is currently done by men is the site maintenance. In Brazil we want to employ the best people, regardless of gender, but at the moment we only have very professional and hard-working women in our hatchery team.
Spring Genetics in Miami currently only has men working at the breeding nucleus for now, but hopefully we will have female colleagues in the near future.
Does aquaculture represent a good chance for women to get ahead in Latin America? And, if so, why is this the case?
I believe it does represent a great opportunity for women to demonstrate to the "macho" society that they are very capable of performing the same activities as the guys – often with better results.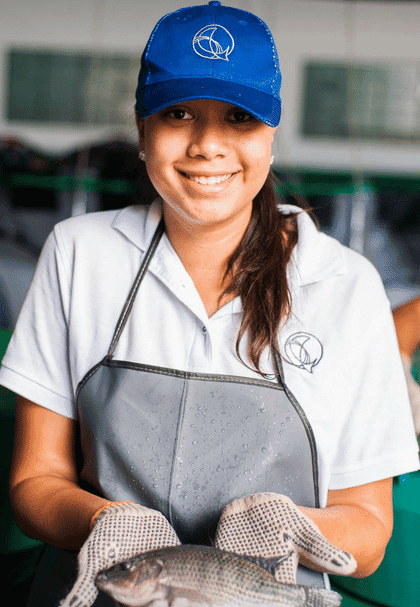 Do you think the proportion of women in the sector is likely to rise?
Definitely. I have witnessed how in different universities in Latin America the proportion of female students in aquaculture, as well as other related areas such as veterinary studies, is increasing. I've also noticed in a number of Central American countries that governments and international aid are providing training and materials to encourage women to produce tilapia and shrimp.
Do you think/hope that this momentum will be accompanied by a rise in the number women in high ranking positions?
I'm sure that this will happen in the near future, and we have several examples of high ranking women in the Benchmark Group (of which Spring Genetics and FAI are both a part). I believe that our company is setting an example in the industry.
If you had a daughter who was considering a career in aquaculture what would your advice be?
My daughter is only two months old at the moment, but if she wants to make a career in aquaculture I would tell her to prepare academically as much as possible and to look into specialising into a particular part of the industry – for example by training as a geneticist, nutritionist or vet. I'd also remind her to be prepared to get wet and muddy, as practical field experience is very important. The most crucial thing I would tell her, however, is that she should pursue a career that she enjoys.