Based in Saga city, Yukiko Furukawa established Saga-shi Gyoson Josei no Kai, or Fisherwomen's Group of Saga City, in 2000. She has been involved in seaweed farming for more than 25 years and develops and sells a variety of products while helping women become more engaged in the sector.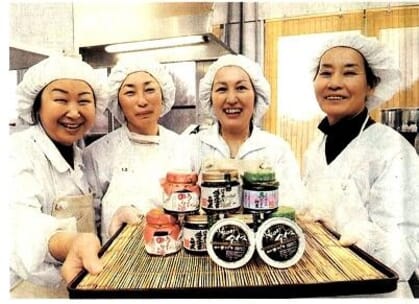 What inspired you to start in aquaculture?
My husband comes from a town in Saga Prefecture that is famous for seaweed farming and I became a clerical worker at the local fisheries cooperative. I worked there for around 25 years and got to know the world of seaweed farming. Before that, I had no prior experience in aquaculture.
How is seaweed farmed in Saga?
Large numbers of poles are planted in the ocean and nets are hung between them. At high tide, the seaweed is submerged, allowing it to take in nutrients from the sea. At low tide, it rises above sea level and basks in the sun's rays, and becomes more flavoursome.
Why did you establish Saga-shi Gyoson Josei no Kai?
The seaweed producers here work tirelessly to produce something that not only looks good but also tastes good. I wanted to promote that across Japan by establishing some kind of group. Another reason was seaweed prices. Some of the harvested seaweed was slightly blemished and its price was falling significantly, even though it had been farmed so painstakingly. I wanted to help address the falling prices and, at the same time, offer other women in my community a chance to get involved in seaweed farming.
How many women work for you, and what are their roles and responsibilities?
There are four managing members including myself, and five part-time and temporary staff. Everyone is female, and the oldest is 78! I provide a work environment that makes it easy for my part-time staff to balance their jobs and childcare and become involved in all aspects of the group's duties. These can be general admin tasks, tax forms to fill in, products to develop and sell and – of course – visits to the seaweed production line.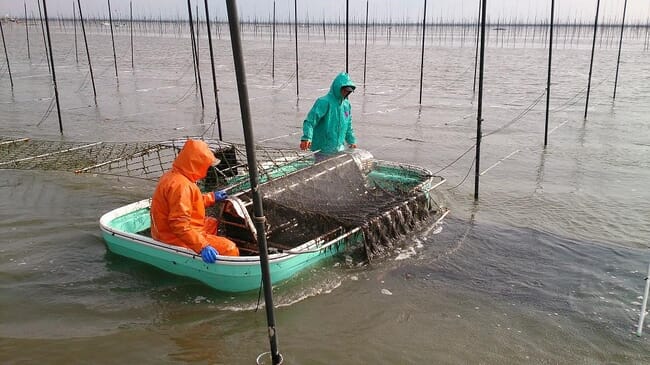 Describe a typical day in your current role.
When I was working at the cooperative I was mainly involved in developing and selling processed seaweed products. I took what I learned from the cooperative to establish Saga-shi Gyoson Josei no Kai, and today I work in a very similar area – developing products, cultivating new sales channels and carrying out general office duties.
What's the most unusual experience you've had in aquaculture?
In Japan, seaweed is usually seen as an accompaniment to rice but I came up with some unusual products containing seaweed, such as ice cream and butter. I think the most unusual experience was when our ice cream made from toasted seaweed won the Minister of Agriculture, Forestry and Fisheries Award!
What do you believe is important to ensure sustainability in seaweed farming?
I believe that the workforce is key. The seaweed producers we work with don't hesitate to take on jobs that others don't necessarily want to do. They are also hard-working to a fault. I believe that my role is to tell other people around the world about the seaweed that they harvest. It is because of that seaweed that my work today is viable. The seaweed producers work in very difficult conditions, but they become even more motivated to work in those conditions when their seaweed makes consumers happy. My biggest wish is for the seaweed in Saga Prefecture to become popular worldwide, and for its production to continue forever. A happy and motivated workforce will create a strong and sustainable business.
What potential do you think seaweed has?
Plenty. I would like to see its active ingredients being used more in a range of fields such as medicine and cosmetics.
Are there any individuals or organisations in aquaculture who you've found particularly inspirational?
After establishing Saga-shi Gyoson Josei no Kai, I worked as hard as I possibly could – day in, day out. But seaweed farming is a very male-dominated industry, and I nearly gave up on countless occasions. During those times, the wife of one of the seaweed producers supported me as best as she could, and I told myself that I had to succeed at any cost, for her sake. It is thanks to her belief in me that I've come this far.
What challenges did you face when setting up Saga-shi Gyoson Josei no Kai?
The fisheries industry in Japan is very male-dominated, and any kind of activity in which a woman stands out is unacceptable. I established my group in this kind of environment, amidst intense pressure and criticism. Women are central in my organisation and it was much more difficult than I'd expected to start out in the way that I wanted.
I left my job at the fisheries cooperative to focus on something I wanted to do, but things weren't working out and I decided to give up on the idea of women being involved in seaweed farming. However, a lot of people were against my attitude and after thinking about things for a long time, I decided that it was my life after all, and that it would be better to do it and then regret it, rather than regret not doing it. That was the biggest turning point of my life.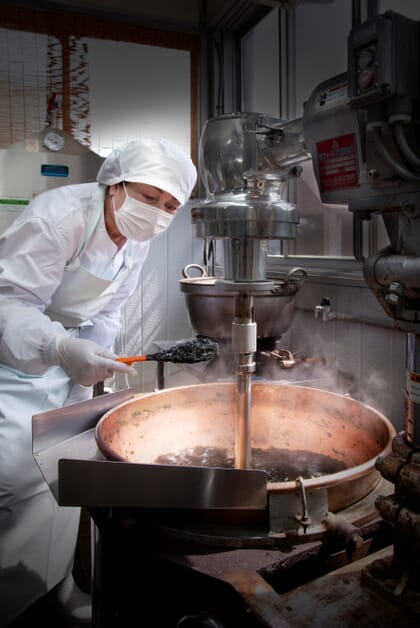 How are women addressing inequalities in Japan and have you seen the opportunities improve in recent years?
I'm in touch with various women in fisheries cooperatives across Japan, and I feel that both the position and status of women are still low. But having said that, more and more women have started their own groups or businesses, farming by themselves, adding value, developing new products and selling them.
If these initiatives take shape and start to produce results, men will have no choice but to accept them. I would like to see more female producers become inspired by our activities and want to develop and sell their own products. This is also why I established an all-female organisation, to inspire and encourage others.
What advice would you give to women looking to start a career in the sector?
Aquaculture is hard work but it's also fun. I would encourage more women to take it up. It's tough physically and mentally but shouldering this kind of burden makes you stronger. Behind every difficulty and challenge lies something worthwhile, and when you finally get over the tough part, you'll find that you really enjoy what you're doing and you'll have a strong sense of fulfilment. Also, make sure you don't give up.
What would be your dream role in aquaculture?
To be more involved in introducing our products to other countries.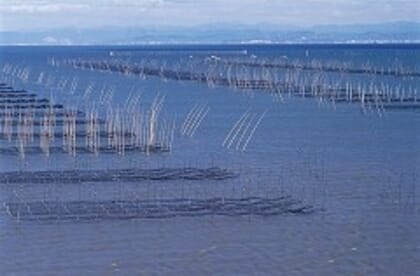 What has been the greatest accomplishment so far in your industry?
I think the demand for seafood is rising in Japan. Ancient food cultures are being re-examined and reinvented, and people are thinking a lot about health. This is stimulating the higher demand for marine products. Here in Saga, nutrients from the mountains travel along the rivers into the sea, and, as a result, the quality of our seaweed is high and it tastes delicious. In order to protect our ocean and its resources, we have been strengthening our connections with women in mountainous areas, taking part in tree planting and supporting a women's forestry research society. It is our belief that coexisting with, and protecting, local natural resources is key.
What outstanding challenging would you most like to solve?
I would love to see the return of Asakusa nori (Pyropia tenera, nori seaweed). Because it's so vulnerable to seawater contamination and temperature changes, it's very susceptible to disease and gradually disappeared in Japan as pollution worsened. It would be great to see it farmed again using new methods, while keeping some traditional cultivation styles from the old days.