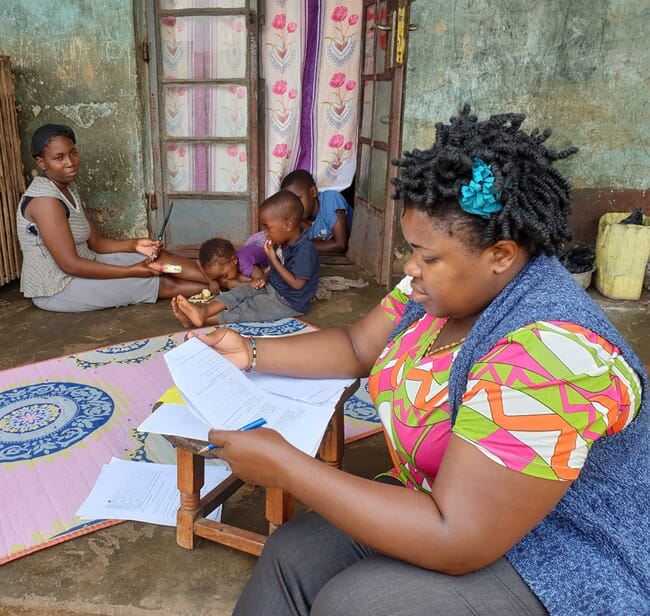 Can you briefly describe your aquaculture career?
I am from Masaka, Uganda where my family had a poultry and livestock farm. The farm was not very suitable for livestock so we decided to convert the farm and started growing tilapia and catfish with the help of local consultants. Later, we also started a fish hatchery on the land.
I was always planning to become a doctor, but because we encountered many challenges on the farm, I decided to study fisheries and aquaculture instead and joined National Agricultural Research Organisation (NARO) in Kajjansi, Entebbe, as a research assistant after graduation while also still working on our farm.
I did a master's degree in the Netherlands, Kenya and Austria on environmental science with a focus on limnology and wetland ecosystems. Upon return to Uganda, I got promoted to full research scientist at NARO. Since 2020, I work as a freelancer working on national and EU funded programmes. One of the projects I work on is Foodland, which aims to develop innovative, scalable and sustainable technologies to support the nutrition performance of local food systems in Africa, while strengthening agro-biodiversity and food diversity as well as diversity of healthy diets.
What characterises the aquaculture sector in Uganda?
Uganda stands out in the region in terms of aquaculture production and is therefore called the aquaculture basket of East Africa. We have a lot of freshwater bodies and swamp land which cannot be used for other purposes so it is ideal for fish farming in ponds. The climate is also favourable for growing fish. The fish grows faster and with less efforts compared to neighbouring countries. Uganda acts as a market centre and supplies fish to Tanzania, Burundi, Congo, South Sudan and Sudan.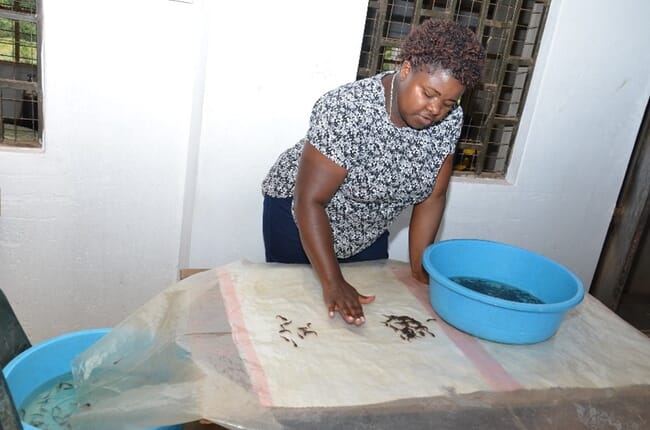 The sector is dominated by smallholder fish farmers (>95 percent). There is a lot of support from the government and international funding agencies. Most fish farms in Northern Uganda were started by NGOs, that came in to help after the rebel insurgence, as a means for providing cheap animal protein to the resettled communities.
Nile Tilapia and African catfish are the main species grown but other species such as mirror carp are also cultured commercially. Recent research efforts have been made to domesticate indigenous delicacies like Bagrus docmak , Labeo victorianus, Barbus altianalis so these can be farmed in the future as well.
What work-related achievement are you most proud of?
When I was studying for my master's degree, I received a leadership award for my efforts as class representative. This was the first recognition of my hard work and on top of that I received $600 to bring home.
What does a typical day in your current role consist of?
I get up very early to write since this is my most productive time of day. As a consultant, I am always busy as I find it hard to turn anyone down. I spend a lot of time on my computer answering emails, writing proposals and reports. I often have meetings outside the office and some projects take me into the field for days or sometimes weeks on end to deliver trainings for students or fish farmers.

What is your favourite part of working in aquaculture?
Working in aquaculture is very fulfilling because we produce the healthiest protein possible for the people. I can see the change we are making with rural farmers and poor communities by feeding the vulnerable people like pregnant mothers and children. On the other hand, training the young generation on fish farming basics like farm and hatchery management drives me and keeps me excited to work. People will always need food and I am happy to contribute to food security in the country.
What challenges have you encountered working in the sector?
The aquaculture sector in Uganda has the common challenges such as expensive fish feeds and a lack of knowledge and skills among farmers. On a personal level, my challenge is to find a PhD program in the direction of quality product development along the fish value chain especially now that value-addition is starting to be embraced by the Ugandan aquaculture sector. However, there is a tendency that PhD scholarship opportunities come with predetermined topics of study and so far, I have not found one that fits my aspirations.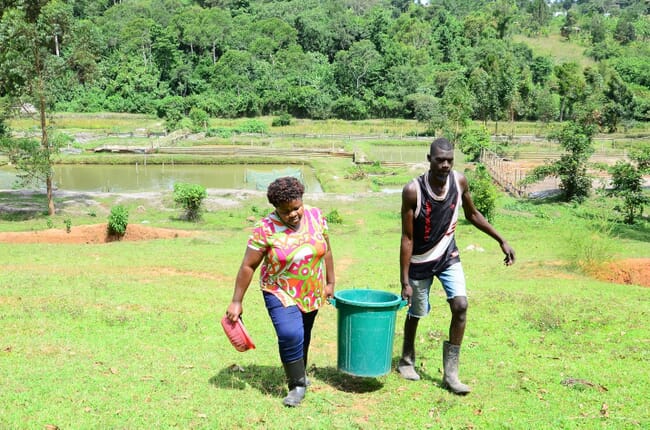 Have you encountered (or heard of) any gender-related challenges in the sector?
Culturing fish is hands-on and hard work. In Uganda, we have clearly defined roles for men and women. When I started, most roles in the aquaculture sector were only suited for men, as women were not allowed to enter the water. Therefore, women were mostly involved in artisanal value addition activities. Nowadays, it is more accepted for women to work on the farm because we have proved to be good at hatchery management, record keeping and fish feeding.
Additionally, women do not work in sex reversal activities since it is believed that hormones used in producing tilapia fry affect women when they want to get pregnant.
However, despite still being a male-dominated sector, there are several employment and scholarship opportunities favouring the female gender. I guess as a woman, you just have to be strong, and determined to reach your career goals.
Are there any individuals or organisations in aquaculture that you've found particularly inspirational?
During a study visit to Kenya, their Director of Fisheries officiated our closing ceremony. I do not remember her name, but seeing that she was a lady, motivated me to strive for the highest in my career path. Suddenly "this farmer girl" could see herself become a corporate leader.

What advice would you give to women who are considering joining the aquaculture sector?
There are benefits that you do not have in other sectors. There is a lot of funding available for aquaculture projects and many people want to invest in the sector. I think it is an opportunity for women because nowadays women are encouraged to go for this type of career. It is a career path that will not let you down if you work hard. But most of all, chase your dreams, put some time in networking and position yourself right. Go for it sister!
What's the most unusual/bizarre/amusing experience you've had in aquaculture?
During a short course at Moi University in Kenya, I was the only female and the youngest of the Ugandan team so the men always acted like gentlemen and payed my bills when we went out. However, one time we were given an assignment and I topped the group. Jokingly, they stopped covering my bills saying I had embarrassed them. Today we still laugh about it.
If you could solve one issue in aquaculture, what would it be?
I would love to improve the marketability of farmed fish, especially from earthen ponds. Pond farmers struggle to get uniform batches and therefore receive low prices for their fish. Devising a zero-wastage marketing strategy would allow the smallholder farmers to profit from aquaculture too.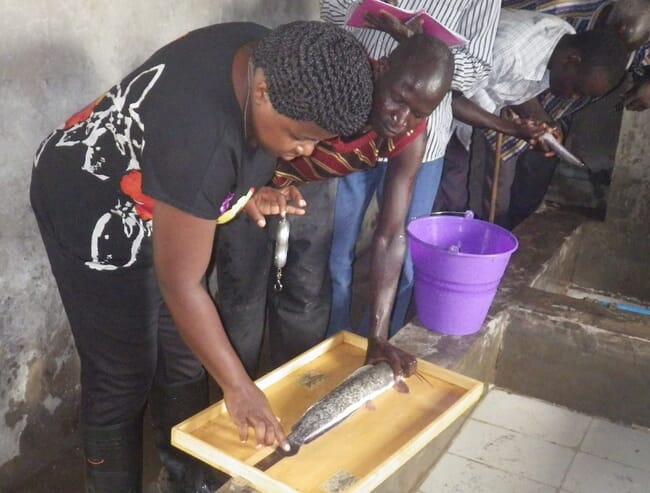 Which species you have worked with do you think is the most promising for aquaculture?
For Uganda this would be Nile tilapia because there is a very good market both locally and internationally if the product is of good quality.
What would you like to be doing in 10 years' time?
I hope I will have attained my academic aspiration to obtain a Doctorate. I would also like to set up a network of youth and women with a passion for aquaculture.