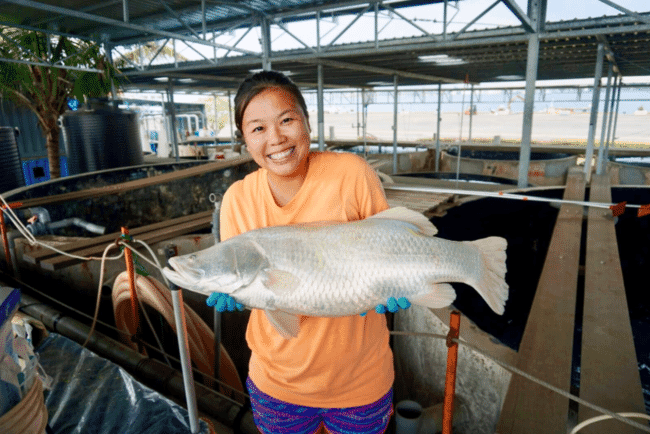 Briefly describe your aquaculture career.
I graduated with a diploma in Biotechnology from Republic Polytechnic in Singapore. My first job was as a Fish House Executive at Sunbeam Aquarium, a wholesale exporter of ornamental aquarium fishes. I then spent the next two years in their quarantine facility where I conducted regular health checks (parasites screening) and water quality checks on the fish.
In 2012, I joined S.E.A Aquarium's Animal Health & Research Laboratory. There, I helped vets perform medical procedures, and processed and analysed samples collected from the aquatic animals. Two years later, I went on to pursue my BSc Degree in Marine Biology at James Cook University in Townsville, Australia. It was initially a three-year course but I was able to complete it in two years thanks to advance standing from my diploma subjects. Soon after my BSc, I began work in 2015 as an Assistant Fish Health Manager in Barramundi ASIA, Singapore's largest barramundi fish farm. I returned to Singapore on December 14th, 2015 and started working at Barramundi ASIA exactly a week later, on the 21st December!
What inspired you to start in aquaculture?
The majority of our food supplies in Singapore is imported, so I didn't quite understand aquaculture to begin with. But, as a budding marine biologist, I learned a lot about fisheries science, oceanography, conservation and how aquaculture can be a solution in providing sustainable seafood to the world's population. Although I only had a few years' experience in the fish health sector, I understood very well that disease can result in major losses, and this inspired me to work in aquaculture, to help minimise fish losses in the sector and develop health strategies to diagnose and respond fast to outbreaks.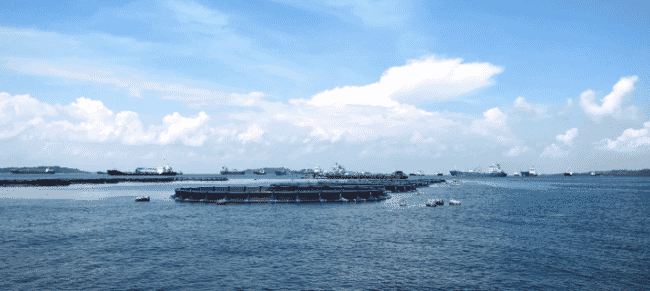 Can you tell us a bit about Barramundi ASIA?
Demand for seafood in the world is increasing. People are choosing to eat fish because it's a healthy alternative and is full of protein. Concerns are high that with the present demand for seafood from a growing world population, global fish stocks will become depleted due to overfishing by commercial fisheries. Fish farming is now the fastest growing area in animal food production.
Barramundi Asia is Singapore's largest premium barramundi fish farm. The company's focus is to produce fish that are not only fresh and healthy but also accountable and sustainably farmed. Its barramundi is certified by Singapore's Good Aquaculture Practice for Fish Farming (GAF-FF) programme and we market it in Singapore, Hong Kong, the EU, US and Australia under our brand name: Kühlbarra. Customers place their orders online and fresh, filleted barramundi can be delivered to their doorsteps under a new 'farm-to-fork' model.
We have just expanded out of Singapore, and currently have a farm in Kimberley, Australia. We're reaching out to the world, one barramundi at a time.
Describe a typical day in your current role.
It is usually busy! I start my day at 7am when I travel 1.5 hours from home to take a speedboat to Semakau Island, south of Singapore, where the fish nursery and farm are located. I start at the nursery by going through the facility observing the barramundi fingerlings in tanks. I discuss the tanks' mortality numbers with the workers taking care of different sections throughout the nursery, and watch how the fish respond to feed. I also take samples from the tanks when I spot any diseased fish, and bring them to our on-site lab. There, I begin my findings through a routine post mortem. I conduct a wet mount analysis of the skin, gills and fins under the microscope to look at parasites and bacteria. Sometimes I collect blood for haematology or blood smear stains. After this, I travel 10 minutes by boat and spend the next half of the morning at the grow-out cages, observing the fish and analysing the gill samples. I usually produce a report of my findings for the fish health team (Director, Nursery Manager, Farm Manager, Vet and Vaccination Manager). This report also allows us to discuss strategic health/treatment/husbandry plans where necessary.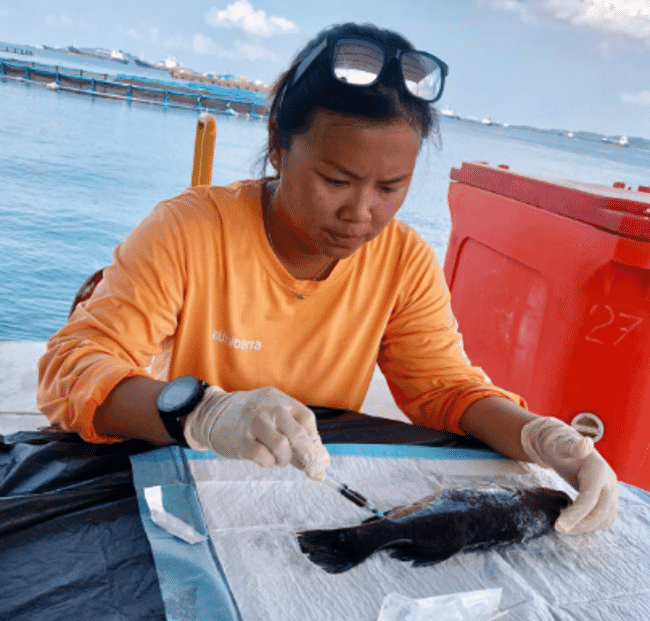 What's the most interesting, inspirational experience you've had working in aquaculture to date?
I was invited to lead a fish dissection and parasites risk assessment practical class by Dr Giana Gomes at James Cook University Singapore. The students loved the 'detective' work behind identifying potential parasites and learning how each of a fish's organs works. It gave me so much joy and hope, to see the next generation of aquaculture students learn through hands-on experience that I was providing.
What's the most unusual experience you've had in aquaculture?
Barramundi can be quite terrifying when it comes to feeding. They are extremely cannibalistic during the early juvenile stage. I've opened juvenile (10cm) barramundi with enlarged abdomens before, thinking that they were diseased, and it turned out they had eaten another, slightly smaller barramundi, WHOLE!
What is the most exciting thing about your job?
First, I would say being able to turn years of passion into a full time career and still love what I do. I consider myself lucky, as I love working with fish and being outdoors.
If we look at fish farming as an operational chain, I'm working at the start of it, where we grow small fingerlings and send them off to grow out cages, making sure that they are healthy as they grow to harvest size. I feel a sense of achievement, knowing that I am part of a team whose work directly influences the company in relation to its output, which generates production growth. It can be stressful, but also exciting to be at the start of the operational chain.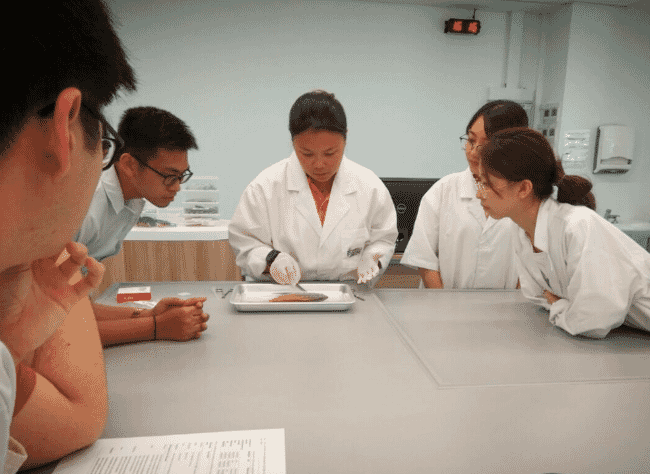 What new technical or product innovation do you think has the most potential to change aquaculture?
There are a lot of great ideas and innovations in the market now, which have the potential to improve aquaculture in the years to come. Recently, however, I find that the participation of science in aquaculture has grown and evolved simultaneously. For example, genetic improvement through selective breeding can help to improve traits such as flesh characteristics, feed conversion ratios and disease resistance. If used correctly, this is an extremely promising innovation. Another is the use of RAS systems inland where water is reused and recycled.
Are there any individuals or organisations in aquaculture who you've found particularly inspirational?
Fish farming is a job off the beaten path, especially for women. But I feel lucky to have met these strong figures in my life (during my academic journey and career paths) who've taught me, encouraged me, and inspired me to excel greatly in the field of Aquaculture and Fish Health. Special thanks to Dr Giana Gomes, Dr Kate Hutson, Mr Andrew Clarke, Dr Komsin Sahatrakul, Ms Klara Chua, Dr Eunice Tan, and Ms Wathsala Munasinghe.
One person to whom I look up greatly is Dr Giana Gomes. I first met her when Dr Kate Hutson introduced me to the Marine Parasitology Laboratory group when I joined them a few years back at a Parasitology conference in Canberra when I was an undergrad. Giana understands when I share some of the challenges I face as a woman in aquaculture. She encourages me to ask questions if I don't understand, which challenges me to learn, and to broaden my knowledge, to read scientific papers whenever I can. She often sends me emails on learning opportunities like conferences, training and academia classes, which will benefit my work and personal growth.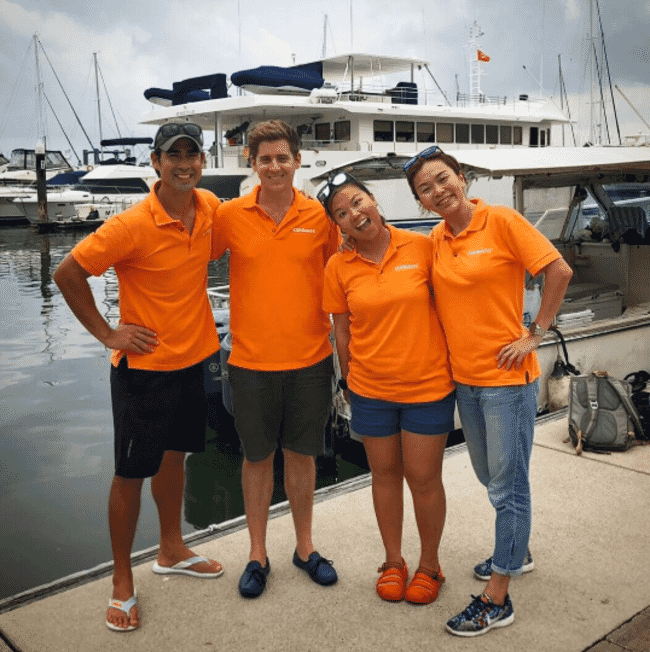 What challenges have you faced as a woman in aquaculture?
At the age of 21, I started working in a male-dominated environment, the aquarium industry. Being new and inexperienced in the fish health sector at that age meant rubbing shoulders with colleagues who were older and had a lot more experience than I did. It was intimidating and scary. I learnt to be humble, teachable, have an open mind and be willing to learn.
Now, at the age of 29, being the only woman in the operations side of fish farming is still a challenge, because I find myself standing among giants and there is tremendous pressure to want to work hard and be as capable as these men. I have something to offer now, such as my knowledge and experiences gained so far, but I'm still really keen to discover more and I have A LOT to learn.
What advice would you give to women looking to start a career in the aquaculture sector?
Persevere. This advice goes out to all women and men in this industry. Sometimes you might find yourselves braving storms, strong currents or the scorching sun. Sometimes there may be a disease outbreak that you can't eradicate and it's beyond control. Sometimes there is huge pressure to increase production. Whatever the stress, always persevere, because at the end of the day your hard work will always bear fruit.
What would be your dream role in aquaculture and do you think it's realistic to achieve?
My personal ambition is to further my education and reach the stage where I can do research and development to help fish that are still susceptible to certain diseases yet to be investigated further. I believe it is realistic to achieve. I think it would be a form of personal development, and help me step up in my career with Barramundi ASIA.
What hopes do you have for aquaculture in Singapore?
I hope that Singapore will continue to show support for various areas of aquaculture such as research, lab work, and in particular the actual farming of fish. Fish farming is not really heard of in Singapore and very few Singaporeans work in this field. It's hard work and it's science. You also need to be really passionate about it. I also hope that the number of people working in aquaculture in Singapore increases. Through this interview, I would like to inspire more Singaporeans who are passionate, willing to work outdoors and who want to grow their own produce, Singaporean women like me in particular!