Women in aquaculture: Dr Juli-Anne Royes Russo
Dr Juli-Anne Royes Russo of Aquaculture Innovations & Solutions Consulting Group believes aquaculture can help revive coastal communities that have been affected by overfishing, in particular in her native Jamaica.
Briefly describe your aquaculture career
After completing my Masters in animal nutrition at the University of Florida (UF), I returned to Jamaica, where my career began, as an algae and feed technician at the first marine shrimp hatchery in the Caribbean. After a couple of years, I became the manager of an ornamental fish farm in Jamaica. I oversaw more than 20 exotic species being bred in outdoor ponds and indoor hatcheries, which were then exported to the USA, Canada and England. I returned to UF and received a fellowship to pursue my PhD where I specialised in fish health and nutrition.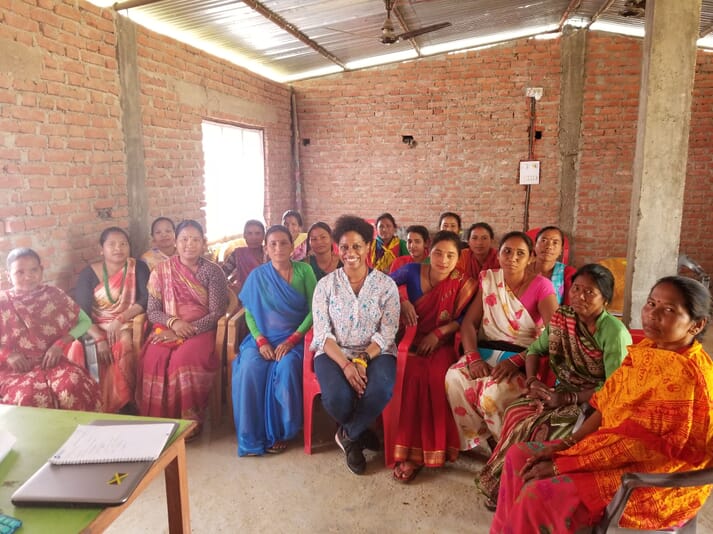 During graduate school I worked extensively with ornamental and freshwater food fish farmers in Florida, helping them enhance their production levels. My postdoctoral years were spent at Hubbs-Seaworld Research Institute in San Diego where I had the privilege of working at the only research site for marine fish in the US. There, I learned more about sustainability, as I conducted research to enhance the nutritional value of the broodstock of species that were being cultured to restock overfished waters off the coast of California and northern Mexico.
I spent five years as a formulator in the R&D sector, developing innovative feeds for exotic ornamental freshwater and marine fish. As a senior scientist in charge of all the formulas, I worked with a business team to take over 300 nutritional products to the commercial market, and assisted aquariums with nutrition and feed consultations. After leaving the manufacturing industry, I wanted to use my aquaculture skills to help others. Now, as a consultant, I enjoy volunteering or working with NGOs in developing nations, transferring my experiences and education to enhance farmers' production levels.
What inspired you to start in aquaculture?
It began with a life-changing experience working on a research project on the ocean one summer during my third year as an undergraduate at the University of the West Indies in Jamaica. As a zoology major, I was selected to work as a research assistant collecting data and maintaining the Gracilaria species of algae along the Discovery Bay coast for Dr Thomas J Goreau. This work in coral reef restoration and mariculture left an indelible impression, as I loved every moment of it.
On my return to Jamaica at the end of my Masters the marine shrimp hatchery had just opened. Because of my love of working near the ocean, I applied for a technician's position and was thrilled when I got it. My love for aquaculture started with this job. It was further solidified when I began to work with ornamental species. I was inspired to continue in the field as I realised that aquaculture encompasses many facets of the sciences (marine zoology, nutrition, chemistry, veterinary), which makes it a very versatile field and allows me room to grow as a scientist. There is also a certain art and beauty to culturing aquatic species. I enjoy working outdoors and find it very peaceful and fulfilling to spend a day working with fish, especially near the ocean.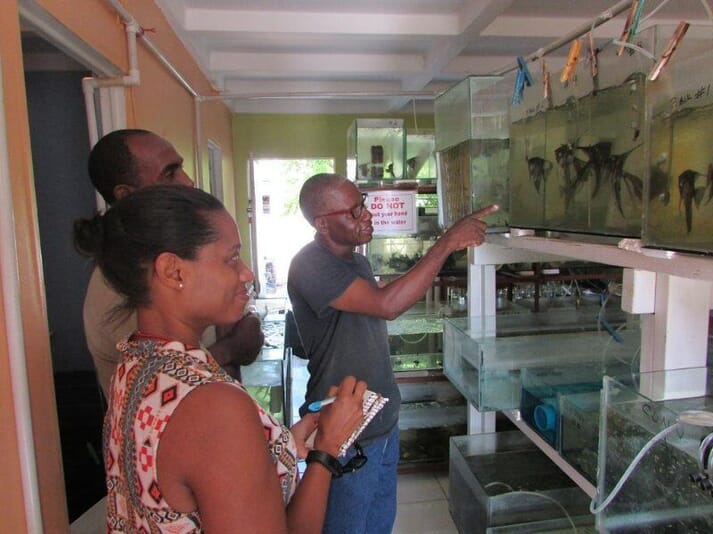 Describe a typical day in your current role
As a consultant, I do not have a typical day. My interests are in training farmers in developing countries who need knowledge to intensify their production systems. I travel twice a year to conduct training, workshops and work in the field with new and old farmers, extension officers, government officials, university professionals and students. I recently came back from an 11-day trip to Nepal volunteering for Winrock International. When I am not travelling I spend about 10 hours each week preparing grants to assist in travelling, creating workshops and teaching plans and writing reports and articles.
What's the most inspiring experience you've had working in aquaculture to date?
Assisting farmers who have very few resources – for example I feel very inspired when I have taught women to use aquaculture as a means to provide an income for their families. For many communities where protein is scarce, fish becomes a main staple of the diet. I feel that I am truly in the business of teaching people how to fish. This quote always comes to mind: "Give a man a fish, and you feed him for a day. Teach a man to fish, and you feed him for a lifetime."
What's the most unusual experience you've had in aquaculture?
It was when I drove into a pond! I had just received my licence to drive a truck and began my new role as a 26-year-old farm manager in Jamaica. I didn't negotiate the narrow roads alongside the fish ponds, and my front wheel slipped off the road and hung precariously over a pond. All this happened in front of the men that I'm now in charge of. Luckily for me the environment on this particular farm was very respectful towards women and my foreman kindly got my truck out before it toppled into the pond.
How important are sustainability concerns to you and how do you address them in your work?
Sustainability is very important to me. As a nutritionist, I'm very aware of the unsustainable use of fishmeal as a staple in diets for fish. Whenever I can, I try to use a combination of plant-based ingredients that can be substituted for fishmeal or reduce the percentage in the diet if possible. Studies are currently being conducted on dried Moringa oleifera leaves and seeds, which are abundant in Africa and the Caribbean, and may be one alternative plant-based protein source.
I'm also interested in environmental sustainability and feel it's important for farmers to understand how to minimise their environmental impact, in particular those who are intensifying their practices. It is also important to understand the effects of mariculture on the ocean environment. During my training, topics such as the non-use of antibiotics, appropriate uses of chemicals and prevention techniques are all usually stressed.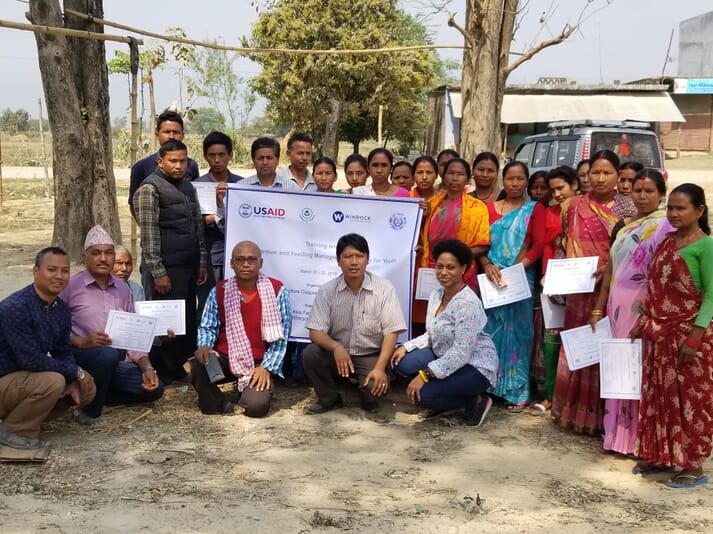 What innovation do you think has the most potential to change aquaculture?
There is a growing need for research on finfish nutrition. Feed usually takes up 50-70 percent of production costs, so a primary concern in this respect is the need to develop low-cost feeds using locally and readily available ingredients within the reach of rural, small-scale fish farmers.
Are there any individuals or organisations in aquaculture who you've found particularly inspirational?
Winrock International, Farmer to Farmer and USAID, who operate in developing countries, have all inspired me to give back and volunteer my services. Blue Ventures – a science-led social enterprise that works with coastal communities to promote integrated approaches to marine conservation – is also inspirational. Their community-based aquaculture initiative provides coastal people with new sources of income, allowing improved access to food and education, while reducing the pressure on fisheries and marine biodiversity by teaching villagers how to cultivate species such as seaweed and sea cucumbers.
Dr Megan Davis's work in aquaculture also inspires me to continue dreaming big. She has paved the way for the format that I would like to follow in developing sustainable aquaculture in Jamaica. Dr Davis was the co-founder of a commercial conch farm and implements courses to retrain former fishermen in aquaculture. She combines aquaculture, fisheries, marine studies, education and business to educate coastal populations in Florida and the Caribbean.
Have you faced any particular challenges as a woman in aquaculture?
Only while studying and working in the USA. As a woman of colour and an immigrant I am usually seen as an outsider there. Unlike in Jamaica, where it is accepted for an educated woman to be in charge or hold positions of power over men. In the US aquaculture is still very much dominated by men and I have found it very difficult to break those ranks, despite my education and experience. That is one of the reasons why I became an independent consultant – so that I could create the opportunities for myself.
What advice would you give to women looking to start a career in the sector?
There are so many areas in aquaculture that women can work in. I would suggest learning or having an idea of all the facets of the industry before deciding which area to specialise in. Look at the working environment to see if it will be compatible with you – both emotionally and physically.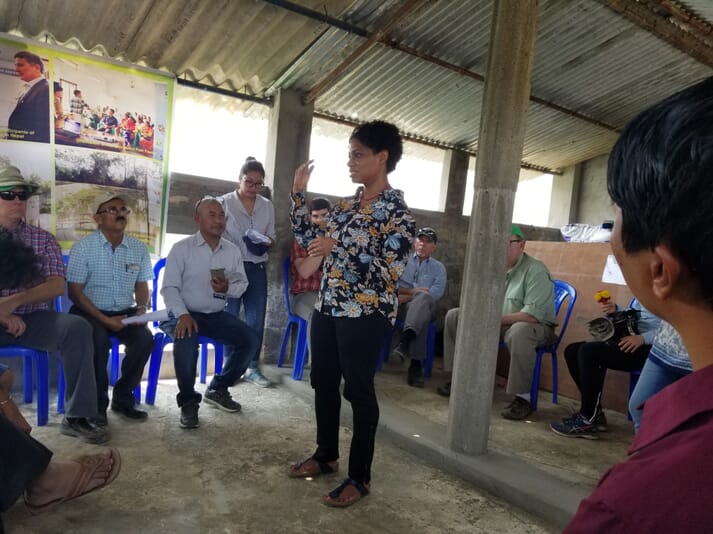 What would be your dream role in aquaculture and do you think it's realistic to achieve?
My dream role would be to start an aquaculture innovation, research, education and conservation department at a university to serve Jamaica and the Caribbean. My interest is in bridging the gap between aquaculture and marine conservation methods. Among many ideas, I envision establishing a low-cost mariculture demonstration lab to educate fishermen, women and interested stakeholders on culturing marine species, and supporting research projects that can encourage entrepreneurship among young people, especially women.
Within this context, I would also like to develop a low-cost teaching aquarium hosting a small selection of local reef-fish species. It would be managed by high schools along the coast and serve as an educational tool to teach marine, natural and environmental sciences. It could not only increase awareness of the Jamaican marine environment but also to enhance the scientific skills of underprivileged children through school visits, to educate them on the importance of science in relation to understanding their natural, marine environment. This idea could be feasible… if I can raise the funding!
I would also like to continue travelling to develop income-generating opportunities for women. Projects such as ornamental fish farming, small freshwater fish ponds or seaweed production along the coast would allow women to work closer to home where they can also care for young children. At the moment I am interested in obtaining a Fulbright Global Scholar Award that would take me to two or three countries in Asia or Africa where I could continue to teach and create workshops for fish farmers.
What outstanding challenge would you most like to solve?
Growing up in the late '70s, there was an abundance of marine fish available in Caribbean waters. The livelihood of fishermen was very good and seafood was very affordable for many people. But with overfishing, many fishermen cannot obtain an income, many species are no longer readily available, and seafood is becoming too expensive for many families.
As a Jamaican, I am very concerned about the overfishing in the Caribbean. The scale of damage to Jamaican reefs is enormous and there is now an urgent need to combat overfishing there. In Jamaica, where economic opportunities are very thin on the ground for coastal communities, locals often resort to the use of dynamite or cyanide to stun fish for easier capture to generate an income. I am very interested in developing low-cost mariculture methods as an alternative source of income for fishermen, young men and women without jobs, especially those who live on the coast.