Women in aquaculture: Dr Flower Msuya
Dr Flower Msuya, chairperson and facilitator at the Zanzibar Seaweed Cluster Initiative (ZaSCI) works in villages in Zanzibar to study climate change, modify farming methods and add value to seaweed. As the Tanzanian island's seaweed aquaculture takes off, Dr Msuya is confident that opportunities for women will continue to rise.
Briefly describe your aquaculture career
I'm a marine biologist working as a researcher, with a focus on seaweed farming and integrated aquaculture. I also conduct research on women and seaweed-farming health issues that could occur while farming (for example, stings and cuts) and at home (such as injuries from storage of seaweed in the house). I also research the impact of climate change on seaweed farming. In addition to this, I'm the chairperson and facilitator of the Zanzibar Seaweed Cluster Initiative (ZaSCI), where I started working to add value to seaweed by making seaweed powder and soap.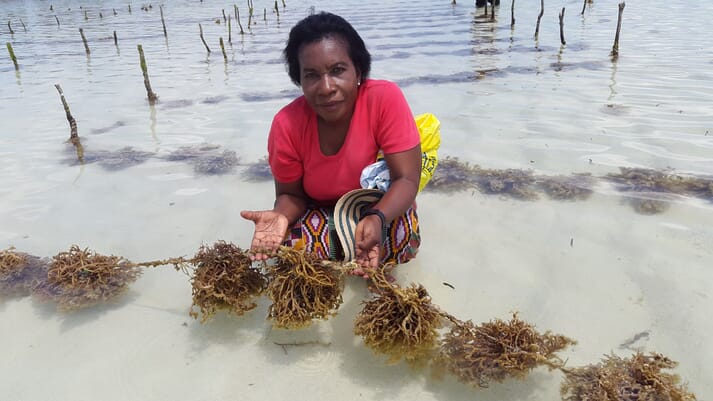 What inspired you to start in aquaculture?
During my undergraduate degree, I took a course in phycology – the study of algae and seaweed. Looking at plants grown in the sea, I wanted to learn more about them. When I started working with them, and my career began in earnest, I realised that women in Tanzania actually cultivated these plants. This made me feel that I should do something to help them improve their livelihoods. So I did my PhD in seaweed integrated aquaculture and have continued working in that field ever since.
Describe a typical day in your current role
When I wake up in the morning I go to my office. I have a lot of work to do there involving my research, but I also have to talk to people who come to see me, such as seaweed farmers, small-scale processors, government officers, fellow researchers, business entities, individuals and so on. I also answer telephone calls throughout the day from different farmers and farmer groups, and at the same time have students and young researchers who I have to help. A typical day at the office ends between 5pm and 7pm. Office hours usually end at 4pm (8am-4pm) but not in my case! After work I go home, eat dinner and try to rest but in most cases I still have to answer telephone calls and respond to email messages until about 10pm.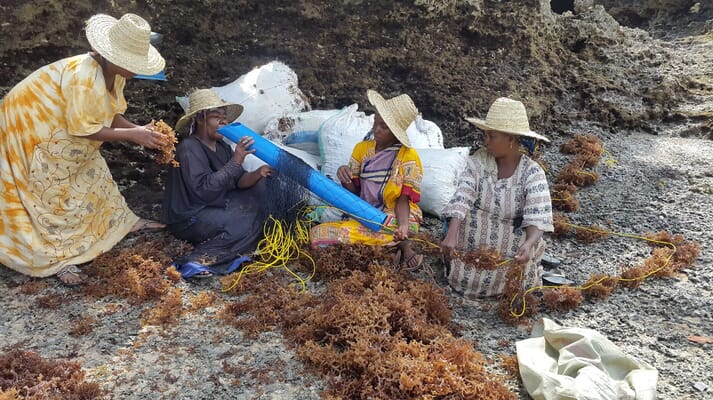 What's the most inspirational aquacultural experience you've had to date?
I remember first introducing ZaSCI and the idea of using seaweed to produce things. But nobody understood me, not even those in the government. Today, however, there are 15 villages where farmers and non-farmers make seaweed products and eat seaweed at home. This is a huge inspiration for me, to know that I've been able to change people's mindsets and cultures in a positive way.
When I started promoting the Seaweed Cluster Initiative, very few people in the government wanted to listen to me or help me start it. But now, there is a lot of government interest to add value to seaweed. If I hadn't volunteered and persisted, I don't think we'd have the situation we have now. The government of Zanzibar is now developing small processing plants and aims to establish a bigger one in future. I'm extremely proud of making this happen in my country.
What's the most unusual experience you've had in the sector?
When I first told seaweed farmers in one cooperative that I started with that it was possible to make products like soap out of seaweed, and eat seaweed too: they laughed at me a lot. I remember one man in a village who looked at me and said, "Lady, why should I eat seaweed? Don't I have food?" I wish I knew him now, for I am sure he is eating seaweed!
What innovation do you think has the most potential to change aquaculture?
Seaweed aquaculture has been facing a huge challenge – the impact of climate change and changes in the environment where it has been farmed for almost 30 years, resulting in the failure of high-value seaweed to grow.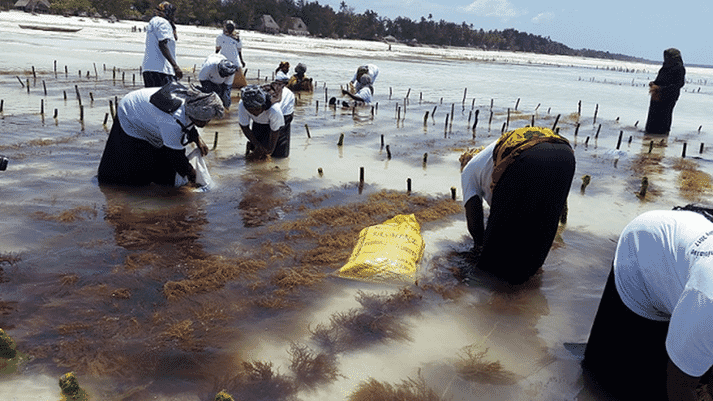 Since 2005, I have been researching innovative technologies that can be used to produce this high-value seaweed and add value to low-value seaweed. So far, the most promising farming technology is tubular nets, which I am piloting in two villages together with colleagues. My work with ZaSCI looks at other farming technologies as well. I have also researched integrated aquaculture, where seaweed is farmed with other marine products such as sea cucumbers, shellfish and finfish. The technologies of making seaweed products have been continuously developing under ZaSCI, and I believe that these have the most potential in aquaculture development.
Why are you piloting tubular nets, and how do they work?
The two other growing techniques we tried had problems with seaweed breakage, but when seaweed is planted inside tubes made from local fishing nets it doesn't break easily, allowing women to successfully produce higher-value seaweed.
What kind of seaweed products are produced in Zanzibar?
They include seaweed powder, cosmetics (soap, body creams, shampoo, lotion) and food like juice, jam, seaweed sticks, salads, cakes, cookies and noodles.
Are there any individuals or organisations in aquaculture who you've found particularly inspirational?
I am continuously inspired by my teacher and mentor Professor Keto Mshigeni, who has worked persistently to develop seaweed aquaculture in Tanzania.
Have you faced any particular challenges as a woman in aquaculture?
Challenges facing a woman are compounded if you're from mainland Tazania, from a different religion and you want to develop aquaculture in Zanzibar. Trust me, at first it was not easy but as time passed I got used to it and so did the people of Zanzibar. A woman from another culture telling a man to do aquaculture (instead of continuing to be a fisherman) or to use seaweed is not easy.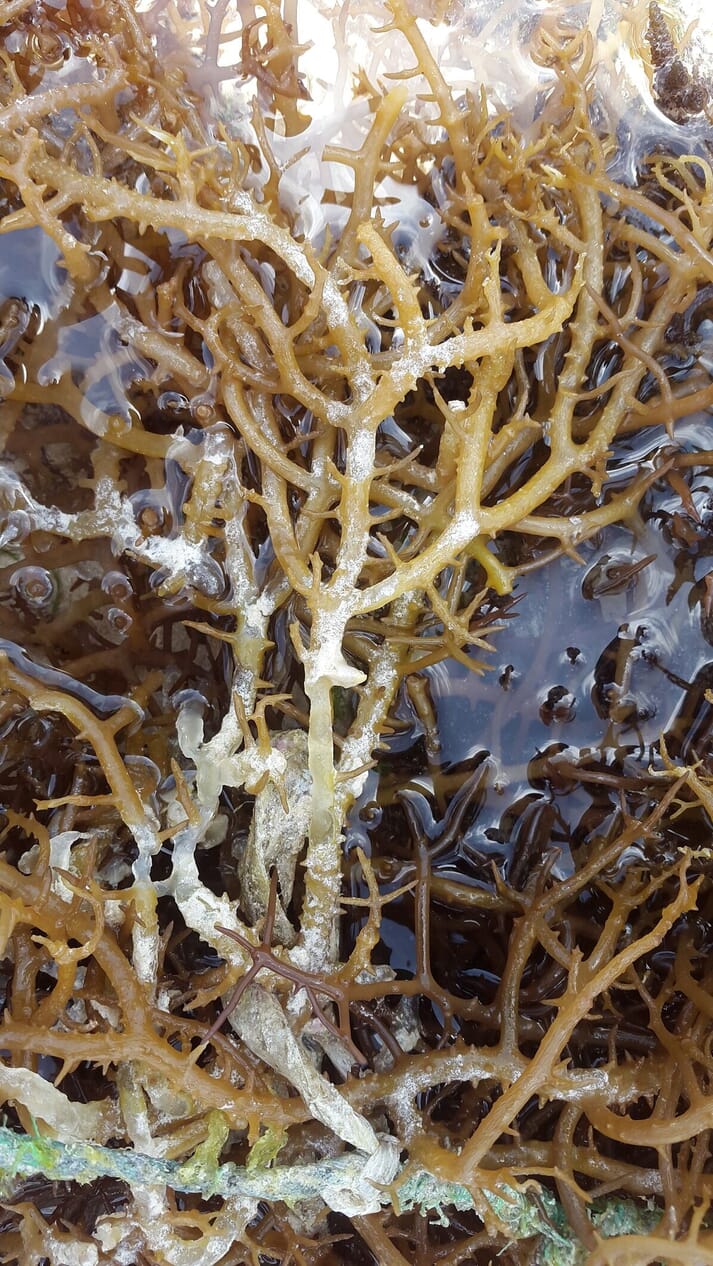 How are women addressing inequalities in aquaculture in your region and have you seen the opportunities improve in recent years?
Women in Tanzania, and especially in Zanzibar, started their journey of economic and cultural independence when they began farming seaweed in 1989. Considering the Arabic culture, the fact that they managed to convince their husbands and communities to let them leave the house to farm seaweed was a big move. As well as seaweed, they also farm shellfish and sea cucumber in groups with men. More recently, women are participating in trade fairs and exhibitions while marketing their aquaculture products. With time they have become more mobile, self-reliant and independent. Now they have an even bigger opportunity in the aquaculture sector, with the interest of the Zanzibar government in promoting seaweed value addition.
How has the reaction been in Zanzibar towards women becoming more independent?
At first it was taboo for women to leave their houses or – even worse – own any money or assets. With time, however, it became clear to everyone, starting with husbands, that this is a reality and that the culture has changed. Now, women have gained more respect at home and in society for their participation in income generation and becoming leaders. The reaction in Zanzibar towards this has been good. The position of women in society is not the same any more. They are now respected and relied on, even to give opinions on development or economic programmes.
What advice would you give to women looking to start in the sector?
My advice to these women is they can. They should dare and move forward with a go-go-go attitude and not listen to someone who wants to pull them back or bring them down. Aquaculture is a very rewarding activity. Women should be at the forefront of it and reap the benefits.
What would be your dream role in aquaculture and do you think it's realistic to achieve?
My dream role is to lead Tanzanian women to become masters of production and sales of innovative seaweed products in East Africa, the rest of Africa and the world. I believe this is achievable, because we have a unique product in Africa called red seaweed and we are the world's third largest producer of it. I believe I can achieve my dream role if my innovative work of over 10 years in seaweed aquaculture and value addition is recognised as it should be in my country, and if my country recognises my role in producing the first seaweed product and persistently working with the farmers on a voluntary basis until now, when we have over 50 different seaweed products.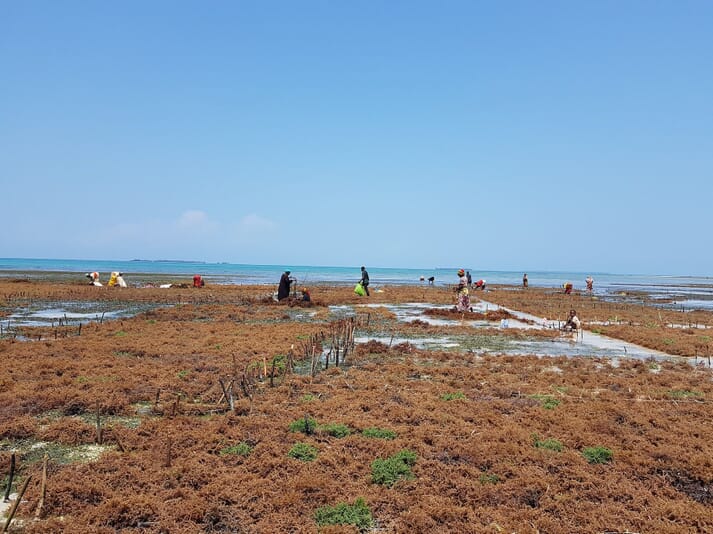 What has been the aquaculture industry's greatest accomplishment in recent years?
In the case of Zanzibar, I would say the fact that the government has declared seaweed as the focus crop in the country's value-addition sector, is willing to work with ZaSCI to ensure value addition and that the country has several seaweed processing plants for semi-refined carrageenan, the gel that determines the quality of the red seaweed farmed here.
Another accomplishment is ZaSCI Seaweed Day, which occurs on 23 July each year. Seaweed farmers and small-scale processors – both women and men – get to exhibit their seaweed farming activities, from demonstrations on how seaweed is farmed to making seaweed products. Some products are made on site. Guests of honour so far have included HE the president of Zanzibar and the second vice president of Zanzibar. This is a major achievement brought about by ZaSCI.
What outstanding challenge would you most like to solve?
I would like our farmers to stop depending on the government and seaweed buyers for farming materials. The seaweed industry is becoming a major business that is empowering women and making Tanzania known around the world as a producer and user of seaweed. Our farmers should be more independent, control the products they make, sell them and become world-class producers and sellers. With an initiative like ZaSCI, our farmers can build or purchase machines to produce semi-refined carrageenan and stop selling raw materials to other countries. But this can only be achieved if the seaweed farmers become independent, serious business people.