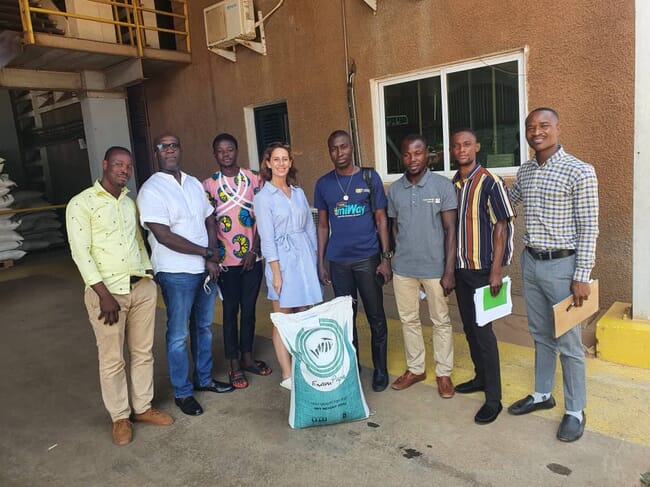 Can you briefly describe your aquaculture career?
I've been working in the sector for almost three years in a role that involves promoting Enam Papa feed products for Cycle Farms, in a field in which there is keen competition from one local and several foreign products. I've had to develop relationships with the major fish farmers, and many medium-sized fish farmers, all over the country.
I've also tried to take an interest in the issues facing the farmers, and tried to work with them towards finding solutions. With the support of my team, I have provided them with information and advice on modern farming techniques, and encouraged them to work in groups or associations and with our feed distributors, especially in the districts and rural areas. I often visit farms and interact with the farmers. This has given me a good appreciation of the state of fish farming in Ghana. Many farms which were only doing small scale operations are raising their production levels and output. The potential is really great.
I was originally given a two-year contract, but I am approaching my third year now, and was promoted to business director in 2020.
What drew you to aquaculture in the first place?
I have a first degree in agro engineering and a master's in agro-industrial management and strategy and marketing. In my final year, I worked part time with a company involved in animal health and nutrition, which was also developing probiotics, enzymes and supplements for animals. This kindled my interest in working in the livestock sector. In my job search I wished for an opportunity to return to Africa. My parents worked in Morocco for 12 years, and I had an enjoyable time there. I got the opportunity to work as a business developer for the first Cycle Farms branch in Africa, based in Ghana, and I grabbed it with both hands. I love travel, and apart from the chance of working in Africa, the job involved creating business opportunities in different parts of the country and beyond.
What work-related achievement are you most proud of?
I derive great pleasure from the business we are doing in the districts and rural areas. There are quite a number of small and medium-sized farms dotted across the nation, and I have seen some farmers increase output substantially through the use of quality feed, and also through their adoption of the advice and information my team has given them. Communication is the key, and I'm always happy to see customers calling in at the factory just to see how we are producing the feed. Transparency and integrity are two of our most important words to keep growing with the farms as partners.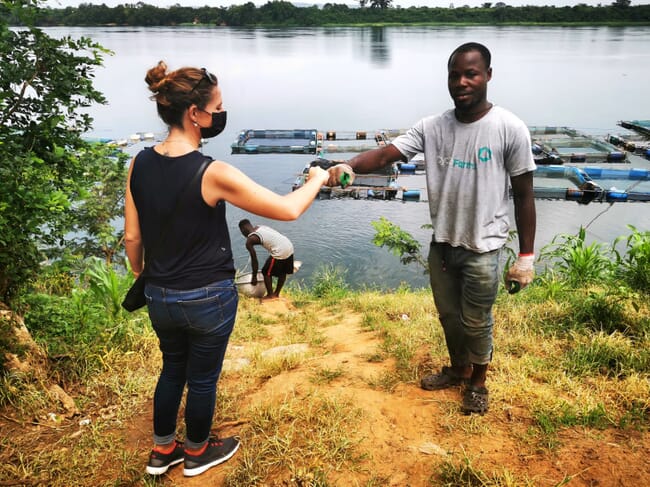 What does a typical day in your current role consist of?
I spend half of my time at the office working with my colleagues on general production and management issues, and on analysis of field results and logistical issues relating to the farm visits. And I spend the rest of the time out in the field with my team of skilled technicians, visiting farmers, running training and awareness sessions and, of course, marketing fish feed. The first day of my visit to a location usually involves meeting with the group of farmers, often in training sessions and informal discussions relating to the topics discussed and issues that have arisen on the farms. The next couple of days are taken up by farm visits, which provide us with the opportunity to assess the progress of work on the farm. Usually we provide advice on other related issues. In the time I have been out on the field in Ghana, I have seen quite a number of small farmers improve production volumes and quality through the use of better quality feed, and better management practices.
Have you encountered any gender-related challenges in the sector?
I enjoy a great relationship with my colleagues on the management team of Cycle Farms. I'm sure my five female colleagues on the 52-member production team will say the same. In Cycle Farms we are lucky to have a younger team that is modern and motivated, wherever you're from, whoever you are.
In Ghana and many African countries women are mostly involved in fish processing, whilst the rest of the fish farming business appears to be male-dominated. Whilst I don't believe there are any restrictive practices that hinder women, I would like to see more women join the few dynamic entrepreneurs and technical operators in the business. In the last few months I have observed an increase in the numbers of women taking jobs as farm managers. I also see some women venturing into processing, where my good friend Mabel Quashie has taken the lead, making the best tilapia sausage I have ever tasted.
Are there any individuals or organisations in aquaculture that you've found particularly inspirational?
Wisdom Abodakpi, my colleague at Cycle Farms, has been a great source of inspiration. He has been in the livestock industry for over 20 years, and his knowledge of the business and contacts have been immensely helpful. He introduced me to the various regions and districts, and due to the information and advice he provided me at the beginning, I am enjoying my field trips.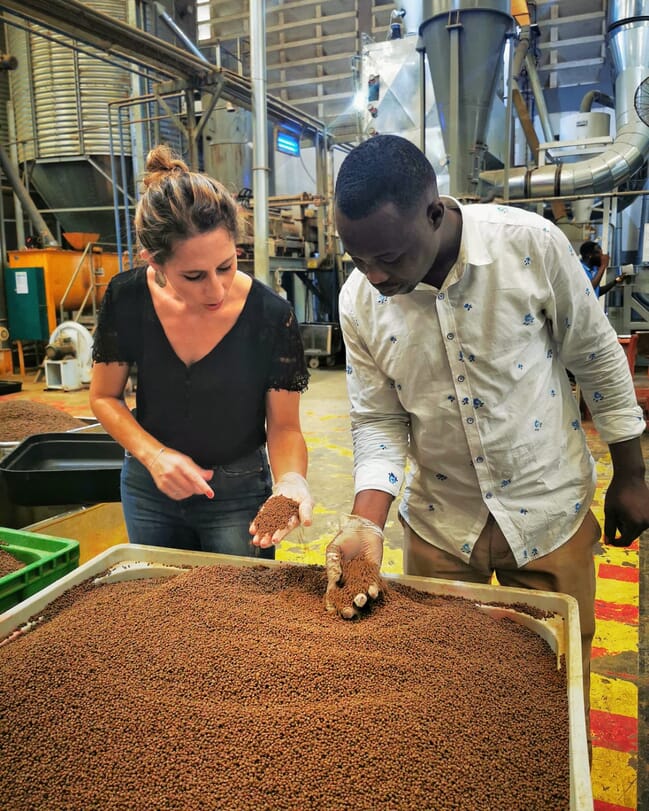 What advice would you give to women who are considering joining the aquaculture sector?
In Ghana there are many dynamic women involved in fish processing and marketing. There are a few women achievers in fish farming, but we need to increase the numbers. The approach of a woman at work will be always different to a man's, and that can also help the aquaculture industry at a high level – in terms of quality, analysis and performance.
What is the most unusual experience you have had in aquaculture?
In my first month in Ghana, I was with a colleague inside our car when a 70-year-old chief called my colleague over and asked him, apparently in all seriousness, if I was married, and if I wasn't married if I would be his second wife!
If you could solve one issue in aquaculture what would it be?
To help provide the ideal feed solution for fish farmers in Ghana. I think, with the experience I have now with Cycle Farms and our brand, Enam Papa, we are on course to make an impact on the Ghanaian market, then West Africa and beyond.
Feed is the major challenge facing African fish farmers, accounting for over 65 percent of their budgets. Cycle Farms is committed to ensuring that the farmer is able to access quality feed that enables them to be profitable over the long term.
What would you like to be doing in 10 years' time?
I'm really passionate about the animal nutrition sector and I'd like to stay in it no matter where I am (unless it's too cold!) If my job allows me to travel and be out in the field, interacting with farmers and helping them increase output, then I would like to continue for ten years, maybe more.