"RAS are ready for primetime!" exclaims Dr Barry Costa-Pierce. His attitude reflects that of investors worldwide, along with the food production industry, environmentalists, biologists, and engineers who seem to be breaking ground daily on a new recirculating aquaculture system somewhere in the world.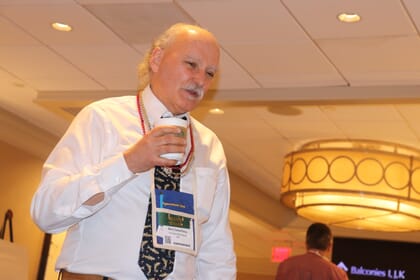 Dr Costa-Pierce is the executive director of the Institute for North Atlantic Studies at the University of New England, known as UNE North. At UNE North the best and brightest minds from the region and all over the world are brought together in conversations about advancing the field. They act as facilitators, conveners, communicators and aggregators of technology, talent and research. In Maine, UNE North sees great opportunity in the recent RAS investments, which include major inputs from no less than five large companies looking to farm salmon and yellowtail in cutting-edge land-based facilities.
"The rural vision is generally of small-scale development – local farmers' markets and independently owned business. The RAS work in Maine changes the discussion completely to large-scale business units and community development. The Global Aquaculture Alliance has completed studies of the community development and the benefits aquaculture brings to those areas," Dr Costa-Pierce explains. And the areas targeted for the development of RAS in Maine are rural, to say the least. The most recent announcements for RAS facilities in the state are in Belfast (population 6,667), proposed site of the Nordic Aquafarms facility; Bucksport (population 4,924), which has granted Whole Oceans LLC permission to break ground for their RAS salmon farm; and Jonesport (population 1,321), the first location in the US for Kingfish Zeeland.
Cautionary approach

Paul Molyneaux offers a more cautionary perspective on aquaculture. He is the author of Swimming in Circles: Aquaculture and the End of Wild Oceans. He has been a critic of the industry based on observations and discussions around salmon farms in Maine and Chile, as well as with the shrimp farming industry in Mexico.
Molyneaux points to a pattern in this industry where massive investments create these highly capitalised, resource-based industries. They lose flexibility because there is a lot of pressure to fulfil the financial obligations. As a result, when something goes wrong the company will do absolutely anything to fix it. A central theme to many of his views is that, "The only real economic growth is to increase the production of your environment, ecosystem and therefore your natural resources. These farms accomplish none of that."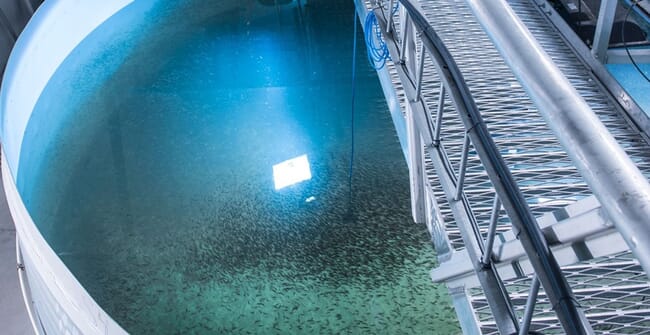 The community has offered some resistance too. Two individual landowners in Belfast have made headlines by trying to block access to an intertidal area for an outflow structure, stating their concern about the proposed system's effect on the coastline. To their credit, all the companies seeking to establish RAS projects in the area have invested huge amounts of time and energy in the permitting process and in adhering to laws and regulations regarding water quality and effluent standards.
The economic growth of the region could well be linked to the success or failures of these ventures. As some of the first RAS farms in the country, these investments, along with others in Florida and the Midwest, will give many Americans their first impressions of this industry and set the tone for RAS in the United States.

Nordic Aquafarms AS
Nordic Aquafarms can lean into a wealth of experience at sites in Denmark to help guide them at their proposed site in Belfast, Maine. As the company's founder and president, Erik Heim, explains: "Experience is critical. All aquaculture has risk, and it is not 'off-the-shelf' technology. You need experienced operators, logistics associates and partners, biologists, water chemists, engineers and countless other experts. Our divisions in Denmark and Norway have been designing and building RAS facilities for the past two decades."
While there is acknowledgement that operators of salmon RAS face challenges, the view is that the systems are improving. "There have been expansive amounts of research done, even in just the last three years. Some of this is public, some of this is not," Heim says.
This has led to an increased understanding within the technical group at Nordic of aspects such as system efficiencies and fish transfers, flow speed, optimal lighting and effluent treatment.

In dealing with disease and treatment, Heim explains that "antibiotic use is not a part of daily operations and is projected to be rare. They are almost non-existent in the smolt facilities currently. They have never been used at our Danish sites to date."
The 33,000 tonnes of production expected at the Belfast site represents a significant increase in current production levels compared to the Danish sites. He points out that: "Scale-up comes with risk, no doubt. But this scale-up is only three times that which we have already executed and have experience with, so we are comfortable that we understand the dynamics involved."
Whole Oceans LLC

Whole Oceans LLC is a US-based start-up that has assembled partners who are "best in class", according to company representative Angela Helton. "In Maine we are working with Cianbro, CES, and Kennebec River Biosciences, which offers fish-health services. Globally, we are partners with PR Aqua and Kuterra, which have many years of RAS design experience and production expertise. Most recently, Orfa Cabrera from Mowi has joined the team as our hatchery manager. Importantly, Maine's long maritime history also means that there is significant infrastructure already in place for seafood distribution, transport and storage that will be useful in our operations."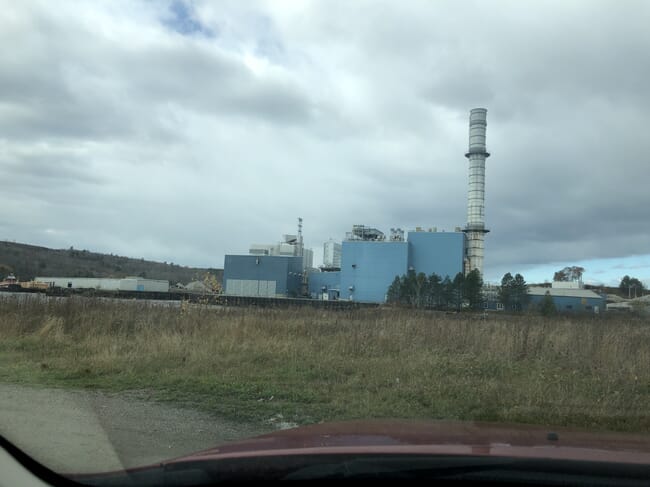 The team still has some important hires to make but they continue to move forward with their plans to renovate the Verso paper mill in Bucksport, which is no longer in use.
"The mill infrastructure was a deciding factor for site selection," Helton continues. "Bucksport was excited to work with us from the beginning, and it is close to some major markets. We have access to high-quality fresh water and seawater too, but existing facilities were crucial. We can use the intake and discharge infrastructure, some of the electrical connections and possibly some of the water-storage tanks and freshwater supply lines."
The team are encouraged by their early success in permitting and support from the town. As they grow their capabilities, they are confident in their ability to grow high-quality salmon in a precisely controlled environment. As Helton suggests: "Since the incidence of disease in a properly designed and managed RAS is extremely rare, there shouldn't be a need for antibiotics use."
Impact of Maine RAS

Dr Costa-Pierce believes that "Large-scale aquaculture could complement our traditional vision of rural Maine of vibrant small-scale developments, owner-operated small boats fishing lobsters, local farmers' markets and independently owned business. I call it the 'common-ground effect'. It's a tremendous success for Maine to have so many youthful agriculture leaders running vibrant businesses here. But it's not enough. Our economies are struggling to create not only businesses in rural areas, but also jobs in rural areas [instead of] exporting them to the cities, like the trendy Portlands of the nation. The RAS developments in Maine change the discussion completely from large-scale business units, and just production, production, production, to rural community development. The multiplier effect of aquaculture – if the hatcheries, feed mills, processing, transport networks and financial services are localised in rural areas near the farms – is tremendous. Just look over the border at Charlotte County, New Brunswick to see an example."
Costa-Pierce has contributed to a report about the effect of aquaculture in the community; in it he says: "In New Brunswick, salmon aquaculture is worth $47 million in direct employment, about 1,700 direct jobs with an additional 2,900 jobs the result of 'indirect' employment in aquaculture service industries (feed manufacturing, packaging, transportation, supplies, retail sector). In Charlotte County salmon aquaculture provides one in four jobs. Revenues from the sales of farmed salmon exceed those of any other single agricultural product in New Brunswick. Aquaculture has enabled young people to stay in the rural communities of the area; 75 percent of the direct jobs are held by persons under the age of 40.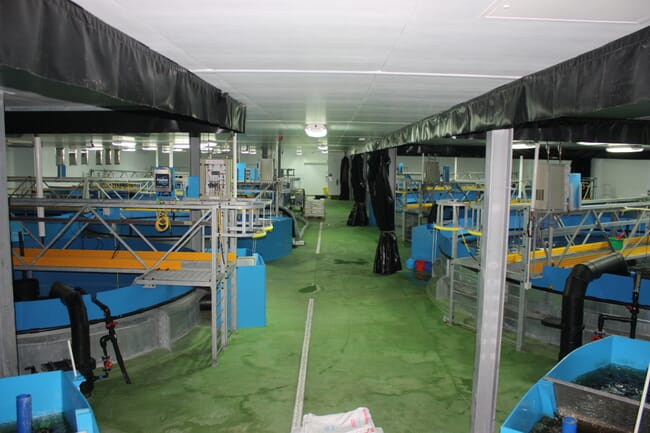 "This is an extraordinary opportunity for Maine," he continues. "The markets in Asia are exploding. This brings the larger investments and that means that we have more coherent corporate responsibility to environmental and social well-being." These companies are highly visible and can provide the structure and accountability to be reactive to issues as they arise. They are also highly technical and capable groups.
"For people who question this technology," Dr Costa-Pierce elaborates, "they must remember that this technology is less than 40 years old. This science has been working with millions, and indeed billions, of research dollars to properly develop the tech. We are starting to see the fruits of this labour in places like Superior Fresh [operators of the world's largest aquaponics system, in Wisconsin]."
But as with all opportunity, timing is everything. Many events have transpired to bring RAS to Maine, and it is time for the country and the state to embrace this chance. Despite the opposition of some, Dr Costa-Pierce knows that for RAS in Maine, "[We] do it now or it goes elsewhere."