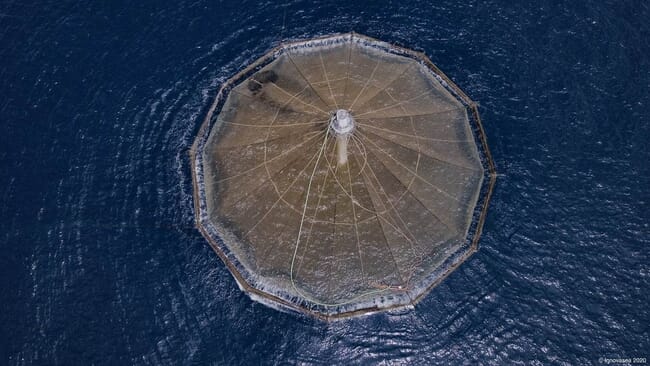 These were the take-home messages provided by a refreshingly honest webinar run by Innovasea yesterday – a webinar that revealed as much about the challenges of operating in offshore environments as it did about the rewards of succeeding.
Costs of set-up
"For a smallish farm, a 500-tonne farm, you're looking at $7-$10 million capital requirements and $5 million in operating costs. Once you start producing the operating costs will start to be offset by revenue. For a 1,000-tonne farm you're looking at $15-20 in capital… with about $10 million of operating costs per year. And a 2,000-tonne farm you're [looking at] roughly $20-25 in capital cost, with $15 million of operating costs per year," explained Felipe Ramirez, business development manager at Innovasea.
Given the investment required it's little wonder why offshore aquaculture is still a relatively niche form of production. And the representatives of the company – best known for its Aquapod submersible pens – were happy to discuss some of the key issues at stake.
Unfamiliar species and technologies
"There's still a lot of uncertainly in the open ocean space. There's a lot of novel production technology – new pens new systems people aren't familiar with. Likewise there's a lot of new species. People are very comfortable with traditional aquaculture species like salmon, shrimp and tilapia – they know the market they know the revenue. That's less true for snapper, grouper, seriola where there is a strong market but people aren't as familiar with it, or as comfortable with it, when you're producing 2,000, 5,000 tonnes," reflected Tyler Sclodnick, senior scientist at the US firm.
"The regulatory environment is different for the areas people are thinking about doing open ocean aquaculture. The US is a perfect example – it has a relatively exposed coastline so people are looking at open ocean technologies and it's a complicated system that we have, with a lot of different agencies involved, and it can be time-consuming and money-consuming [to obtain a permit] and that can be discouraging. We have client in Latin America where the governments may not have a framework. We have clients engaging with governments there, but they have start from square one in developing the regulatory framework which dissuades investor confidence," Scoldnick continued.

He also pointed to the fact that by no means all offshore aquaculture ventures have succeed.
"There aren't as many success stories. There definitely are a bunch of farms that are doing great but there's not always one for the particular region or species that you might be looking at. So it's a little bit different from a new salmon farm where you can copy and paste what's been successful and you can just replicate that [in offshore] it's very much new territories in a lot of ways for each farm. People are doing great but it's harder to take that leap of faith because there are more uncertainties," he explained.
Tropical potential
Despite these obstacles, some of the farms equipped with Innovasea's submersible pens have proved resilient, sometimes in areas where conventional farming would struggle – in particular in the tropics – as Langley Gace, the company's president, explained.
"There was a farm off the north of the island [Eleuthera], Spanish Wells, which was almost completely wiped out by Hurricane Francis, but the submerged pen at the bottom of the island was able to harvest a few days later," he said.
"We have a client in Jeju, Korea, who is currently raising bluefin tuna – they get hit with a major typhoon every few years, it's a given, and those pens are still there 10-15 years later," he added.
Other advantages to submersible pens include their comparative acceptability with other maritime interests.
"There's less conflict with stakeholders – submersibility is not only an advantage with storms, there's tourism aesthetics. There's a farm in Hawaii that's been permitted since 2004 the only reason it was able to start at that point was that they brought a submersible solution to the table. The vibrant hotel tourist industry had an issue with surface pens, they did not have an issue with submerged pens," explained Gace.
Allowing producers to operate in tropical waters can also have a positive impact on the production of the fish.
"Warmer water yields faster growth rates. Salmon take three years – roughly one year in freshwater and two in saltwater to come to harvest. Warmer water fish – seriola or yellowtail or Hamachi – take anywhere from 12-18 months to harvest, depending on the water temperature – you're basically generating more biomass in the same volume [of production system]," Gace pointed out.
"Although those fish have got some catching up to do in terms of FCR, we're not at that lean FCR rate that you seen in more mature sectors like salmon, bass and bream," he conceded.
As a result, according to Gace, most of the company's business is currently in tropical areas.
"On a macroscopic geographic level, the Caribbean, Central America, Southeast Asia – we're seeing a lot of interest there. The Mediterranean as well, there are storms there and they are going further and further offshore. There's a lot of buzz coming out of the Middle East – particularly the Red Sea and the Arabian Sea – the Middle East is looking to alternative sources of revenue as we move towards cleaner energy and like all countries are looking at food security," Gace explained.
"We are seeing some growth in cooler climates – we've got a client in Korea, we've got interest in Japan, as well as the Portuguese and Spanish Atlantic Islands, just to name a few," he added.