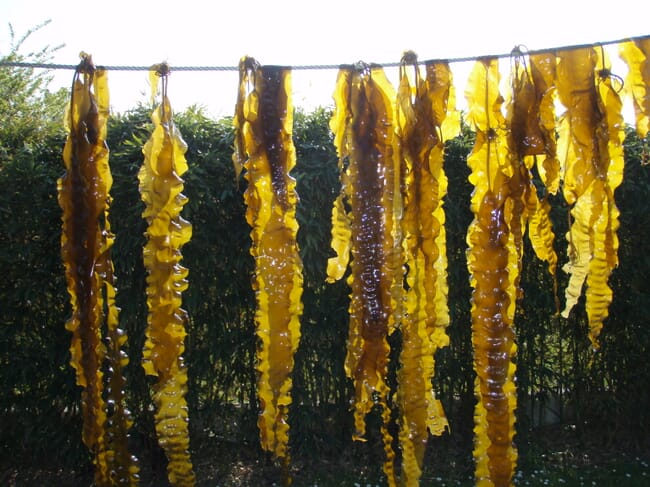 There is a growing appreciation of the benefits – social, economic and environmental – that seaweed aquaculture can bring about and the new publication sets these out clearly and concisely.
The benefits of seaweed aquaculture
"Increased seaweed cultivation in EU waters gives substantial potential for a new source of biomass for food, feed and industrial uses. In addition, the production process provides relevant ecosystem services, such as nutrient and carbon sinks and habitats for marine microlife and fish reproduction. Clever distribution of areas for farming with buoys, ropes and chains can also protect Natura 2000 areas and sensitive shorelines from unwanted vessel traffic. Natura 2000 areas can also benefit from neighbouring seaweed production because it ensures the presence of professional employees to keep an eye on things and report possible infringements. Birds also benefit from buoys and increased fish reproduction, and local commercial and recreational fishermen and benefit from increased wild fish populations," the Aquaculture Advisory Council (AAC) explains.
"Licenced production areas should be situated in water deep enough to not shadow present ecosystems found on the sea floor. Not only the surface of the farmed seaweed itself introduces new areas and hiding places for small sea animals, but by introducing new types of production gear, designed to promote biodiversity (eg with extra large surface area, like a coral reef), increased sitting space for numerous species is provided in an otherwise empty water column. This means that seaweed farming can yield net-positive biodiversity," the report argues.
Other key factors mentioned in the report include the ability of these aquatic plants to correct the nutrient status in EU water bodies, which is "in line with the EU Water Framework Directive, which strives to restore the nutrient status in watersheds to levels before the use of artificial fertiliser".
Plans to expand
The authors state that the most important issue to address in order to expand seaweed production is for the EU Commission to develop guidelines for member states on how to establish a legal framework for granting licences to establish new and expand existing seaweed farms.
Developing protocols for identifying optimal sites, optimising farming technologies and farm management to ensure predictable quantity and quality at a predictable cost is another priority.
Moreover, they note that: "The EU Commission needs to analyse current legislation (eg food safety) to ensure that issues related to seaweed (eg labelling) are properly addressed. An EU certification standard could properly accelerate marked development, build confidence in the novel food/ingredient and support a level playing field with imported products. The Commission might need to introduce new combined nomenclature codes to keep track of EU and imported products."
The AAC now plans to produce a follow-up document that includes a list of species of interest that can be farmed in Europe, a list of market opportunities for this kind of production and the identification of the ecosystem services provided by seaweed aquaculture.