Winners will be announced at a special awards dinner on 16 September, which is part of this year's Aquaculture UK exhibition, in Aviemore. The awards will highlight the range of talent and cutting-edge advances in technology involved in the global aquaculture sector.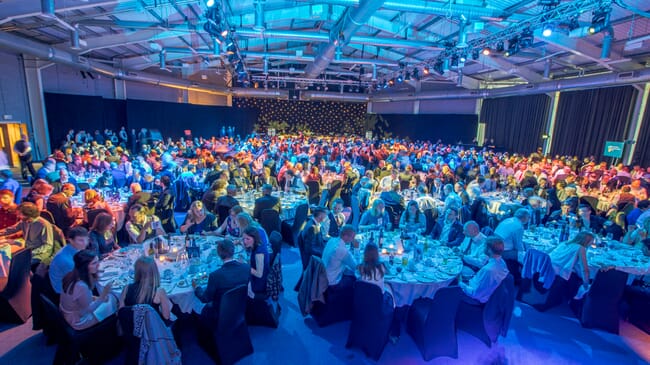 "The Aquaculture Awards are a fantastic way to recognise the achievements of those stand-out individuals who are making an exceptional contribution to the industry. Once again, the quality of this year's awards entries has been outstanding. Congratulations and good luck to each of our shortlisted finalists," says event director Cheri Arvonio.

The shortlists for 12 of the 14 categories are:
Finfish farmer of the year – sponsored by Gael Force Group
Lovemore Ndovie – Kayalami Aquaculture, Congo
Funke Olatunde – PhD student and fish farmer, Nigeria
Ross Fennel – site assistant with the Scottish Salmon Company, Gigha, Scotland
Noelia Rodriguez – hatchery manager for Scottish Sea Farms, Barcaldine, Scotland
Shellfish farmer of the year – sponsored by M&S Select Farms
Gordon Turnbull – owner and operator of Isle of Mull Oysters, Scotland
George Holmyard – manager of Offshore Shellfish, Devon, England
Koo Eng Wah – owner and operator of Sepang Today Aquaculture Centre, Malaysia
Outstanding contribution to the industry – sponsored by Marine Scotland
Amy Novogratz – co-founder and head of Aqua-Spark, Netherlands
Alan Henshaw – manager of Calverton Fish Farm, England
Alastair Barge – owner/operator of Otter Ferry Seafish, Scotland
Djames Lim – CEO of the Lim Shrimp Group, Indonesia
Environmental impact – sponsored by Cargill
Inovafeed – insect protein producer, France
Fjord Maritime – generators for feed barges, Norway
Nofir – recycling, Norway
EWOS/Cargill Aqua Nutrition – developing compostable feed bags, Scotland
Aquaculture supplier of the year – sponsored by Stingray
Benchmark Genetics/StofnFiskur
Ace Aquatec
NAFC Marine Centre UHI
Gael Force Group
Community initiative
Loch Duart – Salmon Pool community funding
Mowi Scotland – Salmon Wagon
The Scottish Salmon Company - Outer Hebrides Local Energy Hub (OHLEH), Lewis
Economic sustainability – sponsored by BioMar
Aquaseed Fishtecknik – fish smokers, Nigeria
The Scottish Salmon Company - Apprentice to Expert training scheme, Scotland
Scottish Sea Farms – Eday Employee Housing, Scotland
The Scottish Salmon Company - Outer Hebrides Local Energy Hub (OHLEH), Lewis, Scotland
John Avizienius and Malcolm Johnstone – RSPCA Assured
FAI Farms – Tilapia Wellbeing project
Benchmark Genetics – SalmoBreed Salten
Ace Aquatec and Scottish Sea Farms – novel slaughtering systems
Scottish Shellfish Marketing Group – novel packaging
Vita Aqua Feeds (World Feeds Ltd) – cleaner fish feed blocks
EWOS/Cargill Aqua Nutrition/Gaia BioMaterials Ltd - compostable feed bags
Ace Aquatec & Scottish Sea Farms – novel slaughtering systems
Rising star – sponsored by AILG Skills Group
Funke Olatunde – Imoran Farms, Nigeria
Rosie Dreghorn – Cargill/EWOS, Scotland
Zoe Fletcher – AquaBio Tech Group, Malta
Ivana Russon – BioMar, Scotland
Unsung hero
Professor Chalres Ngugi - Kenya
Dr Martin Jaffa – Callander McDowell, UK
Nigel Woodhouse – Hawkshead Trout, UK
Nick Bradbury – BioMar, UK
The Global Salmon Initiative (GSI)
Mowi Scotland – River Lochy salmon enhancement project
Davidsons Animal Feeds / The James Hutton Institute – seaweed in livestock feeds
Benchmark Genetics / Nofima – development of whitespot-resistant shrimp
In addition, there will be two special awards. One is for the best overall aquaculture company to be shortlisted, which is sponsored by Crown Estate Scotland and decided at the judges' discretion. Meanwhile the winner of the people's choice category, which is sponsored by Sølvtrans, is to be decided by an open vote. Any individual involved in the aquaculture sector can vote for one of the nominated candidates. Details of how to vote will be released shortly on the Aquaculture Awards website.
The judging process
The shortlists were drawn up, following a record number of nominations and applications, by a diverse panel of judges, featuring Alex Adrian, aquaculture operations manager of Crown Estate Scotland; Martin Gill, head of aquaculture and fisheries at Lloyds Register; Nicki Holmyard, Director of Offshore Shellfish Ltd; Professor Dave Little, head of research at Stirling's Institute of Aquaculture; Ingrid Olesen, senior scientist at Nofima; and The Fish Site's Rob Fletcher.
Due to the coronavirus pandemic they were unable to meet up in person, but over the course of three conference calls organisers were able to debate the relative merits of over entries and nominations, and the six judges managed to whittle down the contenders for each category to make the shortlists.
The judging procedure was based on a voting system following a debate between the panel – those judges with a connection to a company or product in the running for an award had to declare their interest and abstain from voting on that particular category.
Further information
The awards' dinner will take place at the Macdonald Resort, in Aviemore, on 16 September 2020.

For enquiries related to the 2020 Awards, please contact event organiser Cheri Arvonio, Cheri Arvonio, CArvonio@divcom.co.uk
For commercial enquiries, please contact Ian Hames, ian.hames@5mpublishing.com