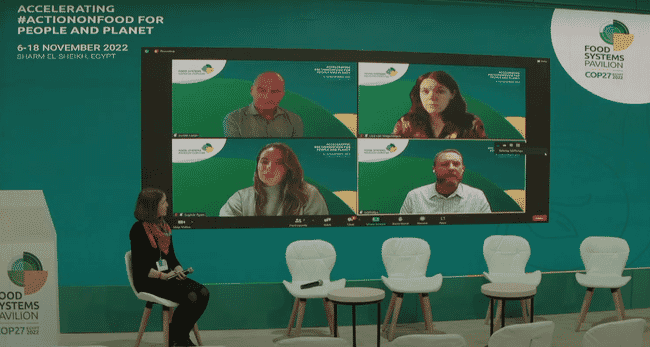 The recent COP27 meeting reinforced that the salmon sector must be more responsible if it is to become a flagship for sustainable blue food production.

Following our panel session in the first food-focused pavilion at COP, it was clear to see that there is some good news for our sector – blue foods and aquaculture are very well positioned to have a larger share of tomorrow's healthy, climate-sensitive diets. The less good news is that the opportunity brings greater responsibility. We need to accelerate our efforts when it comes to reducing greenhouse gas (GHG) emissions, and I don't mean setting targets, but actually demonstrating measurable reductions.
Here's what I learnt:
Aligned, consistent data is critical
Data are no longer simply used for reporting out, we must use data – collected in a consistent framework across sectors – to drive action. Then we can measure that action to focus future efforts.
Collaboration is key
Collaboration across companies and across the supply chain will support action at speed and scale.
We have learnt from experience that changes in one part of the supply chain can often have knock-on effects somewhere else in the supply chain so we must work together in open dialogue to have the complete picture.
Through collaboration we can also learn from others – both good and bad experiences can be shared to save time and resources.
Sharing learnings drives improvements
The farmed salmon sector can play a leading role in sharing its knowledge and technological advancements with other species to help the wider aquaculture industry further improve its carbon footprint.
It's necessary to move from positioning to action
Our approach in GSI has always been grounded in action. To truly be credible and respected we have to have the proof-points behind us. Frustratingly, the action can sometimes take longer than we would hope, but it is what drives real, measurable progress in the long-term.
Over the last two years, GSI has been working in partnership with WWF and IDH in a project to support the members in using a consistent framework for GHG emission accounting across the supply chain. So that we ourselves, and our stakeholders, are comparing GHG numbers which are based on the same factors. Removing the ability to hide between different interpretations and nuances in slight differences in the data. Plus, we want to utilise the collective knowledge and expertise within our GSI group to accelerate reductions at speed and scale. Using an aligned accounting framework to identify opportunities for mitigation, measure their impact, and then share the best practices so that, as a sector we can maintain the ability to be part of the future looking dialogue on healthy, climate-resilient food systems.
Salmon aquaculture is not the solution to the global food system challenges, but there is more we can be doing to build its position in such dialogues. Salmon aquaculture is the most technically advanced area of aquaculture, and is at the forefront of many pioneering innovations to improve environmental performance, reduce GHG emissions, as well as improve farming practices and fish welfare, all of which have the potential to be transferred to developing species.
The discussions at COP highlighted the need for the food sector to reduce its footprint, so if we as a united sector we can drive our footprint down, we will only build our positioning as a food for the future.
What was clear from the session is that the climate dialogue is moving from accountability to action, and all eyes are on the businesses and models that can do that in a measurable way at a fast pace. The salmon sector has track-record of innovation and collaboration. The question now is can it maintain this position when it comes to climate footprint and – if so – how will we do it?