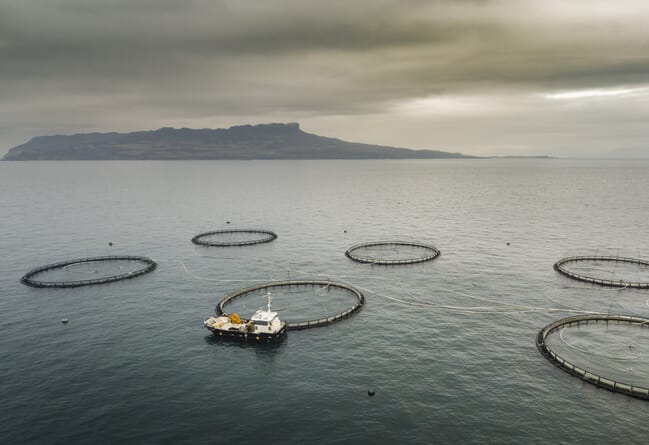 Aquaculture is one of the UK's key strategic food production sectors, particularly in Scotland where salmon farming provides essential jobs in remote and rural communities. However, questions have been raised as to whether it can ever truly be sustainable. A new British Veterinary Association (BVA) policy position on UK sustainable finfish aquaculture, sets out the association's vision for sustainable development of the finfish farming sector and the need to fully consider and respect fish welfare.
Developed by a panel of experts and focusing specifically on finfish, such as salmon and trout, the position discusses and makes recommendations on key issues, such as the health and welfare of farmed fish, the impact of fish farming on the environment and biodiversity, and the involvement of the veterinary profession in the sector.
With evidence gaps in relation to fish welfare in aquaculture systems, BVA is recommending more research be commissioned to help understand fish, their welfare needs and how these can be best met in captivity. The association's policy position also identifies that more research is required to assess how aquaculture impacts the environment and biodiversity. This includes exploring issues such as the effect of escapes and the interaction of farmed fish with wild populations, the use of medicines, and how to minimise aquaculture's carbon footprint.
BVA is also calling for more vets to become involved in the aquaculture sector. During their education most will graduate with little experience or understanding of how to care for fish and usually complete additional qualifications to work in aquaculture. This has resulted in a shortage of vets with the expertise to advise the sector. However, BVA believes vets should play a key and active role in aquaculture and is encouraging more visibility of related roles within the veterinary industry, particularly at universities, to encourage more students to consider working with fish as part of their career paths.
As Justine Shotton, BVA senior vice president, explains in a press release: "Aquaculture represents a significant proportion of the UK's food production but more understanding and research is needed into fish health and welfare and the wider environmental impacts of this industry. There is scope for the veterinary profession to play a more significant part in aquaculture and we hope to encourage students and vets already in practice to consider exploring related roles during their careers."