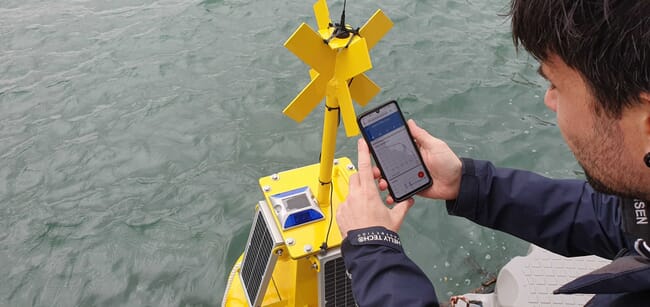 The French start-up's innovation allows water quality to be measured 24/7 and provides water quality forecasts several days in advance. Early adopters have included producers of sea bream, shrimp and oysters, as the device allows them to adapt the way they manage their production, taking into account water quality parameters and anticipating the evolution of events such as harmful algal blooms (HABs).
The device can measure more than 15 water quality parameters of the water - including temperature, dissolved oxygen, pH, salinity, turbidity and chlorophyll - and predict its evolution.
The data is preprocessed allowing users to can visualise them in real-time through a dedicated web interface. Alerts can be set up if thresholds are exceeded. The plug and play system is completely autonomous, is powered by a solar panel and equipped with long-range communication technology (LoRaWan).
The devices
Created in 2018 by couple Samuel and Charlotte Dupont, two biology PhDs, the 2019 I-LAB innovation contest winner, is based in Sophia-Antipolis technopole in the south of France. BiOceanOr currently has a team of five members and the funding will allow them to recruit five more as they seek to commercialise their device.
The funding came from Region Sud Investissement, as advised by Turenne Capital Groupe, Inventures Investment Partners and various investors organised by Blue Oceans Partners, a new blue economy impact fund.
In 2020, BiOceanOr will be deploying in Norway - where they plan to set up a dedicated team in Bergen in September. With devices deployed for the real time monitoring of water quality on farms, a predictive algorithm (machine learning) forecasting the evolution of water quality and the analysis of these data by a team consisting of a marine biologist, aquaculture expert and data scientist.

They also plan to expand into Greece South America and French overseas territories.

"We are very proud to be supported by these funds and experienced entrepreneurs. They will help BiOceanOr to reach the next development level and bring BiOceanOr to the international stage, while keeping our ecological convictions and promoting our impact solutions," said Samuel Dupont, president of BiOceanOr,
"This recent fundraise closing will help us to recruit the new members of the BiOceanOr team. We will look for brilliant, engaged, and passionate collaborators. We are confident that our new board will help and advise us to accelerate our commercial and technological development," added Charlotte Dupont, CEO of BiOceanOr.