Factors Impacting on the Amount of Fish People Eat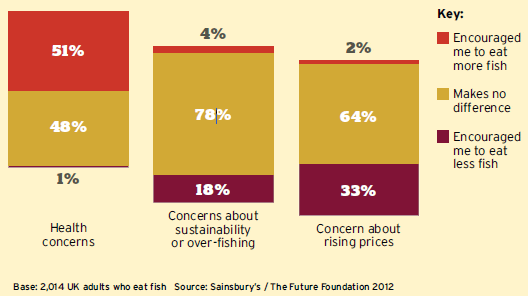 It seems that personal well-being is the primary driver for increasing fish consumption, with 51 per cent of our survey respondents saying that health concerns had encouraged them to eat more fish this year than last. Only one per cent said that health concerns encouraged them to eat less.

However, against the major driver of health, there are several reasons cited for not eating fish. Most commonly mentioned is price, with 33 per cent of UK adults in our survey saying that concern over the rising price of fish had encouraged them to eat less fish in the past year, and 46 per cent saying that cost is a barrier to eating fish in general. Other significant barriers to eating fish are lack of recipe knowledge (34 per cent), lack of availability of fresh fish in local shops (28 per cent), lack of time to prepare from scratch (28 per cent), not liking the smell it makes (24 per cent)1 and difficulties planning ahead for meals (17 per cent).

Prices of most major foods in the UK have seen significant increases in recent years. The share of total household spending on food fell from more than a quarter in the 1960s to one pound in every ten by the mid-2000s. But recently the trend has reversed. Food now accounts for 12 per cent of total household spending. This figure rises to 16 per cent among the UKs poorest households.

A special analysis of the impact of price rises on UK eating habits published by DEFRA in March 2012 shows that consumers are spending more on almost all foods, while also trading down to cheaper alternatives and reducing the amount they buy. When it comes to fish, UK consumers appear reluctant to spend more, so have responded to price rises solely by trading down, or reducing the amount they buy.

Consumption of fish may well be influenced by another important factor however, which comes through in our survey data: concerns about sustainability.

Some 18 per cent of fish-eating adults said they were eating less fish because of sustainability concerns. Of these, 40 per cent said it was because of confusion about which fish are sustainable. Another 37 per cent cited the variability in the meaning of sustainability between supermarket retailers. The third most common reason, at 35 per cent, was the cost of sustainable fish. It therefore appears that sustainability issues can influence consumption trends.
Looking Ahead - Future Trends in the Fish Economy
More efficient and less wasteful ways of producing and catching fish, plus a broadening consumer appetite for currently less popular fish, can result in a sustainable increase in the supply of fish to consumers.

Eating a wider range of fish will help take pressure off the most popular fish stocks. With more people on the planet than ever, we need to develop broader buying habits. Increasingly choosing alternative fish with sustainable, long-term fishery management regimes means we can make more available for everyone while caring for the future well-being of fish supplies.
Development of Feed Technology for Aquaculture
According to the United Nations, aquaculture - farming fish in sea cages, inland reservoirs or enclosures - is one of the fastest growing sources of protein in the world today.

While the demand for food supplies to feed farmed fish has previously been a problem to aquaculture sustainability, innovations are in progress. These are allowing fish farmers to produce fish more efficiently, with increasingly better feed to fish conversion ratios. Sainsburys is also finding ways to reduce the marine content of fish feed, by adding more vegetable material. This further improves the sustainability of farmed fish.
Development of More Selective Fishing Technology and Better use of Catches
Everyone in the fishing industry has a vested interest in limiting by-catch which is fish unintentionally caught in most fishing gear - and discards. Better fishing technology that, for example, has introduced nets designed to reduce by-catch can help fishermen limit discards. There are also initiatives and trials aimed at making sure that a greater share of what is caught gets used.
An Ageing Population
A further important factor as we move through to 2030 will be a significant demographic shift to an older UK population. The acceleration begins dramatically from around 2015 as the UKs baby-boom generation starts to turn 60. Trends show that older people eat more fish than other age groups, so an increase in demand is likely to follow.
A Return to Disposable Income Growth
We assume that a return to gradual but steady increases in household spending power2 from 2013 to 2030 will serve to steady the proportion of household spending on fish. This is despite the general upward pressure on current prices coupled with the economic slowdown which has resulted in the recent dip in consumer spending on fish.
Increased Health Awareness
Between 1980 and 2011, tracking data shows the proportion of UK adults who said that staying fit and healthy was a personal concern rose from 56 per cent to 78 per cent. At the same time, much of the population has become more aware of health issues connected to eating too much fat and calories.

In an even shorter time-span, awareness of omega-3 fatty acids as good for health has grown significantly among UK adults. We expect health concerns, and awareness of the health benefits of fish, to continue to rise, boosted further by an ageing UK population with a greater preference for fish.
The Rise of Epicurean Taste
While unevenly spread across the population, there are significant cultural trends towards more adventurous cooking and a serious appetite for discovering new and unusual foods. This growing group of UK adults, who aspire to be experts about food and enjoy experimenting with new recipes, provides an ideal market for the alternative fish offer.

We have mapped all these long-term trends in fish consumption against an analysis of how fish consumption changes as people age, and demographic forecasts. This gives us an estimate for overall levels of fish consumption in the UK from now to 2030.
Total Weekly Fish Consumption by UK Adults, 2012 - 2030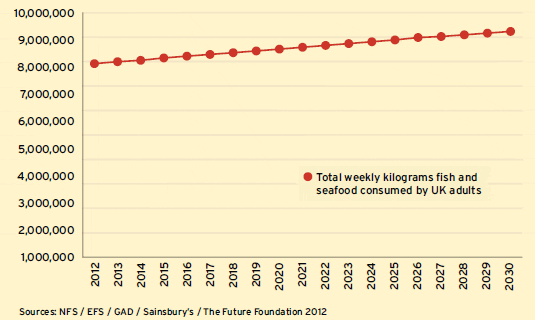 The forecast shows that adults weekly consumption of fish in the UK will grow from just under eight million kilograms today, to 9.23 million kilograms by 2030, an increase of 17 per cent. Yearly, this equates to a total UK adult consumption of 410,000 metric tonnes of fish in 2012, rising to around 480,000 metric tonnes in 2030.

This forecast represents a four per cent increase in fish consumption for each person by 2030. Much of this is down to the ageing profile of the population, with the percentage of UK adults who are aged over 65 set to rise from 21 per cent in 2012 to 27 per cent in 2030.

But we must also account for the expected growth in the UK adult population. This is set to rise from 51.4 million in 2012 to 57.8 million by 20303. So the overall weekly consumption of fish in the UK will rise from around 8,000 metric tonnes a year in 2012, to around 9,200 metric tonnes by 2030.
Eating Alternative Fish: Barriers and Drivers
Returning now to the subject of alternative fish, our survey reveals that many types of alternative fish are already well-known and well-liked by large proportions of UK adults. 81 per cent have eaten plaice, 79 per cent have eaten mackerel, 72 per cent trout, 60 per cent herring, and 59 per cent pollock. In every case, the great majority who have eaten these fish say that they like them. Other species are popular, but have not yet been tried by the majority of UK adults; for example, 47 per cent have tried monkfish, and 44 per cent have tried coley.

Going further down the list of the little 50 (Sainsburys has sold more than 50 different alternative types of fish and seafood in the past two years), we find growing proportions of adults havent yet tried them. For example, only one in ten fish-eating adults have ever tried pouting and only eight per cent megrim.

So, the great majority of UK adults have already eaten and enjoyed a range of fish that extends well beyond the big five there is plenty of positive consumer experience to build on. But it is equally clear that lack of familiarity remains a challenge as we go further down the list of fish species. While around three-quarters of fish eating adults who have never tried various alternative fish types say they would be happy to try them, this still leaves one in four despite eating other types of fish - saying that they simply do not want to try unfamiliar alternative species.

This said, overcoming our inbuilt reluctance to try new things is getting easier over time with both children and adults in the UK more willing than in the past to try new foods. Our increasingly cosmopolitan attitudes towards eating is a fundamental driver of uptake for alternative fish, guaranteeing lively interest in alternative fish in coming years.

Added to cosmopolitan lifestyle, is price. While alternative fish are not necessarily cheaper, species such as pollock and coley are more cost-effective alternatives to cod, and this will be an important factor in increasing levels of consumption in the future. At the same time, the fact that alternative fish occupy a much broader price point range suggests that there are benefits, not only to consumers wanting to limit food expenditure, but also to those seeking premium products as part of the UK foodie culture. We note in this connection the recent success of sea bass, which is by no means a budget alternative.
Volume of Fish Sales Accounted for by the Big Five Species
Examining Sainsburys product sales data4 over an entire 24-month period, from 2010 through 2011, there is an underlying downward trend in the share of fish sales accounted for by the big five. However, sales of alternative choices are on the rise.

This underlying upward trend in volume sales of alternative fish products is apparent in most subcategories of fish. It is, however, most notable in fresh pre-packed fish, with alternative fish sales up from 11.6 per cent of units sold to 13.2 per cent between 2010 and 2011. In frozen fish the alternative fish volume sales rose from 44.9 per cent to 46.1 per cent over the same time period.

The chart below shows that on this basis we can expect a steady, continuing increase in the proportion of fish sold in the UK that is outside of the big five.
Percentage of Fish Products Sold that are Alternative, 2012 - 2030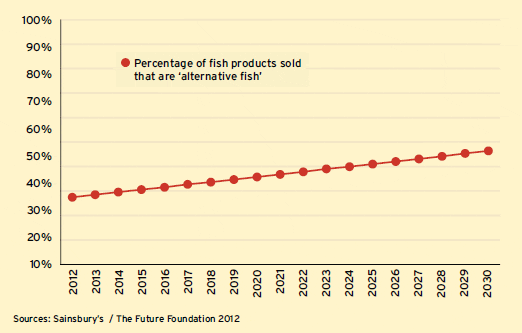 The chart shows our prediction for the proportion of alternative fish volume sales. From having a 34.7 per cent share of all fish products sold today, alternative fish choices will account for just over half of fish products sold in 2030.
November 2012