As the aquaculture industry continues to look for alternatives to marine ingredients in its feeds and health products, Larry Feinberg, CEO of the Massachusetts-based firm, explains some of the details of their range of novel products to The Fish Site.
What is the source of your products?
It's a leaf symbiont called Methylobacterium extorquens. It's a bit like algae, a bit like yeast, but it's actually a type of bacteria. We're currently the only company working with this organism for this application.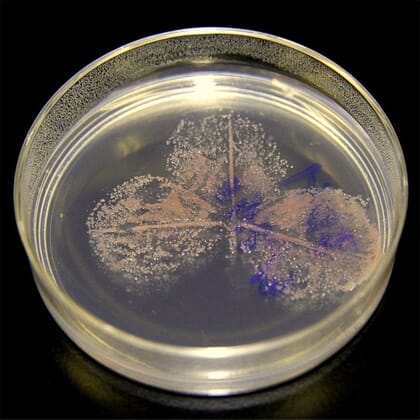 How do you cultivate these bacteria?
They're produced by converting methanol in standard fermentation tanks to produce a product called KnipBio Meal (KBM), which has a similar composition of protein, amino acids and other biomolecules to fishmeal obtained from wild fish.
Are you mainly looking to provide an alternative to fishmeal?
Trying to create fishmeal replacement is a major challenge – it's the gold standard protein for the aquafeed industry for a reason. I think it's more realistic to think of ourselves as a complement to fishmeal, rather than an actual replacement – we're hoping our ingredients can make up 5-15% of commercial diets. The nutritional profile of fishmeal is also a useful benchmark and we're looking to improve the levels of protein in KBM all the time – in the last few years the protein levels have risen from 50% to the mid-60s, and should soon be in the mid-70s. Equally the amino acid content of KBM is also increasing.
Rather than replacing the use of fishmeal, our real goal is to create diets that make fish healthier, more resistant to disease and reduce the use of marine organisms in aquaculture feeds. We're really about the whole toolkit – we're not just producing proteins but have more of a 'protein-plus' platform. We're working on developing a range of products – we've currently got three in the queue and the vision for three more. The most advanced ones to date are the pre-biotic plus protein, the high protein fishmeal alternative (KBM), and the protein plus carotenoids – we have four or five carotenoid products in this latter category, including one containing astaxanthin. Looking further ahead are those products that are still at the proof of concept stage, which include those containing amino acids such as taurine.
What do you see as the main market for your products?
We're targeting carnivorous species, especially those consumers prefer to have particular pigments – in particular salmon and shrimp, but will also be exploring different verticals, such as the poultry sector.
What's the feedback been like so far?
There's been a wide range of responses – some feed and fish producers ask why they need to change, others are early adopters and are intrigued by our products and we've had multiple requests for product in the past week. The interest and the market is clearly there; we just need to match it with our production capacity.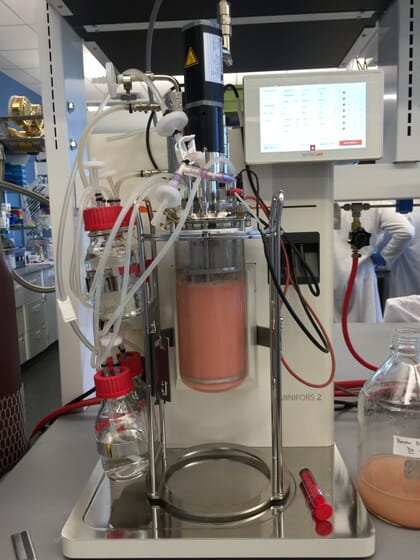 What regulatory hurdles do you need to overcome before the products can be used commercially?
We're putting together a regulatory dossier at the moment, but the barriers to commercial use of our products varies hugely internationally and we'll have to navigate them accordingly – it could take weeks, months or years, depending on national regulations. Regulations are stringent in the EU, in particular, while in the US it's easier to sell novel ingredients to humans than it is to animals – but we consider that a good thing. It also depends on the nature of our products, some are considered GM, some are not, and this varies between countries.
Can you tell us a little bit about the role recombineering plays in the creation of your products and what does this process involve?
Biotechnology has progressed to where beneficial traits that occur due to classical evolution or rational engineering strategies can be identified and characterized very quickly. Using the microbe's own machinery, these identified benefits can be consolidated into a single host that is scarless, antibiotic-free and leads to - in many cases - a far superior descendant compared to the original parent strain. Using these types of techniques allows us to employ multiple strategies in parallel, understand the biology better, and speeds up product development.
How do you differ from other SCP producers?
Others in the field are essentially looking to produce high volumes of a commodity, while we're producing more of a premium product.
Have you attracted much investment to date?
It's not what you raise that's important so much as how much money you return to your investors! But, so far, we've raised $4.5 million.
Do your products impact the nutritional profile of the fish/shrimp that eat them?
Trials have shown there's no difference in fillet quality or protein content in fish fed with KBM, while the amino-acid profile is very consistent with that of fish fed fishmeal-based diets, as is the gut microbiome of the fish involved in the trials.
We've also done blind taste tests in which a panel of 70 were given samples of seriola fed with KBM and the flavours were comparable to those fed fishmeal-based diets too, with no off-flavours noted.
What's the scale of the company and does it have potential to grow?
We've got about a dozen employees at the moment and we expect that to at least double in the course of the next 12 months. We're also working on a number of projects with other folks, such as the recently completed collaboration with the CNRC research labs in Canada, which allows us to share knowledge and infrastructure with others and speeds up our research.
You are about to embark on series of presentations at some of the world's most prestigious aquaculture events, such as the Aquaculture Innovation Summit, in London, and GOAL 2017, in Dublin. What are the key messages you're planning to deliver?
To build the general awareness of KnipBio and to provide a company update, giving examples of the power and potential for biotechnology in aquaculture.