Nicola Rhyner, from Zurich University of Applied Sciences, won the annual award at AE2019 in Berlin last week for his paper titled "Assessing microsatellite markers to assess post-stocking survival of hatchery-reared Atlantic trout (Salmo trutta) in tributaries of a pre-alpine lake".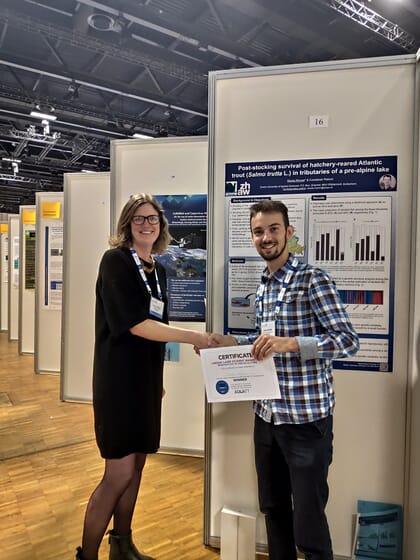 The award – which is given to the author of the best English language poster at the European Aquaculture Society's annual flagship event – was, fittingly, presented by Dr Camilla Priede, daughter of the pioneering Scottish aquaculture researcher Lindsay Laird.

Presenting the award to Nicola she said: "I was particularly impressed by how in his poster Nicola managed to take a very sophisticated topic and convey it with complete clarity.
"As my career is focused upon widening access to the sciences and science education, I recognise that it is very hard to write about very complex topics in a very simple way, and that few scientists have this skill at that stage in their career. My mother always aimed to ensure that her work was accessible to a broad audience, and as such Nicola was a very apt winner of the award."
Meanwhile Margaret Eleftheriou, chair of AMC Ltd, who was also one of the award judges, told The Fish Site: "The winner of the 2019 Lindsay Laird poster award provided a contribution that was a very clear presentation with very well identified messages for the reader. Although techniques used are well known, they are among the forefront of the current laboratory technologies. The authors used such techniques for assessing field and nature challenges, particularly to identify and take action on conservation of particular species in tributaries of main rivers.
"This approach afforded innovation to protect environment and manage autochthonous or allogenous freshwater species."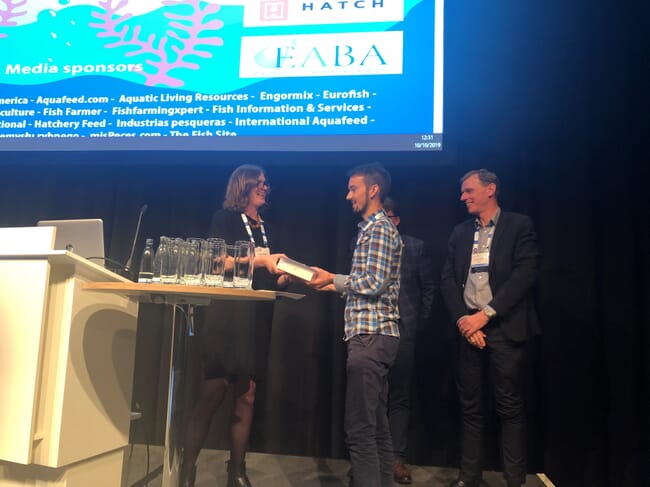 About the Lindsay Laird aAward
The award was established in 2008 by AquaTT and AMC and has recognised young students for their contributions to science in honour of the late Scottish scientist Lindsay Laird - a senior teaching fellow in the Zoology Department at the University of Aberdeen, who worked closely with the expanding Scottish aquaculture industry and served as the chair of the Organic Fish Producers' Association, vice-chair of the Scottish Fisheries Executive Committee and on the board of directors of the European Aquaculture Society from 1994 to 2000.
The award is presented annually to the author of the most innovative English language poster submitted by a student to the annual Aquaculture Europe conference, which concerns research in any one of the following areas:
Environmental impacts in aquaculture
New species
Hatcheries/early life history
Stock production
Fish diseases
New technologies
Genetics/genomics