According to the report, which was authored by Consenus and included input from EFARO, these two ingredients supply essential amino acids and fatty acids required by the fish for normal growth. More recently, small quantities of fishmeal and fish oil (3-5 percent and 1-3 percent, respectively) have been included in feeds for omnivorous and herbivorous fish.

Manufactured fish feeds account for 35 percent of the fish meal and 55 percent of the fish oil produced annually. Most of the rest is used in manufactured feeds for terrestrial farm animals and poultry.

Carnivorous fish convert these manufactured feeds to edible flesh with maximum efficiency. Farmed salmon convert approximately 1.2 kg of feed into 1 kg of fish. Poultry convert between 3 and 5 kg of feed into 1 kg of flesh. Pigs convert approximately 8 kg of feed into 1 kg of flesh.
Replacement of marine protein sources by (terrestrial) plant protein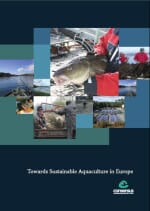 For various reasons, fishmeal and oil are gradually being replaced by plant proteins in feed that is used in fish farms. Plant proteins can be less costly and they are free of potential contaminants like dioxin, PCB or mercury.

However, fishmeal is an important ingredient in fish feed and can only to a limited extent be replaced by vegetable proteins without reducing feed efficiency and growth. After all, carnivorous or 'piscivorous' fish naturally feed on other fish. The fatty acid composition in the flesh from farmed fish will also reflect the feed composition and inclusion of vegetable oil will reduce the level of omega-3 fatty acids.

Although the introduction of plant protein into the feed can be seen as a way of reducing the sector's dependence on fish meal and fish oil, some have questioned the trend because:
carnivorous fish do not naturally feed on plants;
plant proteins may have anti-nutritional effects on fish;
there is a maximum level of replacement, after which the texture and eating quality of the fish is compromised;
some plant proteins could be derived from GMOs.
Generally speaking, though, marine plants have enormous potential to act as fish feed ingredients. Initial research has confirmed this potential and our knowledge in this area is starting to build.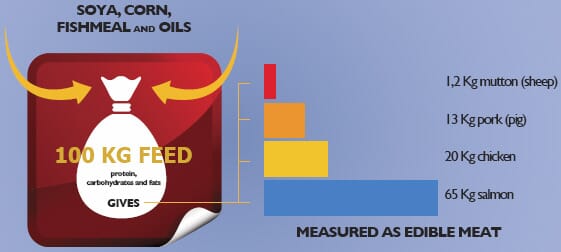 Decontamination of fishmeal and fish oil
Fishmeal and fish oil are produced from fish that may contain contaminants. Various research projects are ongoing to look into the feasibility of de-contaminating fishmeal and fish oil. One such project is carried out at the Fiskeriforskning Institute in Norway.

Fish stocks of concern in the northern European industry are sprat and herring from the Baltic Sea, and herring, sprat, sand eel and blue whiting in the North Sea. The differences in dioxin and PCB levels reflect the general pollution levels in the respective fishing areas and will disfavour the North European fishmeal and oil producers in the world market. This is already the case in aquaculture, where most fishmeal is sourced from the southern hemisphere.

The main objective of the project is to develop a new oil extraction process to reduce the persistent organic pollutants level in fishmeal. The research will aim to identity optimal processing conditions with respect to both decontamination efficiency and preservation of fishmeal and oil quality. The new oil extraction process is expected to have several advantages compared to a standard hexane extraction process. This will include the possibility of easy integration in an existing fishmeal processing line, use of a safe and non-flammable extraction medium and lower investment and operation costs.
Do farmed fish contain artificial colouring?
The natural red/orange colour of salmon results from carotenoid pigments, largely astaxanthin in the flesh. Astaxanthin is a potent antioxidant that stimulates the development of healthy fish nervous systems and that enhances the fish's fertility and growth rate. Wild salmon get these carotenoids from feeding on small crustaceans, such as prawns and shrimp. Astaxanthin does not naturally occur in fish feeds and thus must be added. The astaxanthin which is added to feed is identical to the natural pigment.
Further Reading
September 2008