Norway's coastal waters were once home to undulating kelp forests, but sea urchin populations have exploded, with large numbers devouring the algae. Once everything has been eaten, the urchins remain alive for years, preventing any kelp from regenerating.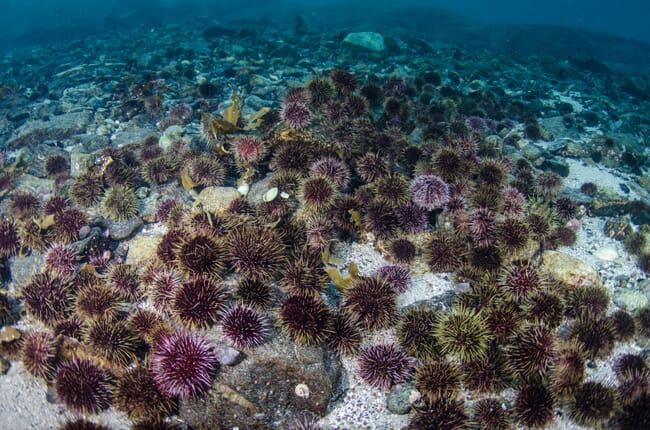 According to Philip James, senior scientist and sea urchin expert at Nofima, the Norwegian fisheries, aquaculture and food research institute, the situation is a huge concern.

"Sea urchins have been a long-term issue along the Norwegian coast in terms of their degradation of kelp forests for decades," he says. "There is a huge biomass of them and undoubtedly they've consumed an equally huge biomass of kelp. They survive for a very long time with virtually no food, so once they're established, they remain for decades."
One solution is to remove the sea urchins, and this is where sea urchin ranching concept Urchinomics comes in. Calling itself a "restorative aquaculture venture", the company is restoring kelp forests by collecting sea urchins and on-growing them for sale. With operations in Japan, Canada and the US, Urchinomics has now signed a lease to open its first land-based sea urchin ranch in Finnøy, in Norway's Stavanger municipality.
"The idea to ranch sea urchins came a year after the 11 March disaster [the earthquake and tsunami] in northeast Japan," says Urchinomics CEO Brian Tsuyoshi Takeda. "The tsunami washed away the predators that kept the urchins in check and the urchins ate all the kelp forests that made northeast Japan so productive. A delegation of Japanese fishers looking to rebuild their industry was invited to visit Norway by the Ministry of Foreign Affairs and Ministry of Commerce. It was found that Norway had a number of aquaculture tech solutions, including a feed developed by Nofima that could fatten empty urchins. I asked Nofima to provisionally give me the rights to it to see if I could make it work and we were successful on our first try in 2014."
Urchinomics is aiming to make sea urchin removal and kelp-forest restoration self-sustaining worldwide. In this regard, Takeda says, Norway is particularly suitable, with over 80 billion sea urchins inhabiting its coasts. Most have already overgrazed the kelp forests. Norway also has global expertise in RAS technology, aquaculture and urchin/kelp ecosystem dynamics.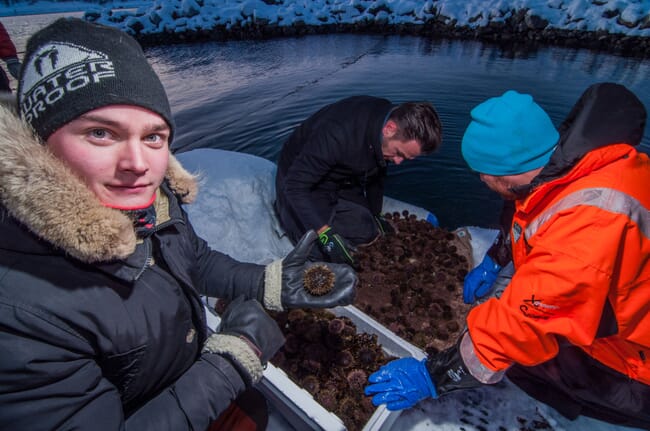 Spine loss and balding
Construction of the ranch began on 1 March 2020. Wild sea urchins will be caught and transported to land-based aquaculture facilities. Maximum production capacity stands at 12 tonnes per year. Water parameters like pH, temperature, salinity, dissolved oxygen and ammonia will be monitored, along with food-safety parameters such as coliform and E coli, as mandated by the Norwegian Food Safety Authority. Other parameters specific to sea urchins – including spine loss, balding, cannibalistic behaviour and feed uptake – will also be studied. The sea urchins will be fed for 6 to 12 weeks with teams experimenting between once a day, once every two days and once every three days. The impact of temperature changes on feeding will also be investigated.
"Our efforts in Norway are still at a pilot scale because we're still not 100 percent certain that the economics makes sense to fund ecologically restorative urchin ranching in Norway using commercial investor capital," says Takeda. "There are still many technical, logistical and market questions we must answer before we can invite commercial investors to scale this up properly, but we're optimistic."
The ranch's feed is specially formulated to help the sea urchins grow quickly. A hybrid of Nofima and Urchinomics' propriety technology, it has superior water stability that allows it to remain stable in form and in nutrients for three to five days, and prevents bacterial growth from exploding due to uneaten or dissolved feed. Made primarily from the offcuts of sustainably produced kombu kelp (Laminaria japonica), the feed is natural and plant-based with no antibiotics, growth hormones, fishmeal, fish oil or proteins associated with rainforest deforestation like soy and corn.
"What will happen at the ranch is essentially wild harvesting with enhancement over a two-month period, increasing the quantity and quality of the roe inside the sea urchins," says James. "When they are fed this feed, the volume of roe increases rapidly."
"Even more impressive is how little feed it takes to grow the urchins," says Takeda. "Our feed conversion ratio is 0.4, so turning 1kg of empty urchins into 1kg of premium urchins requires around 400g of feed. It's hard to beat that!"
Land-based ranching has several key advantages. The ability to control water temperature will speed up gonadal growth by 40-50 percent according to Takeda, while cleaning the water will ensure that environmental regulations are met. Independence from the weather will result in continuous production and shipment.
"We can also control so much of the production biology that we would never be able to do at sea," says Takeda. "Urchins also use a fraction of the water needed compared to finfish aquaculture. We use stacks of shallow raceways, maximising surface area rather than water volume like in tanks. Less water means less hardware for cleaning the water and therefore less capital."
Urchinomics' efforts will bring significant benefits to Norway. Restoring kelp forests will increase the quantity and diversity of fish along the coast, while full-time jobs will be created in coastal rural communities. Collaborative work with universities and companies is already underway. Together with Nofima, Urchinomics is now part of a large Horizon 2020 project (AquaVitae), which focuses on sustainable, low-trophic aquaculture, which includes looking at urchin aquaculture and logistics.
Guardians of the kelp
But by far the most exciting development is the "tarevoktere", or "guardians of the kelp" grassroots student movement; this began as a three-person diving team, and its mission is to restore kelp forests by removing all overgrazing sea urchins. The group harvests all the empty urchins, while a portion of good-sized ones are sent to Urchinomics. Takeda and his team ranch them, sell them and donate a sizeable percentage of revenue back to the tarevoktere's restoration effort.
"Since announcing our pilot, the number of volunteer divers has increased from three to 30, and we haven't started anything yet!" says Takeda. "It's an ideal profit/non-profit partnership where we help each other achieve our respective goals and are both better off together than apart. It's a great example of how RAS can link up with non-profits to achieve SDG goals while also pursuing profits."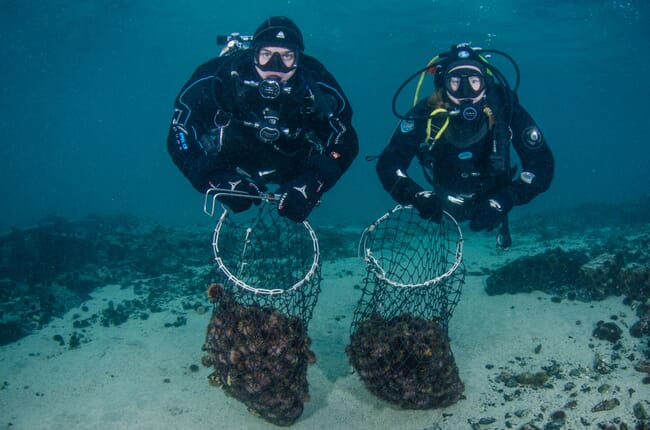 Takeda also has his eye on the sea urchin market. Sea urchin roe is one of the world's most sought-after delicacies. With demand greater than ever and likely to keep rising due to the global popularity of sushi and premium seafood, Takeda believes that ranching and aquaculture will be key. Utilising the near endless quantity of empty sea urchins as supply, turning it into premium sea urchins and matching it with a near bottomless demand should, he says, create a unique market that satisfies supply and demand while restoring kelp forests.
"There are more than enough empty urchins, so it's really a question of how consumers connect to our restorative-aquaculture angle," says Takeda. "If they demand yummy urchins that also restore marine ecosystems, we'll see a very different development in the market. I hope that consumers will expect more from their food supply chain."
"Urchinomics has come up with a fairly novel design, including land-based holding tanks," says James. "It will be very interesting to see how it goes. It's one of the first, if not the first, land-based ranch systems on a semi-commercial scale that's doing roe enhancement. It's a very new and exciting time."