Over the course of the 20th century the humble farm-raised catfish has risen to become a much loved staple food for many US consumers. Providing a cheaper alternative to other fish, catfish became popular for its mild and slightly sweet flavour, its nutritious content and its environmental credentials.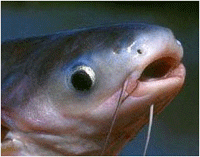 Having been first commercially produced in the 1960's, the US catfish industry saw rapid expansion in both the 1980's and 1990's. Production and processing industries flourished in four main states: Mississippi, Alabama; Louisiana and Arkansas; and the industry soon established itself as the largest of all US aquaculture industries - today accounting for nearly half of all annual aquaculture sales.

By the year 2001, catfish farms covered 113,000 acres of land in Mississippi alone, by 2003 the industry reached annual sales of 660 million pounds to a value of US$425 million. It is believed that the industry created a positive economic impact in Mississippi totalling billions of dollars and is the primary source of economic activity and employment in a number of Mississippi counties.

However, since those peak days the industry has been steadily declining. By July 2009, the number of acres used for catfish farming had fallen to 70,000. The reasons for this collapse are complex and numerous. On the one hand it can be said that an unfortunate series of events conspired against the industry, but on the other it may be argued that the industry was not well enough prepared for challenges that could have been preempted.

Catfish prices bottomed out in 2007 at 64 cents a pound, but by the 2nd quarter of 2008, according to USDA figures, they had leapt back up to 83 cents per pound. Unfortunately, just as hope had arrived the economic recession hit the industry with further woe. By June 2009 prices were back down to 76 cents per pound. Furthermore, demand had suffered in the wake of money-conscious consumption. In late 2008/2009 production had fallen by 5-10 per cent.

There was no profit for catfish farmers in 2008 and many say that, under current conditions, there is no possibility of profit in the future.
The Inside/Out On Industry Issues
Whilst the industry has suffered within itself - due to poor harvests, flooding and high energy prices - the main factors of its downfall have come from external competing forces. One such force has come from the rapidly expanding US biofuels industry, or to be more precise, the production of ethanol. Ethanol has raised the demand for crops such as corn which has in turn increased the value of many animal feeds. This has led to the price of corn and soybeans, which comprise a large and essential quantity of catfish diets, to rise.
Vietnam Pangasius
Export Jan-Jul 2008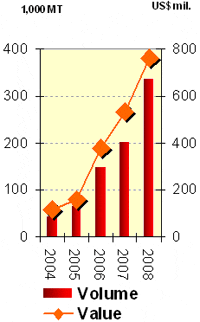 Three years ago the value of one tonne of catfish feed was $240, today it stands at $350. The increased cost of production cannot be so easily passed off to the consumer due to competing catfish imports from foreign countries which already out compete US catfish on the market.

The Chinese catfish industry poses such a threat in these times due to the low production costs of its catfish, brought about by cheap labour, favourable currency conditions and governmental support. However, many US producers say that the Chinese product lacks food safety integrity. The US Food and Drugs Administration has rejected dozens of tonnes of tainted fish, because they have detected antibiotic residues which are banned in the US.

A similar predicament has arisen from Viet Nam, which also steals a greater share of the US catfish market each year. Complaints against the Vietnamese imports have been wide-ranging, but safety concerns mainly boil down to the fact that Vietnamese catfish are reared in cages down the Mekong Delta. An area of land so submerged in water that animal excrement, factory pollution and farm runoffs inevitably contaminate the environment in which the catfish is produced.

Proponents of US fish argue that the conditions which their domestic fish are reared in are bound by stricter production standards. The Catfish Institute says: "US Farm-Raised Catfish is raised in environmentally controlled, clay-based ponds, filled with fresh water pumped from underground wells and filtered by alluvial aquifers." It also adds that they are not given any added hormones. "Under normal growing conditions, US Farm-Raised Catfish is antibiotic-free; only in rare instances when medication is required to treat an illness is US Farm-Raised Catfish treated with a necessary dose of antibiotics."

In light of these differences, US catfish farmers say that market conditions are unfairly against them.
A Catfish by Any Other Name Would Taste Just as Sweet
In order to ensure that the US catfish remains above and beyond foreign catfish by nutrition, taste and safety standards the industry has attempted to separate it from its rivals. This has led to some intriguing results. Many Southern US states are now required to say where the fish that they sell is grown. More recently, Roger Barlow, president of the Catfish Institute in Mississippi said that US catfish will be called Delecata, to emphasise their quality. The Delecata (catfish) will also be a grade-A filleted piece of fish says Mr Barlow.

The US tried this trick the other way round when in 2002, after years of arguing, they pushed through a labelling law which forced Vietnamese fish to be sold under new names such as tra, basa and pangasius, claiming that the Vietnamese product was not actually a catfish at all. Further trade disruptions came in 2003 when the US won an antidumping law against Vietnamese fish sold in the US. This authorised the US to put tariffs on up to 64 per cent of Vietnamese fish. Yet still, Vietnamese catfish pose an evermore serious threat to the domestic industry.

Today, almost a third of the Mississippi regions catfish growers have packed up their businesses believing that in these tough market conditions there is no hope for the industry, but a new labelling law may soon change all that. Recent reports have said that Tom Vilsack, Secretary of United States Department of Agriculture (USDA), is debating whether to change the name of the Vietnamese basa, tra and pangasius back to catfish so that they can be pushed through stricter food safety initiatives.

It is believed that some politicians are struggling to move the catfish inspection programme from the National Fisheries Service to the USDA. This would subject catfish to the same stringent requirements that the US has on meat and poultry. In effect, it would could block Vietnamese imports for many years to come. However, of all fish only catfish has been singled out for this change.

In response to this proposal, eight senators are believed to have recently voiced their opposition in fear that such a move could lead to trade wars with Vietnam. The Vietnamese catfish industry is struggling itself due to internal management and marketing issues. Such a move could spell disaster for the industry and the Vietnamese may not take the decision lightly. The eight senators believe that if the US were to impose restrictions on Vietnamese catfish, then the Vietnamese would respond by imposing trade restrictions on US beef exports.

August 2009