According to a new report published in the journal Aquaculture, Atlantic salmon parr fed a low fish meal diet supplemented with black soldier fly larvae meal showed enhanced growth performance and nutrient uptake when compared to fish fed a diet supplemented with corn or soy protein. The findings suggest that aquafeeds can reduce fish meal levels and successfully replace the protein with insect meal – a move that could make the aquafeed sector more sustainable in the long term.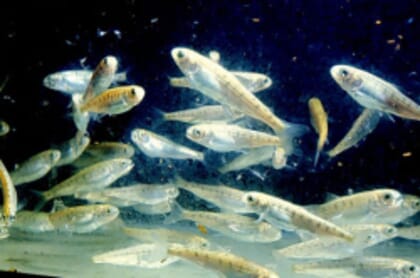 Background
Aquaculture is gaining recognition for providing nutritionally dense and sustainable sources of protein for the growing global population, but current farming methods aren't perfect. One of the most popular farmed species, Atlantic salmon, is carnivorous and requires a high level of dietary protein to thrive. Fish meal is typically used as the primary protein source in Atlantic salmon diets, but the commodity is expensive and isn't sustainable long-term. Because of this, the aquafeed sector is reducing concentrations of fish meal in salmon feed and trying to find replacement protein sources.
Though the industry has trialled soy and corn protein as a replacement for fish meal, insect meal has emerged as a promising component for aquafeed. Species like black soldier fly larvae can convert food waste from factories, fruits, vegetables and animal tissues into high-quality protein. Depending on the growth media used, larvae meal can reach 60 percent protein concentration and have a lipid range between 10 and 30 percent. It also has a well-balanced amino acid profile, reducing the need for further dietary supplementation.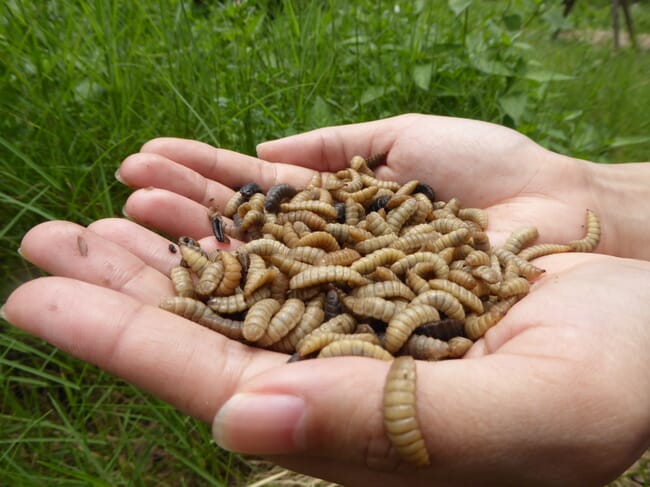 Though multiple trials have explored whether black soldier fly larvae meal (BSFM) is a suitable fish meal replacement, the results between studies haven't always been congruent. Researchers haven't been able to establish the optimum inclusion level or digestibility of BSFM in aquafeeds.
The study
This study wanted to determine the apparent nutrient digestibility and nutrient content of BSFM as a feed ingredient in low fish meal aquafeed. It also wanted to establish the ideal inclusion level to support growth performance in salmon parr.
Atlantic salmon parr were housed in 16 tanks and randomly assigned control or experimental diets. The control diet was a commercially available salmon feed with fish meal as the central source of protein. The experimental diets had lower concentrations of fish meal. They contained 70 percent control diet, and 30 percent test ingredient (BSFM, corn protein or soy protein). The salmon were fed diets with increasing levels of BSFM – 0.0g BSFM per kg feed, 100.0g BSFM per kg feed, 200.0g BSFM per kg and 300.0g BSFM per feed. The researchers measured growth indicators and nutrient uptake at various intervals during the trial.
Results
Initial results from the trial showed that all the experimental diets were readily accepted by the fish – meaning that there weren't any palatability issues with the feed pellets. Apparent digestibility coefficients and gross energy were highest in BSFM when compared to the corn, soy and control diets. No other statistically significant differences were detected by the researchers.
Nutrient indicators like crude lipid digestibility and mineral digestibility was highest in BSFM when compared to the other protein sources. The research suggests that insect meal performed well across all indicators, while plant-based proteins had a more mixed performance.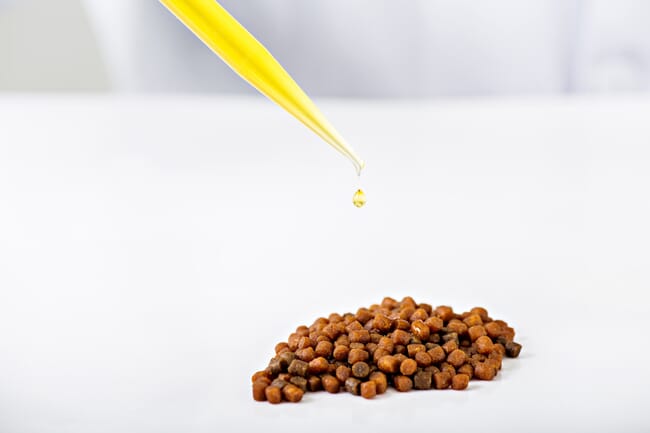 In terms of growth performance, researchers noted that salmon fed a BSFM diet supplemented at 200g per kg feed had the best results. Weight gain, feed conversion ratios and overall body weight were highest in this experimental group. However, the results indicate that over-supplementation of insect meal can have negative effects – salmon fed 300g BSFM per kg feed showed reduced growth rates and poorer feed conversion ratios.
Key takeaways
The results of this study show that BSFM was slightly more digestible than corn or soy protein, indicating that it might be a more suitable diet supplement in reduce fish meal aquafeeds. Including 200g BSFM per kg feed showed enhanced growth when compared to the control diet, but researchers noted that the diets still need to be supplemented with the key micronutrients lysine and methionine. If BSFM levels increased beyond 200g per kg feed, the positive effect on growth was lost.
The researchers note that though these results are promising, more research is needed on the growth substrate for black soldier flies. The substrates heavily influence the nutritional value of the insect meal. Since this element of the supply chain is in its infancy, black soldier fly meal cannot fully replace fish meal. Insect meal remains a supplementary protein source for Atlantic salmon.