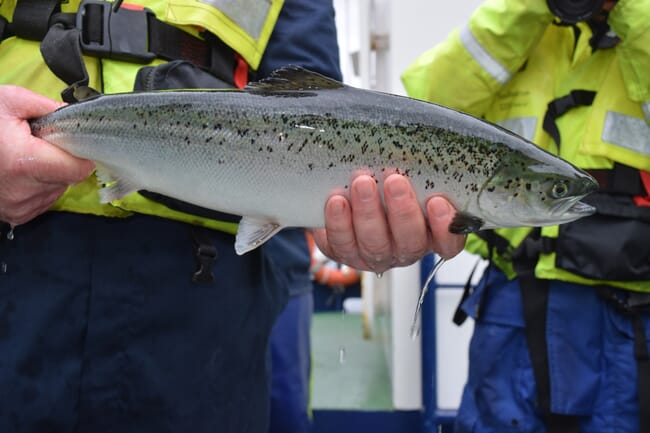 Innovative lice lasers developed by Stingray have been deployed by numerous salmon farming companies over the course of the last decade, but this newly published study – which took place at a commercial salmon farm operated by Bremnes Seashore in Norway – suggests they are not always effective.
The trial ran for 54 days, at a salmon site where snorkel cages were being used. At the start of the experiment, each cage held between 157,000-165,000 salmon with an average weight of 250-450 g. Every second cage was equipped with two Stingray lasers, as recommended for cages of this size and this number of fish, to undergo the continuous laser delousing treatment. The remaining three cages had no additional delousing strategies and therefore acted as controls. The lasers were installed at the location by Stingray's service team in cooperation with the fish farmers.
The laser delousing was used in combination with a preventive method (snorkel cages) and after 54 days the researchers notes that "there was no difference in infestation density of mobile salmon louse stages (pre-adult, adult male or adult female) in cages with or without laser nodes installed". By the end of the trial, they add, adult female lice numbers in all cages were close to the legislated trigger for mandatory delousing (0.5 adult female lice per fish).
On the positive side, the lasers appeared to have no effect on salmon welfare indicators such as skin condition or eye status.
Ineffectual
The laser nodes delivered a large number of pulses relative to the number of lice in the cages, note the researchers, "indicating that a lack of lethality rather than a lack of target detection was the limiting factor. If all pulses had been effective, they should have removed between 4-38% of mobile lice each day."
Possible reasons for this highlighted by the researchers include "an imperfect detection system resulting in the targeting of non-louse objects… or because the laser pulse is not sufficient to remove a correctly targeted louse."
"Anecdotal reports from manufacturer testing indicate that each laser pulse is close to 100 percent effective, yet results from the present study are consistent with lice staying alive and attached," they add.
Recommendations
The researchers suggest a number of further options for assessing the efficacy of the lasers, including "further testing in a range of environmental conditions and cage types" to help to identify the potential drivers of poor detection and/or lethality.
Adjustments in management tactics of the laser delousing system at a site could also be explored, such as increasing nodes per cage or more frequent changes in depth distribution. Close-range pulses may be more accurate and attenuate less through the water column.

The publication has caused a backlash from Stingray who dismissed the findings as "imprecise" and pointed to the fact that they were being deployed in snorkel cages, rather than conventional ones.
However, Samantha Bui, from Norway's Institute of Marine Research, who led the study, explained to The Fish Site that: "This was a case study example from a single site, for a short period of time relative to the production cycle duration. Nevertheless, the lasers were tested in the approach that is used commercially and this did not delay the requirement for immediate delousing action. We feel that this work shows that publicly-available validation of technology such as these is required before widespread industrial adoption, particularly if it could have any negative welfare concerns."
Further information
The full article has been published in the Journal of Preventative Medicine, under the title Salmon lice survive the straight shooter: a commercial scale sea cage trial of laser delousing.