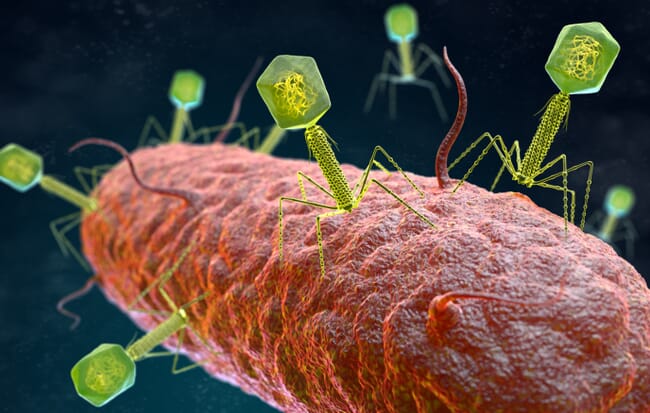 The study compared the performance of Litopenaeus vannamei shrimp given a probiotic, to those given a bacteriophage cocktail and was undertaken by Dr CR Subhashini, from Aristogene Biosciences and Jaideep Kumar, from Aquaculture Outlook.
Background
The pair note that one of the major limiting factors in the continued growth of the shrimp sector is the presence of pathogenic bacteria, including vibrios, an issue compounded by the overuse of antibiotics to treat them, and the resulting antimicrobial resistance (AMR) that has occurred as a result – recent research suggests that about 70 percent of the vibrios isolated from aquaculture settings is multi-drug resistant.
Another concern associated with the use of antibiotics is the problem of residues, which has resulted in rejection of farmed shrimp consignments, containing traces of antibiotics by seafood importing countries. Alternative strategies must be developed to control diseases in aquaculture, they add.
Bacteriophage therapy
Bacteriophages attach to specific bacterial hosts and kill them by internal replication and bacterial lysis. The use of bacteriophages to control bacterial infections in aquatic food production system has greater potential to address the twin problem of controlling bacterial infections and at the same time avoiding residue contamination. The application of phages in aquaculture has advantages over the use of antibiotics, they argue.
The use of phages for the biological control of pathogens of cultured shrimp has developed interest in recent years since no drug residues or drug toxicity is associated with this type of therapy. Phages are natural predators of bacteria, self-limiting and self-replicating in their host cell, and can adapt to resistant bacteria. They are commonly found in large numbers wherever their hosts live; in sewage, in soil, in hatcheries, or in natural bodies of water.
In an attempt to assess the potential advantages of using bacteriophages against vibrios in shrimp culture the duo initiated a study at SK Aquafarms in Andhra Pradesh.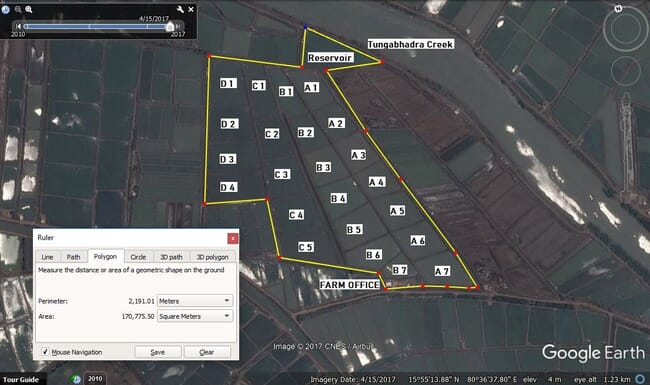 Description of the study area
Spread across a total area of 45 acres, this farm has four sections – A, B, C and D comprising of 7, 7, 5 and 4 ponds respectively. A and B sections (water spread area ranging between 0.6 to 1.7 acres), which were stocked with L. vannamei at a density of approximately 15 pcs/m2, were selected. Aeration was provided using paddle wheel aerators @ 4 HP (min) per metric ton biomass in the pond. Salinity ranged between 12-18 ppt throughout the culture period. Treated creek water as well as borewell water was used. Feed of a reputed brand was used, according to the study's authors.
Pond preparation and shrimp stocking
Ten-day old Litopaeneus vannamei post-larvae (PL10) were sourced from a reputed commercial hatchery in the Marakkanam coast. The PLs were stocked into the ponds after adequate acclimatization. The PLs were stocked in 14 ponds, namely A1-A7 and B1-B7. The stocking density was around 15 pcs/m2 in all the ponds except B7 which was stocked at a density of 24 pcs/m2. The shrimp were fed four times daily (06:30, 10:30, 14:30 and 19:30 hours). The duration of culture in this study was on an average of 174 days.
Water temperature, dissolved oxygen and pH were measured daily, while parameters such as nitrate, nitrite and ammonia were measured weekly/bimonthly. The depth of the ponds was 120 -150 cm. Water exchange was done 2-3 times during the culture period, based on the requirement.
Four ponds were assigned for the experiment wherein bacteriophage cocktail was mixed at the rate of 5g/kg of feed, one meal per day from 42 DOC (days of culture). The bacteriophage cocktail was mixed with the feed using a proven non-toxic binder, dried in shade and applied.
The other 10 ponds served as control, whereby a probiotic containing a mixture of enzymes and live stabilized microbial mixture was used at the rate of 10g/kg of feed one meal per day.
Weekly samples of the shrimp were caught from each pond to estimate the periodical growth performance and the total biomass. The average weight of the shrimp sampled in each pond was determined and the amount of feed provided to the shrimp was adjusted accordingly. At the end of the experiment, all the ponds were harvested, the total biomass of shrimp was calculated, and the final survival rates were estimated. The other parameters such as, average daily gain (ADG), production per hectare, productivity per lakh of seed and feed conversion ratio (FCR) were calculated.

Table 3: economic analysis of production per acre using bacteriophage formulation vs probiotics
Economic indicators

Bacteriophage

Control

Gross revenue (GR) INR/acre

624,560

491,238

Total cost (TC) INR/acre

461,995

462,605

Benefit-cost ratio = GR/TC ratio

1.35

1.06
The results suggest that the use of a bacteriophage-based formulation against vibrios resulted in better growth, survival, FCR and production of Litopenaeus vannamei. The benefit-cost ratio was also higher in the bacteriophage treated ponds.
Also, in this study some of the ponds which were not treated with the bacteriophage did develop white faeces disease (WFD), which was not observed in any of the treated ponds. One of the possible causes for WFD is a combination of EHP (Enterocytozoon hepatopenaei), other enteric pathogens like vibrios and unknown environmental stress (Luis Fernando Aranguren Caro, 2020). Effective control of pathogenic vibrios in the bacteriophage treated ponds possibly is the reason for the absence of WFD in these ponds, the authors note.
Conclusion
"The results of our study demonstrate the potential of vibrio-specific phages to significantly reduce the impacts of vibrios, with a concomitant positive effect on shrimp survival. The study also suggests that bacteriophages can be more economical than probiotics. Therefore, phage therapy may be a realistic alternative approach for controlling pathogenic bacteria in aquaculture owing to its several advantages over the conventional antibiotics and other methods against pathogenic multiple drug resistant (MDR) bacteria," the authors conclude.