Startup raises $1 million to sink seaweed
Seaweed Generation, a UK start up that sinks Sargassum into the deep ocean for CO2 removal, has raised $1 million from AeraVC and Graph Ventures to scale its novel carbon removal technology.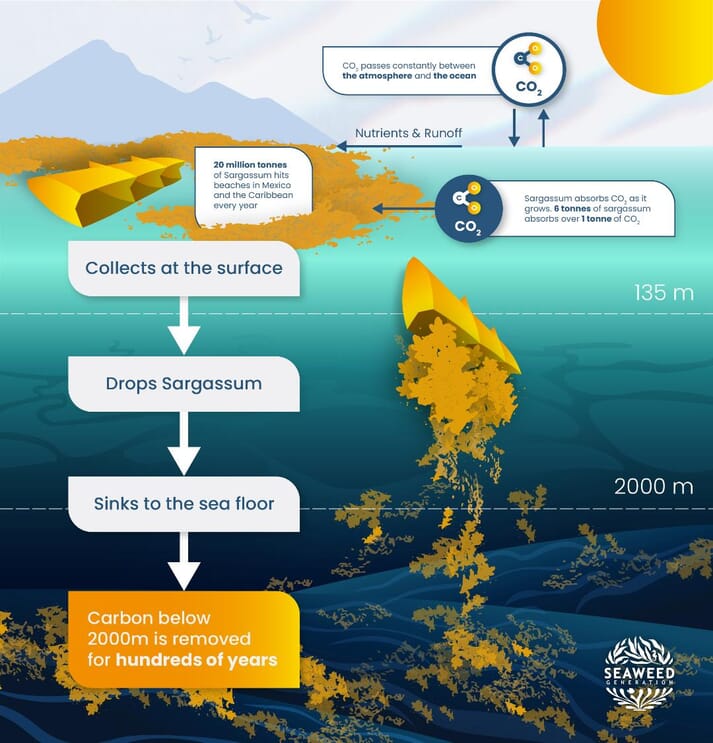 Seaweed Generation plans to develop its AlgaRay (patent pending) technology, which intercepts and sinks invasive Sargassum into the deep ocean, before it can reach coasts.

Seaweed Generation CEO, Paddy Estridge, describes the AlgaRay as "PacMan meets a Roomba - the AlgaRay eats the Sargassum, then deposits it in the deep ocean".
Seaweed Generation's chief science officer, Professor Mike Allen of Exeter University, has been working with Sargassum for six years.
"When we talk about carbon removal with seaweed, most people think we need to cultivate the algae first, but driven by climate change and nutrient run-off from land, unwanted Sargassum has increased explosively over the last decade. When these invasive Sargassum rafts come ashore they impact coastal ecologies and can lead to significant negative economic consequences. The best thing about what we're doing is that it's a dual benefit - we can reduce Sargassum beaching and remove carbon dioxide at the same time. And we can do it in a way that is incredibly well documented to show its benefits and uphold high environmental standards," he states.

Derek Handley, founder of Aera VC, noted: "We've seen a lot of seaweed startups trying to tackle CO2, but what convinced us to back Paddy and the Seaweed Generation team is that they are solving a significant problem with existing seaweed while being able to sink enormous amounts of carbon autonomously and at scale."
Seaweed Generation is working with countries in the Caribbean, where rising sea levels and more extreme weather events are compounded by the millions of tonnes of Sargassum seaweed hitting their shores every year, devastating local tourism and ecologies.
"We are in a pretty serious time crunch when it comes to climate change, but we also need to make sure that we do things right. Carbon removal with seaweed could really scale, and we can do that with cultivation, but there are questions that need to be answered first. Sargassum gives us an amazing opportunity to solve a known problem, whilst conducting the monitoring, reporting and verification that we know carbon removal needs," Estridge explains.