The Haedam Co farm is located on the small island of Wido, off the western coast of Korea. The company's laver seaweed is sold as part of the Pulmuone brand and the crispy seaweed snacks and seasoned laver are exported to Europe and the USA.
Laver, which is a type of red algae of the genus Pyropia, and is also known as Gim in Korea, is sold as dried sheets and popular around the world as a snack or for use in sushi.
The Haedam farm produces the species Pyropia yezoensis and Pyropia tenera, which are grown on floating rafts at sea. The seaweed is seeded during the autumn, and can be cultivated multiple times in the winter months. Around 50 days is considered the ideal growth time to produce laver, with its distinctive colour and flavour at their peaks.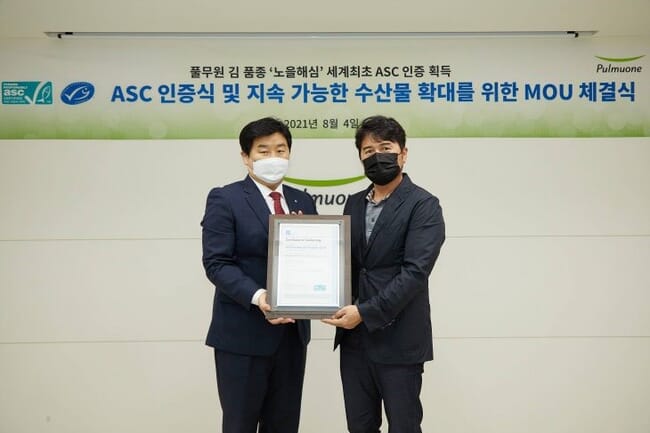 The certification was commemorated with a ceremony in Pulmuone's Headquarters attended by Pulmuone food marketing CEO Hee-sun Yoon, Lloyd Certification Institute Korea CEO Il-hyung Lee, MSC Korea programme director, Mark Seo and Pulmuone Partners CEO.

The certification is the culmination of a process of research and development over a fourteen-year period. Pulmuone has developed its own varieties of laver that are optimised for local growing conditions. The varieties are known as Pulmunoeul and Pulmuhaesim.
Patricia Bianchi, seaweed account manager for ASC and MSC, said: "We're delighted to see another milestone for the seaweed standard, which should soon allow more consumers to enjoy the benefits of seaweed while also rewarding responsible producers.
"Seaweed has many potential environmental benefits which is one reason it is becoming more popular. But if it's not done responsibly it can still have unintended environmental and social consequences, which is why it's so important that companies like Haedam commit to the most stringent standards or responsible and sustainable production."

Seaweed production is increasing around the world as its health and environmental benefits are discovered and celebrated. It also has applications beyond food, as other recent ASC-MSC certified farms have demonstrated by utilising their products in fuel and fishmeal.
Due to the rapid growth of global seaweed production and its increasing economic importance, the sector is facing many of the same environmental and social challenges experienced by farms and fisheries. This can include effects on water quality or ecosystem if a species is grown above the level which its ecosystem can support, known as the ecological carrying capacity. Haedam's farm is located in the Yellow Sea in an area rich in biodiversity. As well as other species of seaweed, notably kelp and blue-green algae, the waters are home to cephalopods, crustaceans, shellfish, and clams. The west coast of Korea also contains a large area of muddy flats containing rich sediments supporting a variety of life. As part of the certification process, third party auditors must ensure that local biodiversity isn't adversely affected by production.
The ASC-MSC Seaweed Standard also includes social requirements and all ASC-MSC certified seaweed farms must ensure workers are treated and paid fairly, and are provided safe and healthy working and living environment. Finally, harvesting and farming activities operate in a manner that minimises negative impacts on neighbours, respects rights and cultures, and benefits communities.