Scientists from the New Zealand research centre have revealed preliminary findings from their greenshell mussel ocean acidification breeding trials.
Dr Norman Ragg explained: "We've been conducting ambitious breeding trials to determine how the iconic greenshell mussel species will respond to ocean acidification. I'm pleased to report these trials have been remarkably successful.
"Preliminary analysis of our trial data suggests different families have varying resilience to ocean acidification during the fragile early life stages. This means there's genetic potential within the New Zealand mussel populations to adapt to rapid acidity changes," he added.
Ocean acidification is a worldwide climate change phenomenon. As the level of carbon dioxide in the atmosphere increases, the acidity of seawater around the world is slowly increasing.
Through their trials, Dr Ragg and his team have discovered this pH change makes it difficult for young mussels to grow their hard shells, meaning some juveniles (spat) will not survive the vulnerable first 48 hours of life. However, the breeding trials show some offspring are blessed with a stronger innate resilience, inherited from their parents.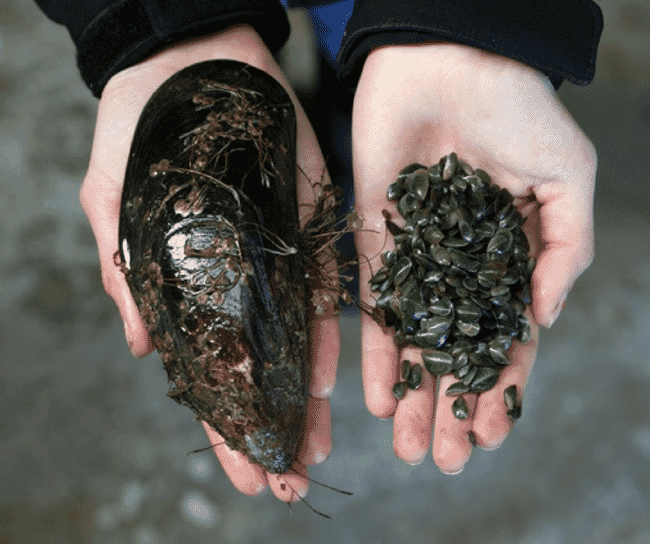 Dr Ragg explained that the research team have also been studying whether the experiences of adult mussels are reflected in the resilience of their babies; interestingly there does appear to be a correlation.
In this study, adults were kept in seawater of varying relative acidity. After months in this environment, scientists induced spawning and monitored the offspring's growth and survival.
"Results from the parent acidification trials look positive. They suggest adult mussels who experienced relatively acidic seawater have more tolerant offspring than adults without this exposure. This is a major discovery and supports Lamarck's Theory of Inheritance of Acquired Characteristics," said Dr Ragg.
This research is facilitated by industry partnership and the Cawthron Institute's comprehensive greenshell mussel breeding programme. Through this programme, scientists could access excellent genetic coverage, studying mussel families from populations sourced from across New Zealand. These families were then carefully reared and harvested by Sanford, providing ideal research material.
The trials are part of the wider Coastal acidification - rate, impacts and management (CARIM) project, which aims to develop ocean acidification knowledge to enhance the protection and management of New Zealand coastal ecosystems.
CARIM is a NIWA-led collaboration, which includes partners Cawthron, University of Auckland, and University of Otago. It's a 4-year project, funded by New Zealand's Ministry of Business, Innovation and Employment (MBIE).
Footage of the trials are available here: Strong Mussels, Cultivating coastal acidification resilience.