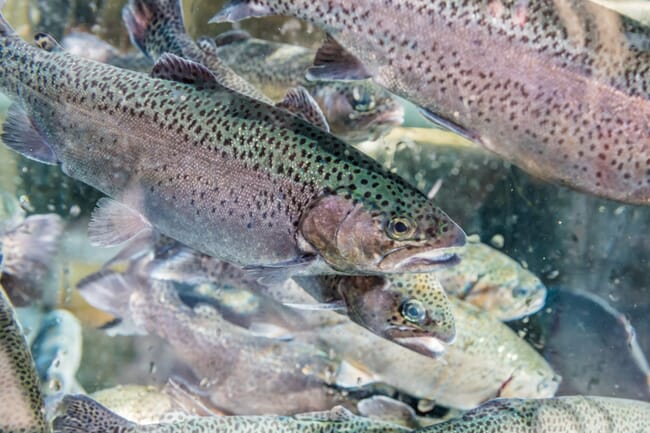 With plans for an annual production capacity of 1,200 tonnes of rainbow trout, Blue Aqua - a technology provider which also operates a shrimp farm in Singapore - aims to cater for local demand for high quality fish. The project will showcase a proprietary ModulRAS system developed by Assentoft Aqua, Denmark, which specialises in sustainable land-based RAS aquaculture technologies.

Singapore has set its sights on a plan to meet 30 percent of its local food production by 2030. According to Blue Aqua, the trout farming project will incorporate super-intensive technology with AI to help achieve local, sustainable fish production.

The project will also look into developing green technology for energy and carbon efficient urban farming through partnerships with clean energy technology firms. Blue Aqua aims for its trout farming system to eventually be deployed across South East Asia, the Middle East and North Africa.

"Our heartiest congratulations to Dr Farshad and the team at Blue Aqua for their visionary move into super intensive urban farming. Assentoft Aqua understands that Blue Aqua has undertaken a very rigorous due diligence and technology validation process where leading RAS technologies from across the world were evaluated. Today's announcement is a further attestation of Assentoft's technology and its mark of quality for urban farms of the future," said Prof Matthew Tan, CEO of Assentoft Aqua Asia, in a press release.

Dr Farshad Shishehchian, CEO and founder of Blue Aqua International Group, said: "The future lies in sustainable, smart farming systems that are not bound by environmental constraints. Blue Aqua has been a strong advocate for super-intensive, species-focused farming since its inception, and we are excited to grow our efforts to develop a scalable aquaculture technology, with farmed trout and shrimp, to serve as an important and efficient protein food source for decades to come."

Blue Aqua was advised by Lighthouse Finance, an Oslo based advisory firm specialised in funding sustainable seafood projects around the globe - the farming project is in the midst of raising funds for a phase-based commercial development over the next three years.

"At Lighthouse Finance we consistently keep exploring for aquaculture projects with a right balance, to assist them in their growth phases and Blue Aqua's plans tick most of the boxes for us to come in and partner with. Along with possessing the technological depth, experience in the value-chain and goodwill, Blue Aqua's vision to be a solution provider anticipating future challenges should catapult it to be a formidable high-growth enterprise across species. Supporting an environmentally sustainable aquaculture project and guiding it to become a circular economy operation is close to our mission's heart and hence our resolve to partner with Blue Aqua for their next growth cycle," said Roy Høiås, CEO and founder of Lighthouse Finance.