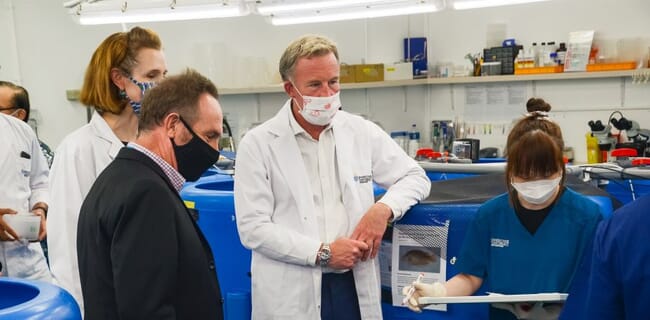 Recipients of the funding include the Tropical Futures Institute at James Cook University, along with collaborative research partners Republic Polytechnic, Nanyang Technological University, Singapore Food Agency (SFA)'s Marine Aquaculture Centre, Wageningen University & Research, Barramundi Group, UVAXX, Blue Ocean Harvest, Aquaculture Centre of Excellence and Singapore Aquaculture Technologies.
In April, SFA awarded a grant worth over $23 million to 12 projects under the grant call for research and development (R&D) in 'Sustainable Urban Food Production'. TFI is one of the various institutions and research teams receiving the grant from SFA and will be the lead, or collaborative partner, in four of the funded research projects:
Developing genetic resources for red snapper, an important marine food fish for Singapore.
Supercharging barramundi production through advanced selective breeding for improved disease resistance, growth and fillet traits.
Optimising feeds for Singaporean red snapper aquaculture
Combinatorial supplementation of fish feeds through encapsulation for enhanced growth rates in aquaculture.
Responding to the news, His Excellency The Hon Will Hodgman, Australia's High Commissioner to Singapore, said: "As a country synonymous with pristine coastal areas and an outback brimming with nature, Australia is committed to championing sustainability and tackling the challenges of climate change. James Cook University shares this commitment and I commend JCU Singapore's Tropical Futures Institute and their partners on these grant achievements and for furthering aquaculture research in Singapore and our region. These projects are great examples of innovative and practical partnerships bringing cutting-edge research and industry together to tackle real world challenges."
The research projects that benefit from the grant will undertake R&D activities that lead to increased and sustainable production output by industry through the development of improved aquafeeds and advanced genetics to support Singapore's '30 by 30' goal for food security, in which the country aims to produce 30 per cent of its nutritional needs locally by 2030.
Mr Yeo Li Pheow, principal and CEO of Republic Polytechnic, who is the core academic research partner with TFI on three of the projects, said: "We are grateful to the Singapore Food Agency for the funding and proud to be part of this collaborative effort with James Cook University. With Republic Polytechnic's capabilities in agri-tech and aquaculture, we look forward to jointly develop sustainable aquaculture solutions and optimise breeding methodologies in support of Singapore's national effort to strengthen its food security."
Professor Chris Rudd OBE, deputy vice chancellor and head of campus, Singapore at JCU, added: "I am incredibly proud of the efforts from the Tropical Futures Institute, the University and our valued partners in achieving this significant grant. As we work together towards our common goal, the knowledge gained through our various research projects will help increase our preparedness against challenges that impact global food security."