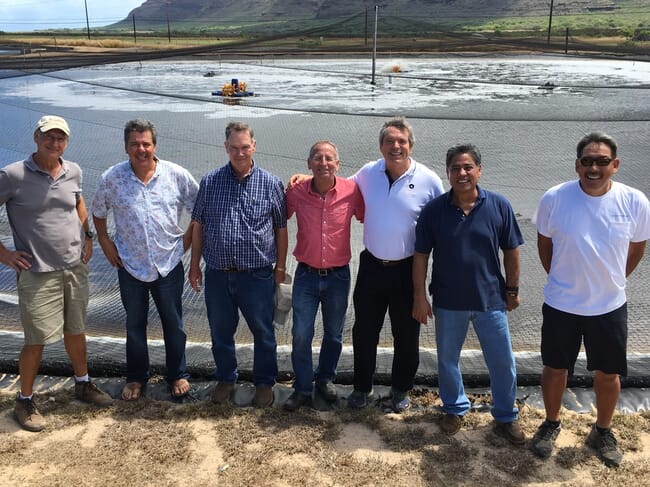 Dr Chamberlain has been leading the Hawaiian company for over 20 years and will continue his role as president of The Global Aquaculture Alliance.
Chamberlain's career in aquaculture started in 1990 when he joined Ralston Purina Company – directing their aquaculture feed programme in the Americas, Europe and Asia. After eight years, he moved to Monsanto, directing a programme on genetically selected marine shrimp, soy-based feed, and sustainable pond systems for marine shrimp.
His days as an entrepreneur started in 1999, when he established developed Black Tiger Aquaculture, an integrated shrimp farm in Malaysia, with Ken Morison. And in 2004, they established Integrated Aquaculture International, a technology company owning the Kona Bay L. vannamei breeding centre in Hawaii and operating a P. monodon breeding centre and farm in Brunei.
Over the last decade Chamberlain and his management team have built Kona Bay shrimp genetics into one of the leading brands in SPF shrimp broodstock, supporting shrimp farmers in achieving better performance in major shrimp producing countries. In addition, its food shrimp production under the Kauai Shrimp brand enjoys a reputation for premium quality in the Hawaiian and mainland US markets.
George Chamberlain commented: "My career in the shrimp farming business has been deeply fulfilling. I owe whatever success our company has experienced to the support of colleagues, friends and family. Now it's time to leave this enterprise in the capable hands of Hendrix Genetics whose leader, Thijs Hendrix, embodies the values and culture that our team so much admires."
Neil Manchester, managing director of aquaculture in Hendrix Genetics, said: "We owe an immense amount to George, not just for bringing us into the shrimp breeding business with a world class operation like Kona Bay, but by sharing his knowledge, experience and contacts in the global industry that allows us to expand our reach and develop the Kona Bay brand in every shrimp production region. George will remain a friend and advisor, and we wish him an enjoyable retirement from shrimp breeding."
Hendrix Genetics acquired a majority shareholding in Kona Bay in 2017, as an entry point into shrimp breeding – concentrating on acceleration of the breeding programme, strengthening the sales and technical support teams in Asia, and establishing a nucleus breeding and PL hatchery operation in Ecuador in 2019.
The company is investing heavily to realise a world class L.vannamei shrimp breeding operation in Hawaii, selling high quality Kona Bay broodstock to all major markets globally. The shrimp operations of Hendrix Genetics are expected to grow with the Ecuador development being a precursor to similar expansion in the major Asian markets. With the retirement of Chamberlain, Hendrix will acquire the remaining management shares in Kona Bay and subsidiaries, converting this to a 100 percent ownership.