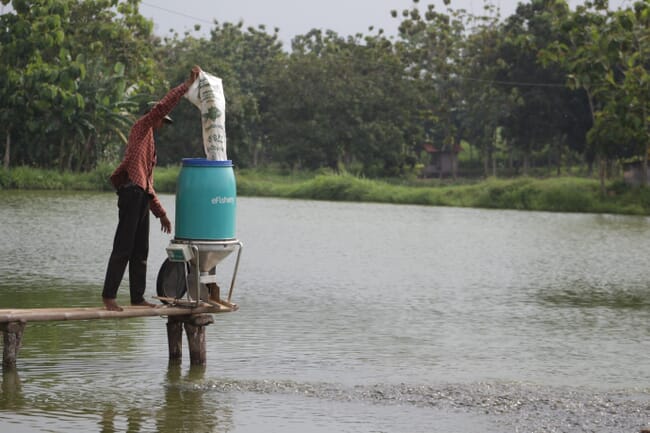 IDH promotes the application of epidemiology in tropical aquaculture by linking producers and data companies to epidemiological institutions. Companies that have access to farm data receive epidemiology expert advice, to search for disease trends. Farmers receive recommendations based on the analysis and learn how to mitigate diseases. The project with eFishery and the University of Prince Edward Island (UPEI), is unique as it adds to our understanding of how epidemiology can strengthen tropical aquaculture.
Flavio Corsin, aquaculture director of IDH, and a trained aquatic epidemiologist, said: "This project represents another milestone in our journey to make tropical aquaculture more data-driven and efficient. By collaborating with eFishery and UPEI we can combine the capability of the eFishery smart feeders and intelligence platform with population health expertise. This will generate more robust knowledge and recommendations that farmers can use to combat diseases and improve farm performance."
Indonesia-based eFishery provides an internet of things (IoT) solution and data platform for fish and shrimp farming businesses. Their automated feeder helps farmers to monitor and schedule feeding times.

Gibran Huzaifah, CEO of e-Fishery, reflects: "For decades, feed and disease are two of the biggest issues for aquaculture farmers in Indonesia. Started as smart feeding technology to solve the feed problem, eFishery has always been driven to solve other challenges using data and technology, especially where there aren't many solutions in the market. This partnership with IDH and UPEI is one way to accelerate a working solution so it can help farmers to tackle the disease problems. This also marks a start for us to broaden our focus in the company from smart feeding technology to aquaculture intelligence platforms. We strongly believe that by using our data and community as leverage, combined with domain expertise and global network that UPEI and IDH have, we can create a sustainable impact for millions of farmers in the world, starting from Indonesia."
UPEI will help eFishery to visualise farmers' production data, to create predictive models on harvesting, stocking and feeding, and create a disease platform with early warning reports.
"This collaboration between eFishery and the University facilitates the delivery of world-leading aquatic epidemiology expertise to farmers to meet their needs in optimising disease management and reducing disease impacts," says UPEI professor in aquatic epidemiology, Larry Hammell.
The project aims to increase the efficiency of 1,000 aquaculture farmers in West Java, by improving their understanding of disease interactions with their average growth, feed consumption, feed efficiency, survival and harvest size, while increasing their planning capacity.