Rabindranath Bhuia cultivates shrimp in one acre of his land at Baguran Jalpai village in East Midnapore district of West Bengal in eastern India.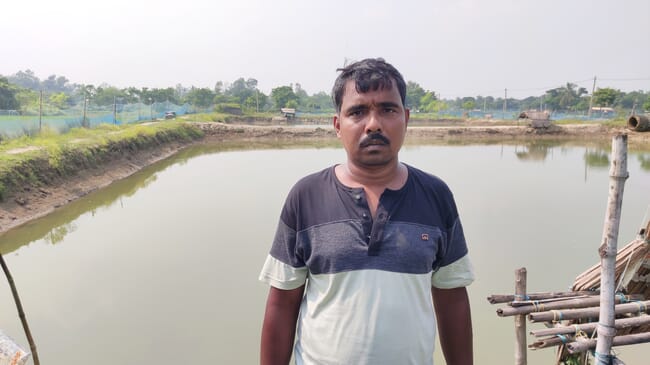 The 40-year-old was a rice producer but was compelled to switch to shrimp four years ago after run-off from neighbouring shrimp farms wreaked havoc on his once fertile fields.
"I was happy with rice paddy cultivation because it brought guaranteed, albeit meagre, returns. But I was forced to change to shrimp when farms were dug up beside my land to start shrimp farming. The water in my own paddy field began to turn salty and repeated requests to stop the flow of water into my fields yielded no results. The salty water affected the paddy and the production dropped drastically. I was left with no alternative but to take the same plunge," he says.

"Shrimp cultivation is a gamble. Though the income is tentimes more than paddy the risk is also high. I made a profit of Rs 2 lakh (US$2,825) in a single year but lost all the money when the shrimp died or got hit with diseases."
Bhuia is not alone. Around 80 percent of the farmers in his village, which is a stone's throw from the Bay of Bengal, have started shrimp cultivation, lured by the potential financial dividends. But they are ignoring the permanent damage exposure to brackish water can do to fertile lands, putting food security in jeopardy. This is particularly concerning given that India ranks 102 of 117 countries in the latest Global Hunger Index, behind the likes of Nepal, Pakistan and Bangladesh.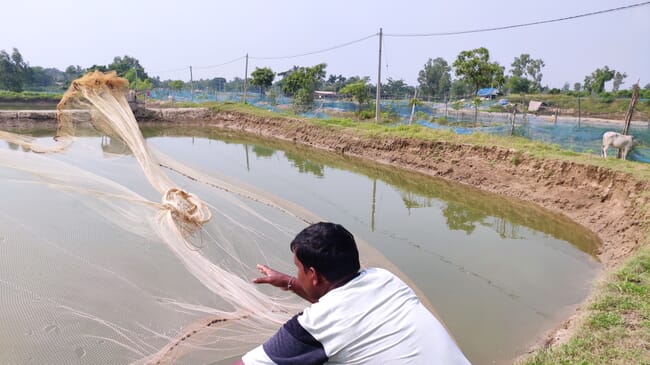 Over 1 lakh (100,000) farmers in Bengal, particularly in districts like East Midnapore, have switched over to shrimp cultivation. Though it has brought wealth to some, many have faced devastating losses due to outbreaks of disease. Huge tracts of once fertile land have been dug up for shrimp cultivation across several districts in Bengal.

According to India's Ministry of Agriculture, West Bengal has 405,000 hectares of brackish water – making it the largest area in the country for potential shrimp production. It therefore hardly comes as a surprise that the state is the second largest producer of shrimp (mainly P. monodon and L. vannamei) in India, only beaten by Andhra Pradesh.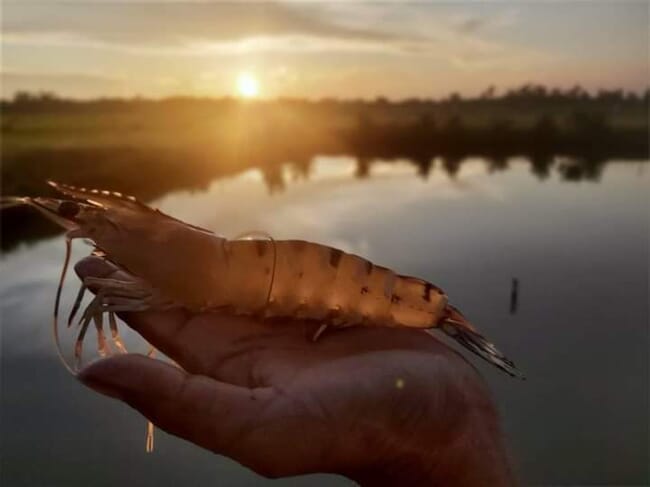 According to India's Marine Products Export Development Authority (MPEDA), production of shrimp in West Bengal reached 76,534 tonnes in 2017-18, up from 26,800 tonnes in 2001-02. In the same period, the area under cultivation has also increased from 47,650 to 55,211 hectares.

As a result, exports also witnessed a massive growth. In 2016, according to FAO statistics, India exported 438,000 tonnes of shrimp, making it the largest exporter in the world, rising to 615,690 tonnes in 2018 – an increase of 40 percent. The USA continues to be the major importer of Indian seafood, accounting for 32.76 percent of the value, followed by South East Asia, the European Union, Japan, the Middle East and China.
Impact on wild fish stocks
In Bengal, shrimp farms have not only been damaging the land but also ruining the livelihood of small fishermen. Debobroto Khuntiya, 50, who lives in the village of Baguran Jalpai, says that discharged water from the shrimp ponds has been entering the sea and killing local fish stocks. "We used to catch around two tonnes of fish during our 6-7 days expedition at the sea over two decades ago but now it has dwindled to 5-6 kg. It takes several days of journey far into the sea to catch the fish to compensate the expenses for the trip. The saline water discharged from the shrimp farms has been damaging aquatic life. It has snuffed out the livelihood of small fisherman who depended on the sea to keep their kitchen fire burning."
The condition of many shrimp cultivators is not good either. They say that shrimp are getting increasingly hit by diseases, resulting in huge losses,
"Even vannamei prawns are no longer profitable and are facing diseases, perhaps due to the residual effect in the pond. The water in the pond left after the cultivation is not discharged properly through the canal and the same dirty water re-enters the pond at high tide. The water is infested with disease and becomes deadly for the shrimp. The heavy losses leave the farmer with no alternative but to end his life as he fails to clear the loans he took for the business. We fear the recurrence of a similar situation that occurred over seven years ago," said Ratan Bera, 40, a shrimp cultivator from the village of Dadanpatrain.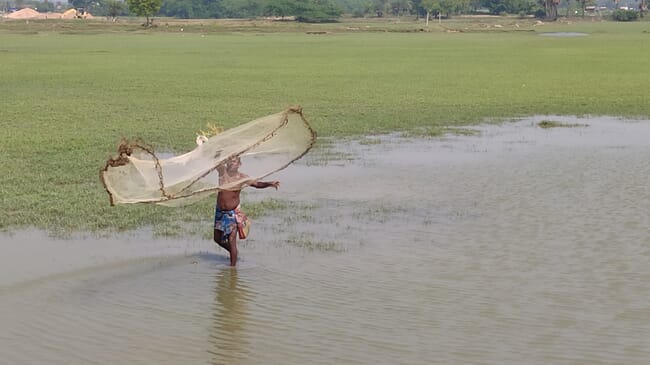 In 2012, Japan, which is a key importer of monodon (tiger prawns) from Purba Medinipur, rejected almost all exports on account of the high antioxidant content in shrimp from the region, due to the high level of chemicals used in shrimp cultivation.
East Medinipur was then known for exporting monodon, which traditionally fetched a premium compared to the more commonly exported vannamei shrimp that are mainly cultivated in Andhra Pradesh. But there were cases of farmers committing suicide after they found no buyers for their shrimp.
A return to rice
Rattled by the thoughts of the bleak future, a number of farmers in West Bengal are now returning to traditional farming,
"I have decided to return to rice paddies after facing huge losses for three consecutive years. I had invested Rs 2 lakh [US$2,825] in the hope of getting good returns but have been facing constant loses because of unstable market prices of the shrimp and diseases. I have switched to rice paddies and have invested another one lakh to make the land cultivable by laying a cover of fresh soil," said Kalipada Bera, 38, a farmer in Baguran Jalpai village.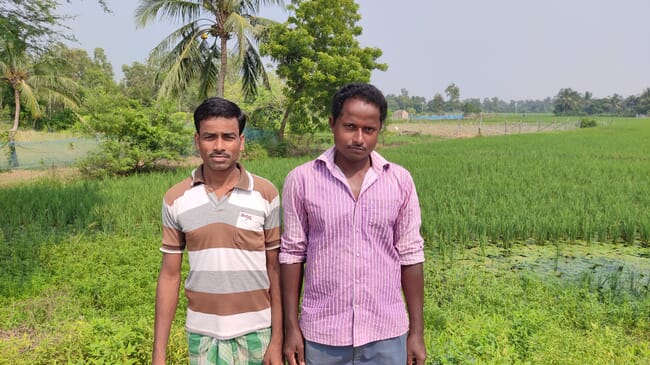 His friend Ganesh Seth, 35, has also switched back to rice farming after facing loses in shrimp cultivation.
Researchers point to another major hurdle of switching back to agriculture: "Even if the farmers manage to return their farms to productivity, the contemporary structural issues in agriculture make this possibility slim. Technically the farms might well be salvageable; the question is are they socio-economically?" questioned Siddharth Chakravarty from Research Collective, a civil society organisation working for communities relying on natural resources for survival.