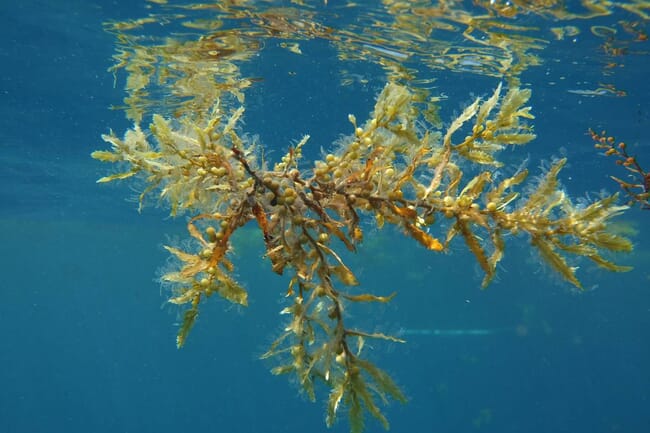 A spin-off from the Alfred Wegener Institute, Helmholtz Centre for Polar and Marine Research (AWI) and Carbonwave, Las Palmas-based startup, Macrocarbon, is to develop algae farms in the subtropical waters off Gran Canaria to cultivate sargassum seaweed, a macroalgae that simultaneously extracts large amounts of CO2 from the atmosphere and produces new raw materials for the chemical industry.
The idea behind the startup was to utilise natural ocean resources to develop new climate-friendly raw materials for industry. In January 2022, researchers from AWI, Carbonwave, Geomar Helmholtz Centre for Ocean Research Kiel and UK-based seaweed startup Seafields joined forces and founded the project Chemical Carbon Utilisation through Sargassum Economy (C-CAUSE). In May 2022, the project won a grant of €700,000 as part of the Carbon to Value Challenge run by the Federal Agency for Disruptive Innovation (SPRIND), with additional funding of €2.3 million received from SPRIND in March 2023.
In the first funding phase a novel value chain was developed, starting with the cultivation of free-floating macroalgae (Sargassum fluitans and Sargassum natans) in open-ocean aquafarms, where biological and renewable carbon feedstocks will be produced for the chemical industry. The goal of the startup is to contribute to the decarbonisation of the chemical industry while creating products that store carbon over long time periods.
As Macrocarbon founder and CEO, Dr Mar Fernández Méndez, explained in a press release: "Macrocarbon will develop integrated supply chains for the cultivation and processing of sargassum seaweed. Because sargassum itself floats, we do not need expensive longlines to be stretched out in the water for this purpose. In addition, the algae grow quickly and thrives in many regions. It binds CO2 very efficiently through natural photosynthesis."
After harvesting the algae, the carbon-rich biomass will be processed into raw materials for the chemical industry, such as bio-naphtha, which will replace products previously derived from fossil fuels. In this way, Macrocarbon aims to contribute to decarbonisation, sequestering 100 million tonnes of CO2 per year by 2040 and one gigatonne by 2050.
AWI and Carbonwave plan to continue supporting Macrocarbon, with AWI contributing its biological process understanding to monitor carbon fluxes and environmental sustainability, while Carbonwave will develop processing methodologies based on their existing operations and production of valuable products from sargassum in the Caribbean.