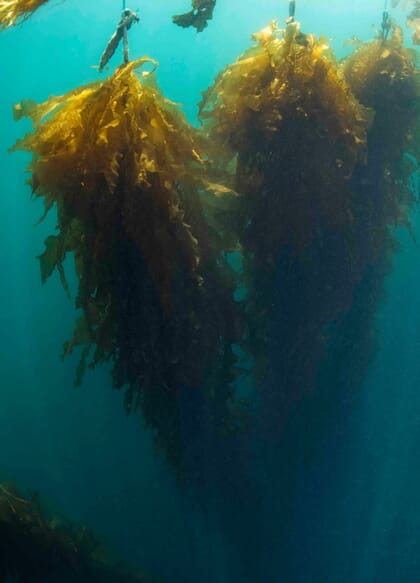 Conducted by Phyconomy, the report's authors note that "while these numbers are small compared to fish and shrimp aquaculture investment, and puny compared to land-based agriculture, the upward trend is distinct".

The number of seed rounds grew from 12 to 20, and the number of Series A or B jumped from 1 to 9, suggesting that the seaweed industry is beginning to break out of its hatchling stage.

The startups that garnered the biggest rounds in 2021 included Norwegian biorefinery Alginor ($33 million) and Australia's Sea Forest ($26 million), tackling livestock methane emissions. Rounding out the top five were New Wave Foods ($18 million - plant-based shrimp), Ocean's Halo ($16 million - seaweed snacks), and Notpla ($13.5 million - bioplastics).


Other report highlights:

While traditional venture capital firms are starting to discover seaweed, impact investors are still overrepresented in the space.
Europe has the most vibrant seaweed startup ecosystem, but North American startups find it easier to attract capital.
The number of new seaweed startups has grown by 50 percent in the past two years.
The midstream of the value chain is still underserved: processing and distribution is a field that is lacking innovators and entrepreneurs.

As a crop that doesn't use land, fresh water or fertiliser but instead takes up CO2 and excess nutrients from the ocean, seaweed is billed as the biomass of the future, with applications in food, feed, pharmaceuticals, textiles, personal care, soil health, construction, packaging, energy, carbon sequestration, and bioremediation.

"Seaweed is an important part of the earth's ecosystem, and it has the potential to be a powerful tool to absorb carbon emissions and slow warming," said Frances Wang, program manager of carbon dioxide removal for ClimateWorks Foundation, which supported the report.
"Phyconomy's report illuminates how resources are flowing to this burgeoning industry, which has important implications for the development of seaweed as a climate solution," Wang added.
For detailed analysis, read Phyconomy's State of the Industry 2022: https://phyconomy.net/state-of-the-industry-2022/