The Scottish seafood delegation heading to Boston includes Loch Fyne Oysters, the Scottish Salmon Company, Dawnfresh and Wester Ross, with additional farming companies walking the show or hosting their own company pavilions.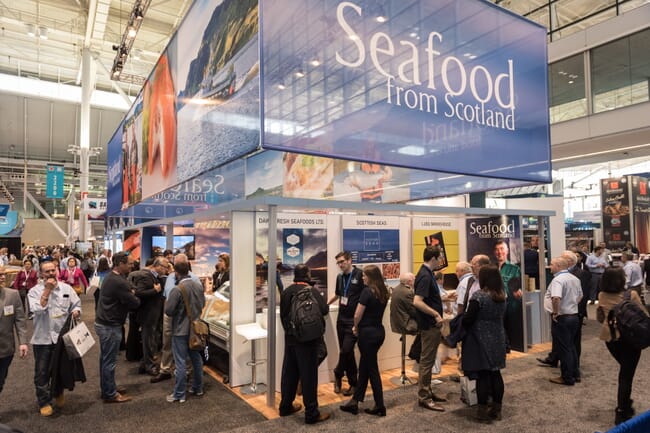 With Brexit on the horizon, North America provides opportunities for seafood businesses to expand within an existing market. Multiple meetings with buyers, retailers, hoteliers and chefs will take place at the three-day show, which is attended by over 22,000 seafood professionals from across North America and the rest of the world.
Seafood Scotland's trade marketing manager, Clare MacDougall, who is responsible for the Scottish delegation and representation at the show, said: "We are always working with the industry to build on existing trade as well as attracting new business from emerging markets. SENA is a huge opportunity for companies to talk directly with those responsible for making purchasing and buying decisions about our world-class seafood."
As part of its in-show activity, Seafood Scotland will host a series of cooking demos with Scottish chef, Mark Greenaway. Mark will take part in the Great Scottish Seafood Cook Off against a local Boston chef. Both chefs will use a variety of species including cod, langoustine, salmon, trout, crab and smoked salmon creating unique dishes representative of their signature style.
Simon Briggs, Sales Director at Loch Fyne, said: "The US market offers huge potential for Scottish smoked salmon and SENA provides the opportunity for us to showcase the new Loch Fyne smoked salmon packaging and the exclusive Mey Selections smoked salmon range. At Loch Fyne our guiding principle is to present the best in authentic Scottish seafood with genuine provenance, single source Scottish salmon always smoked in the Highlands, whilst minimising our environmental impact. These factors are of significant importance in the North American market. As we return to SENA, we aim to further establish both brands and to continue to expand our distribution network in the US."