Figures for 2018, which were published today, showed 87 per cent of farms achieving "excellent" or "good" status.
SEPA's Compliance Assessment Scheme (CAS) is used by the environmental regulator to monitor performance across a range of industries and sectors.
The results have been welcomed by the Scottish Salmon Producers Organisation (SSPO) as "demonstrating the sector's commitment to robust environmental standards."

SEPA assessed the performance of 296 farms in 2018, resulting in a 38 per cent increase in the number of farms achieving an "excellent" rating and a 10 per cent increase in the number of farms achieving a "good" rating compared to 2017.
The number of sites rated "poor" dropped by 32 per cent, to 38 farms.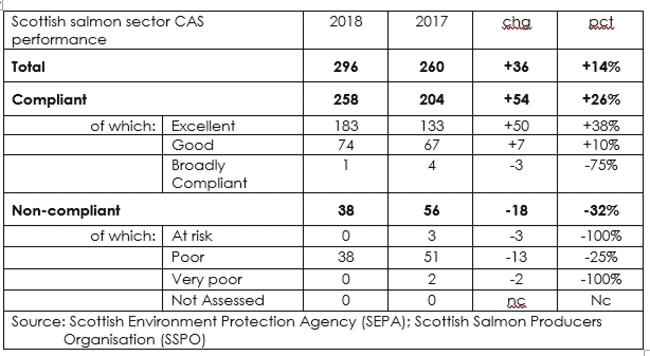 Julie Hesketh-Laird, chief executive of the SSPO, said: "These statistics are very good news for Scottish salmon farming. They represent the significant and ongoing effort and investment to improve environmental performance and I'm delighted that this continued focus on environmental stewardship is delivering positive results.
"As a sector, we fully recognise that a strong environmental performance is key to successful salmon farming and we want to demonstrate publicly our commitment to responsible performance. These results are an excellent endorsement of that effort and success.
"Companies are keen to build on this positive trend."