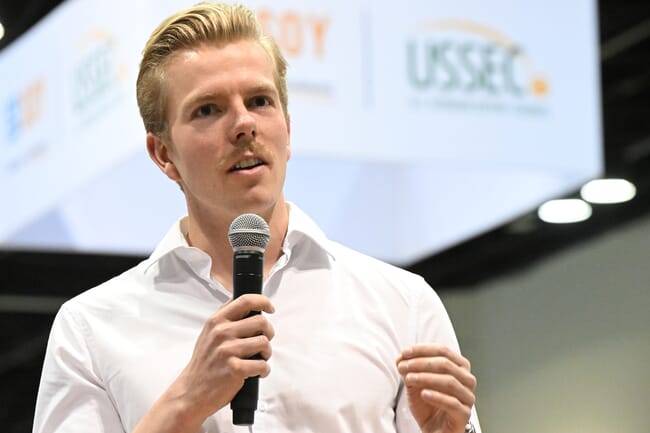 The Soy Innovation Challenge – run by United Soybean Board, in partnership with The Yield Lab Institute – called on entrepreneurs, innovators, startups and research teams to bring new ways to advance soybean meal use and demand in existing markets.
Satavie – a company on a mission to nourish with responsibly sourced, high-quality soy protein concentrate, made with innovative technology – was selected out of nearly 80 applicants from around the world for their approach to extract concentrated soy protein from soybean meal. Their method ensures high levels of digestibility, improved nutrient absorption, and increased feed conversion rates, making it ideal for aquaculture, swine and poultry feed.
"The impact for the soy industry is enormous. Our water extraction patented technique leads to better health outcomes, overall growth and improved meat quality. It ultimately aids in digestion early on in animal diets to nutritionally set them up for success," said Satavie president, Lasse Jakobsen, in a press release. "This innovation expands market opportunities and opens up new sectors for US soybean farmers."
The Soy Innovation Challenge discovers new ways to utilise and add value to US soybeans. This year's contest focused on strengthening soybean meal markets, as the supply of soybean meal continues to increase. This is primarily due to growing demand for soybean oil used as a feedstock for renewable energy.
"In reviewing all the applicants' proposals and hearing from these forward-thinking finalists, it reiterates that soy can be the solution for so many applications," added April Hemmes, Soy Innovation Challenge judge. "These are four totally different ideas all using soybean meal. It's neat to see this sustainable product that US farmers grow bring an added value, which is a great way to invest soy checkoff dollars. Everyone is looking for a sustainable solution these days, and US soy can be the answer."

Each finalist received a cash prize, mentoring and resources to help advance their ideas in the areas of technical, business and financial impact. The other finalists were:
POLARISqb — POLARISqb utilises quantum computing and artificial intelligence to revolutionise drug design. They are developing a feed additive, specifically a peptide, that makes soymeal feed digestible and nutritious for livestock without relying on costly extraction methods. First runner-up awarded $50,000.
SoyKitty — SoyKitty is an innovative pet company that creates premium companion animal products that are safer for people, pets and the planet. Their flagship product will be an eco-friendly, nontoxic cat litter made predominantly from soybean byproducts (spent flakes, carbohydrates, etc.) for eco-conscious cat owners that demand an odour-free household without hurting the planet. Second runner-up awarded $20,000.
Ichthus Unlimited — Ichthus Unlimited aims at resolving bottleneck issues for the aquaculture industry and providing solutions for its sustainability and permanence. A key research and development focus of Ichthus is to develop soy-based (from soy hulls) animal feed binders to replace costly alternatives. Third runner-up awarded $10,000.
The $100,000 awarded to Satavie will be used to scale the company, verify the product in-market (similar to its use in Denmark and Canada) and start to build a customer base in the US. This includes bringing the technology into a facility to start processing US soybean meal, creating the soy protein concentrate directly in the U.S. The prize money for the other finalists will help commercialise their products/technologies to further the use of US soybean meal, additionally driving soy's reputation as a sustainable ingredient.