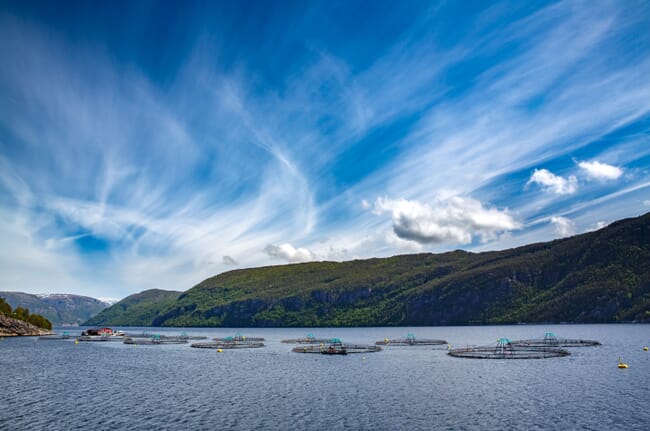 The publication, by Just Economics on behalf of The Changing Markets Foundation, suggests that the cumulative costs to economies, society and the environment since 2013 is almost US$50 billion. It argues that more than half of these costs are falling to producers ($28 billion), with the rest being passed on to society ($19 billion) in the top four salmon-producing countries.
One of the companies cited in the report is Mowi, the world's largest salmon producer and largest seafood firm, pointed out that the some of the criticism was unfounded.
In response to the report, Ola Helge Hjetland, Mowi's group communications director, noted that the company regularly tops the tables for sustainable animal protein production.
"We are pleased that the Changing Markets report finds that, when considering the full range of benefits and impacts, the business of salmon farming demonstrates overall positive benefit. This conclusion echoes other third-party reports, such as the Coller FAIRR Protein Producer Index (the world's only comprehensive assessment of the largest animal protein producers on critical environmental, social and governance (ESG) issues), which ranks Mowi as the world's most sustainable animal protein producer," he stated.
"We agree with Changing Markets that there are opportunities for continued improvements for our business. Our commitment to continual sustainability improvements is not just words, it is detailed and actioned through our Blue Revolution Plan," he added.
However, he disputed the report's claims that the company had an irresponsible attitude to sourcing feed ingredients such as fishmeal and fish oil.
"This said, we do not agree with Changing Markets' core agenda of shifting consumption of sustainably-caught fishmeal, which includes small pelagic fish such as sardine and anchovy. The inclusion of small amounts of fish meal and oil in our salmon's diet is certified sustainable by third parties and integral to a salmon's health and welfare. The consumption of pelagic fish by humans and fish is the most responsible use of a global commodity, and shifting this market to less efficient uses does nothing to improve sustainability," he noted.
The Dead Loss report analyses the impacts of the industry in Norway, Scotland, Canada and Chile, which account for 96 percent of farmed salmon across the world and lists, scoai, economic and environmental costs of salmon farming.
Natasha Hurley, campaigns manager at Changing Markets Foundation, commented: "Salmon farming is a prime example of a broken food system: every year, it hoovers up millions of tonnes of wild-caught fish for feed, mortality rates on farms are soaring, and pollution is harming pristine ecosystems and wild salmon. This analysis shows that disregard for good fish husbandry is not just bad for the environment and fish welfare, it's also a business risk: companies are squandering money and resources and if they carry on like this, the industry won't be able to sustain itself in the long-term. Sooner or later it will hit environmental limits and a refusal by tax-payers to keep footing the bill for pollution and other losses."

The report claims that fish mortalities account for the highest proportion of the costs - $15.5 billion. It estimates the environmental cost at $14.5 billion, "through the pollution of seas and freshwater lakes, damage to wild salmon stocks and biodiversity, and the generation of CO2 emissions", while the use of forage fish "incurs an indirect ecosystem loss equating to $1.8 billion since 2013".
"Unsustainable fishing practices and the diversion of fish from vulnerable communities in West Africa, which has become a key supplier of fishmeal and fish oil (FMFO) to the global market, is putting livelihoods at risk, driving poverty and forced migration," it adds.
Recommendations
The report provides its recommendations for governments, investors and companies to bring accountability to the salmon farming industry:
It states:
Governments: must require improvements in social, economic and environmental accounting and ensure more robust regulation of salmon farming by restricting licences and subsidies to companies that meet higher standards.
Companies: should diversify species cultivated via aquaculture, prioritising non-carnivorous species, and improving fish husbandry. The industry must also invest in technologies to address the risks and drive a rapid transition towards alternative feeds and farming practices.
Investors: need to take a long-term view, which may involve accepting lower returns in the short term but will create competitive advantage in the long run.