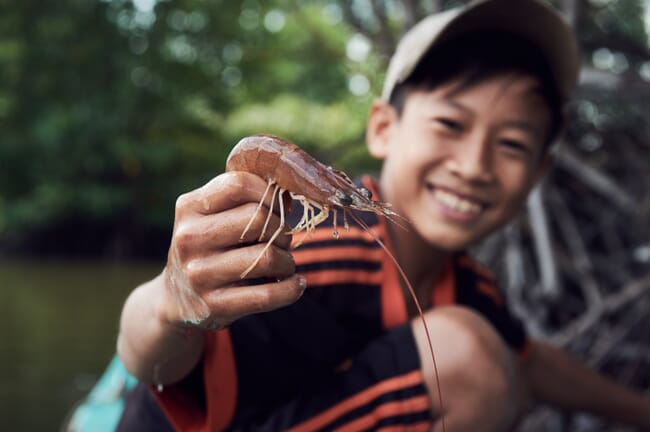 The shrimp aquaculture sector has long – and not always unfairly – been associated with the destruction of mangroves in many tropical regions. However, Switzerland-based consultants and seafood traders Blueyou are backing a project which, they claim, can combine shrimp aquaculture with mangrove restoration – improving farmers' livelihoods while rejuvenating the ecosystem services that mangroves provide.
The company has designed and implemented a range of small-scale fisheries- and aquaculture-related projects with economic and ecological sustainability as their core priorities, explains Walker and Selva Shrimp is one of the best known.
Originating in Southern Vietnam the project aims to promote silvofishery – a combination of forestry and aquaculture – with a focus on mangrove restoration and the extensive production of black tiger prawns (Penaeus monodon). While it's a system that Selva Shrimp has been instrumental in promoting and certifying, its roots, Walker is keen to emphasise, stretch right back to the 1980s.
"We established the Selva Shrimp project seven or eight years ago, but silvofishery has been practised in the area for a long time," reflects the project's technical manager.
"As much as 80 percent of the area's mangroves were destroyed during the Vietnam war, when they were hit by the widespread use of Agent Orange. The Vietnamese government has been trying to reforest these areas, in combination with aquaculture, since the 1980s, we didn't invent the silvofishery concept," he adds.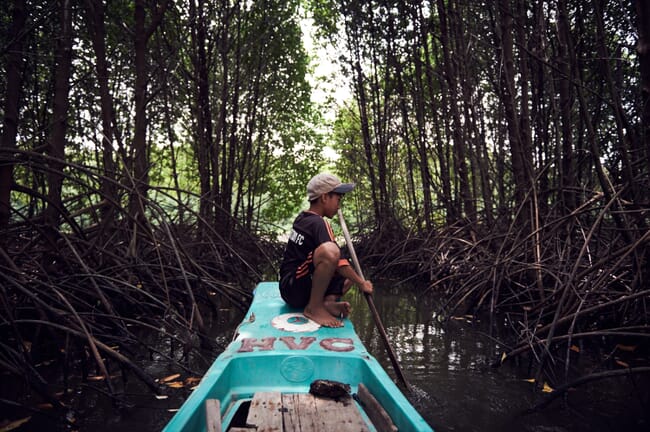 However, Blueyou has gone beyond the Vietnamese government initiative.
"They were using the same methods, but production was less managed. We set up a traceability system, and our own QA [quality assurance] system that is independently audited by a third party and improves access to a wider range of markets, while concurrently rewarding the small-scale producers for their low-impact farming," says Walker.
It seems to have worked, as Walker explains, because hundreds of tonnes of shrimp under the Selva Shrimp brand, are now exported to countries including the US, Canada and Japan each year.
How it works
The model involves the cultivation of the shrimp in ponds of roughly 3-8 hectares which are partially covered in mangroves and are naturally topped-up every two weeks after the harvesting process. The ponds are stocked with tiger prawn post-larvae sourced from a local hatchery. Stocked at low densities, the young prawns grow to market size without the need for feeding, as the mangroves themselves help to provide natural food, including algae and invertebrates. Every two weeks (at the time of the full and new moons) much of the water is released at low tide, allowing a proportion of the shrimp to be harvested. The first harvest takes place three months after the PLs are stocked into the pond.
The appeal of the system
Blueyou was drawn to the area in 2012 by the prospect of promoting zero input aquaculture, as Walker explains.
"We stepped in and developed our own standards for these production systems. To achieve certification the farmers must have at least 40 percent of their ponds covered in mangroves, although this is usually closer to 50-60 percent. They are not allowed to use supplementary feed, or medicine, or fertilisers. The maximum stocking density is 22 PL/m2 , but most farmers stock at even lower levels – with no feed and no aeration, it depends on the natural carrying capacity of the ponds," he says.
"The original concept was to promote the idea that aquaculture can be a good and sustainable thing. Shrimp aquaculture has a reputation for ruining mangroves, but Selva Shrimp provides a counter-example and creates an exemplar."
There are currently 3,350 farmers operating under the Selva Shrimp standard, in an area covering 17,000 hectares of Vietnam, and these produce on average 250 kg of shrimp per hectare per year.
"These farmers produce around 4,250 tonnes of shrimp a year between them, but we don't have exclusivity over where they sell their shrimp, we probably only sell around a quarter of that tonnage," Walker observes.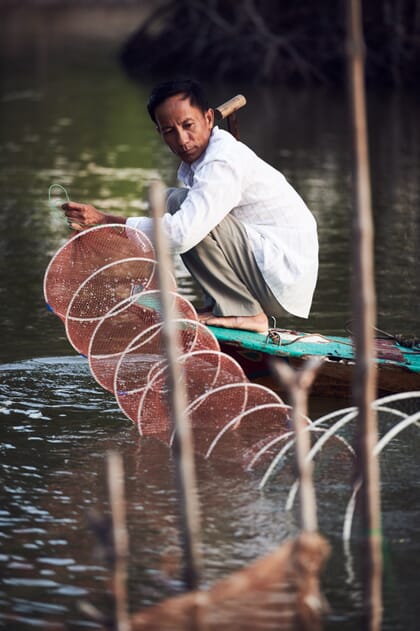 International expansion
The project is gaining momentum in Vietnam, where an additional 3,000 hectares have recently been added. Meanwhile Blueyou is also looking to develop the programme in Kalimantan, in the Indonesian part of Borneo.
"It's been grant-funded by the IUCN for three years, but we're planning to translocate the Vietnamese Selva Shrimp model to Indonesia," says Walker.
It will, however, require a fair amount of work to help the Indonesian farmers to adapt.
"In this part of Indonesia the farmers operate using the Tambak system. The ponds are much bigger than in Vietnam, usually between 20 and 100 hectares, and there are no mangroves and low yields. They currently don't invest much time in pond management and many of the ponds have silted up over time, meaning that water temperatures can swing wildly in the shallow areas and oxygen levels can be dangerously low. This can be further exacerbated by the use of fertiliser, which is especially common in polycultures with milkfish, as these primarily feed on algae. When this algae decomposes, oxygen levels are further reduced, in particular towards dawn, after a period when there's been no photosynthesis," Walker explains.
In order to counter these negatives Blueyou intends to encourage shrimp farmers to plant mangroves inside and around the ponds, to provide additional feed and shelter for the shrimp. The addition of the mangroves does, however, also change the way the ponds need to be managed.
For example, farmers adopting this system will need to increase the rate of water exchange, due to the additional organic matter introduced to the system by leave litter from the mangroves.
"We think that if they follow the system and restore mangroves in and around their ponds they can double their shrimp yields. The mangroves improve the availability of natural food - via the the periphyton, which is this slimy layer you find growing on more or less every submerged surface and is a complex community of algae, bacteria and microbes. Increasing the area for periphyton to grow on can increase feed availability for shrimp and milkfish. The roots also provide shrimp with a place to shelter from the predatory fish, such as threadfin and barramundi, which enter the ponds as juveniles but grow to a size where they can prey on the shrimp," says Walker.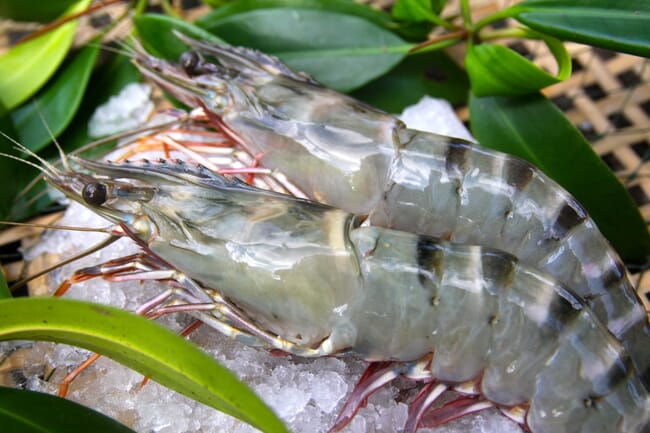 Looking ahead, Blueyou see the project as having a number of key goals.
"It is important to help to spread the message that shrimp aquaculture is not bad, per se, and can be a valuable and ecologically sustainable contributor to future protein production. Especially when compared to, for example, raising cattle," Walker explains.
"Right now we're actually calculating the carbon footprint of 35 seafoods and comparing them with land-based proteins such as beef, lamb milk and tofu. Due to the lack of feed required, we expect Selva Shrimp to rank highly in this table, with very low emissions per kg of final product. All results will be available in Q2 of 2021," he adds.
"I think it has a very important role to play and Selva Shrimp shows how a decent output of high quality animal protein can be generated from a farming system that requires almost no inputs, not even electricity, other than PL produced by local hatcheries and the work required to maintain the ponds and harvest the shrimp. At the same time it's increasing the ecological value of the ecosystem," he concludes.