For the fourth year, the BC Salmon Farmers Association will update the public about operations and sea lice counts on a site-by-site basis in the Okisollo/Hoskyn channel area –found in the Discovery Islands region discussed in recommendations made by Justice Cohen in his final report last autumn.
"The amount and quality of information that our members produce was identified as helpful and important to the commission. With our ongoing goal of transparency, we are eager to continue sharing with the public," said Mary Ellen Walling, Executive Director of the BCSFA.
This will be the fourth year that the BC Salmon Farmers Association updated the public about sea lice numbers on farm sites in the area throughout the wild salmon outmigration period. These reports will continue through July.
Okisollo Channel is located just north of Campbell River and is home to five farms: two of Marine Harvest Canada's, two of Mainstream Canada's and one operated by Grieg Seafood. Hoskyn Channel, on the east side of Quadra Island has four Marine Harvest Canada sites. All three companies have agreed to an area management plan for the channel.
Currently there is only one farm in the area under operation: Cyrus Rocks. A sea lice count was also reported for March on Marine Harvest Canada's Okisollo farm site, though the farm is now fallow following a regular harvest.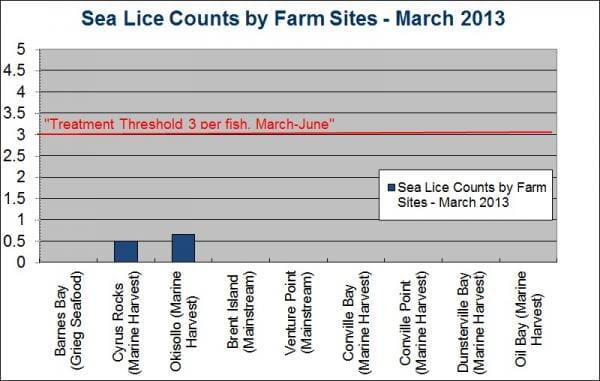 These farms are well managed and highly regulated to ensure that wild stocks migrating past these sites are protected, no matter how many of the farms are operating. Sea lice numbers are monitored regularly and show levels below the threshold levels for treatment as required by regulation (see table above).