A pioneering project in Cornwall that could eventually lead to cultured lobsters appearing on UK the seafood market for the first time is showing promising results. The three-year Lobster Grower 2 (LG2) project is led by the National Lobster Hatchery (NLH), a stock-enhancement charity whose primary goal is to supplement wild lobster stocks in south-west England. The collaborative venture is a critical step in assessing the potential of a passive and ecologically enriched method of on-growing lobsters – which is semi-intensive yet produces relatively low carbon emissions. And it could make strides towards developing a new, and impressively sustainable, aquaculture sector in the UK.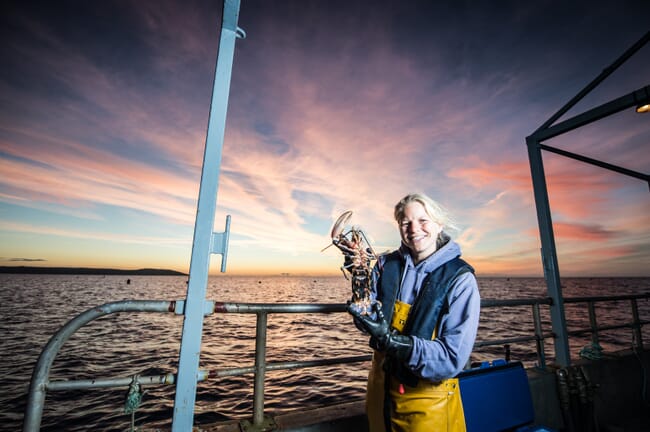 "While the charity's main goal remains unchanged," explains Dr Carly Daniels, principal investigator for the project, "the knowledge and expertise gained through developing on-growing techniques for stock enhancement could help to develop a whole new industry that potential investors and farmers could take forward."
Dr Daniels has been involved with the NLH since 2004, and since then she has seen a number of project phases – principally aimed at enhancing wild lobster stocks – run their course. However, her current project, LG2, includes an investigation that could prove significant not only for the UK's aquaculture industry but also for seafood consumers in general, as it might lead to the creation of a novel shellfish product. It might also have the potential to improve the hatcheries' stock-enhancement outputs through on-growing. The project will assess whether it is possible to grow one of the most valuable (by weight) species of seafood in the UK, utilising techniques similar to those that produce the lowest-value species (mussels), in passive, environmentally friendly rearing systems.
Set up primarily to support the local lobster-fishing industry, the NLH concentrates on hatching eggs from gravid females caught by local fishermen, keeping them within the safety of the hatchery during their vulnerable larval phase, before releasing them – as comparatively robust juveniles – back into the seas around Cornwall and the Isles of Scilly. However, the researchers have since been experimenting with on-growing these juveniles for longer – and to larger sizes – in a number of different sea-based systems. They hope that this ecological conditioning will not only help to improve the survival of those lobsters that they release back into the wild, but it might also help develop the technology to create a new product for UK shellfish enthusiasts.
"We began on-growing lobsters – to about three months old – on a small scale about six years ago, following some promising research conducted by Dr Brian Beal in the US and other researchers in Spain and Ireland," explains Dr Daniels. "The lobsters in the UK, Homarus gammarus, are both a different species and considerably less abundant than those being researched by Dr Beal, so we've faced different challenges. For instance, unlike the American lobsters, no one really knows what juvenile European lobsters eat in the wild. We know they live in burrows for up to two years as juveniles, but scientific trials to find these in the wild have had limited success, and thus most of the information we have comes from the American clawed lobster."
Despite the researchers facing a number of important unknowns – such as the preferred diets of juvenile lobsters – it seems that, given the right sort of container and the right location, the lobsters can largely look after themselves.
"It's important to have a system with sufficient surface area and plenty of through-flow, as this will give them room to feed and for potential feed items to settle and pass through the containers," says Dr Daniels. "The flow rate and water quality are both very important but, in the right conditions, there's a diverse array of organisms – from worms to crabs to shrimp to algae – that settle on the containers and can act as feed."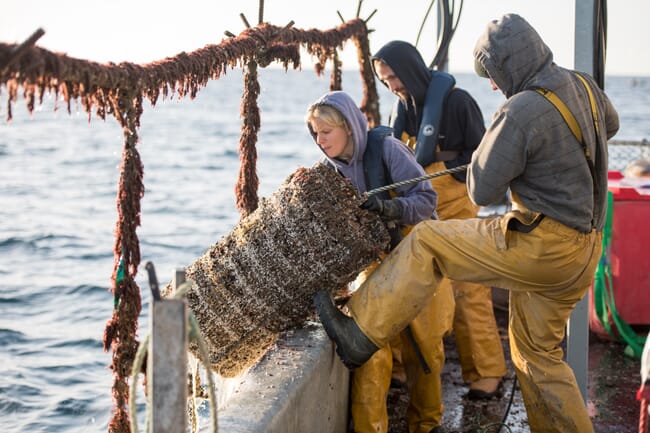 The fact that the juveniles can be on-grown without any supplementary feed is – from both an economic and ecological point of view – one of the most exciting elements of the project.
"We all know that the need for large volumes of supplementary feed, especially feed containing high fish content, is one of the most contentious aspects of some aquaculture sectors," Dr Daniels observes. "So it's great, from a sustainability perspective, that the system doesn't require any external feed inputs and it also cuts down on costs – typically feed is one of the highest cost in fed aquaculture."
As the trials have progressed, so too have the designs of the lobster-rearing systems, and the first cohort of over 15,000 lobsters was stocked into novel containers last year.
"We started out using oyster spat trays," Dr Daniels continues, "but this work highlighted the need for a system specifically designed for lobsters and their needs, as such we've since developed specific designs suitable for on-growing lobsters, following hydrodynamic testing of several different designs in the lab in our previous project, Lobster Grower 1. We're now using the second generation of these tailor-made systems and the lobsters seem to be thriving, feeding themselves on a variety of plant and animal species that drift through, or settle on, their rearing system."
To help with the practical side of things, the NLH has teamed up with the local bivalve producer Westcountry Mussels of Fowey (WMoF), whose role in the project is to install and maintain the lobster-rearing systems in an area adjoining the company's mussel site in St Austell Bay.
"Our previous small-scale on-growing studies involved trialling the oyster spat baskets in six different sites around the coast of Cornwall," says Dr Daniels, "and we found that those lobsters situated in more estuarine areas, with comparatively heavy siltation levels, fared less well compared to near-shore sites, like St Austell Bay, where growth and survival rates were better."
Integrated aquaculture
As well as being able to offer a very attractive site for the trials, the partnership with a commercial aquaculture operator has, according to Dr Daniels, also shown the huge potential of farming lobsters alongside other species.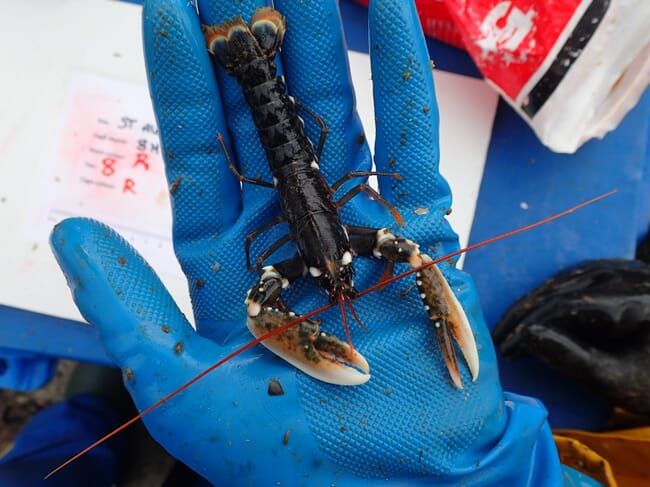 "It's great to be able to work with WMoF – not only have they helped with the installation and maintenance of the systems but the partnership is also showing how lobster on-growing can be integrated with other existing aquaculture activities," says Dr Daniels. "This is perhaps one of the parts of the project that excites me the most – it both helps to reduce the costs of establishing a lobster-growing operation and shows the possibility of integrating the culture of numerous species."
Such integrated systems have long been associated with sustainable farming practices, and the current trial is also helping to illustrate the potential ecological value of a structure such as a mussel/lobster farm to a site such as St Austell Bay.
"The farm could act like an artificial reef, supporting a very diverse community – from sedentary species such as scallops and seaweed to motile species of fish and crabs which can use it as a sanctuary," says Dr Daniels. "And we're currently conducting an environmental assessment on both the benthic habitat and the motile species around the site."
As well as the possible ecological benefits, the system offers considerable economic potential for producers – with advantages including the opportunity to diversify their product ranges, the low-maintenance nature of the crustaceans, the lack of feeding required and the relatively small area that the lobster-growing systems take up.
"If the lobsters were not being reared for a scientific trial, it is possible that – in the right location – the lobsters would only need to be checked and graded once a year," Dr Daniels explains. "And the whole Lobster Grower 2 project, which will rear 45,000 lobsters over the next three years, only needs six 200-metre mussel longlines."
Testing the market
If the on-growing trials continue to run smoothly, perhaps the biggest question that remains is whether a market for three-year-old lobsters – which are not much larger than langoustine – can be developed. It's a question that has interested some of the UK's major retailers, and Dr Daniels reflects that there has been no shortage of volunteers for taste testing the potential product when the first batch becomes available.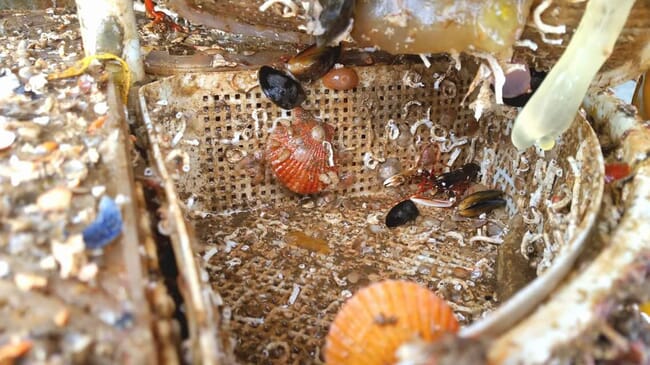 "We have a number of industry parties who have expressed their interest in the project through joining our industrial steering committee, including wholesalers, processors, retailers, restaurateurs, fishermen, managing bodies, aquaculture specialists, trade bodies and NGOs," she explains. "We're exploring many different avenues as we try to understand factors such as where best to sell the lobsters and what the optimum size would be."
Whatever the outcome, it seems unlikely that they will be on-grown to a traditional market size, at least not in the near future.
"Lobsters take five to seven years to grow to the size landed by UK fishermen [the EU minimum landing size is a 87mm carapace], a much longer growth period than most shellfish species reared for aquaculture," says Dr Daniels. "This puts off potential investors – not only due to the delay in achieving a financial return, but also as they run the risk of something happening to the lobster stocks in that time."
The researchers point to data suggesting that there is a global market for 50,000 tonnes of frozen and 70,000 tonnes of live lobster a year – figures that dwarf Europe's annual lobster landings of 5,000 tonnes a year.
This pioneering technique for on-growing lobsters at sea suggests considerable potential of releasing large juveniles to enhance capture fisheries. It could also herald the arrival of the truly sustainable culture of this prized seafood species.
Collaboration
LG2 is part-funded by Innovate UK and BBSRC through the Agi-Tech Catalyst programme, with additional finance provided to the lead partner from the Worshipful Company of Fishmongers. The project combines expertise from industry, government agencies, engineers and the research sector to address a series of technical challenges and information deficits associated with developing culture techniques for a novel candidate aquaculture species. Project partners include the University of Exeter (UoE), Westcountry Mussels of Fowey (WMoF), the Centre for Environment, Fisheries and Aquaculture Science (CEFAS) and Falmouth University (FAL).
This article was originally published in the Aqua Nor issue of Sustainable Aquaculture Magazine.