POMS is caused by a variant of a herpes-like virus that has devasted oyster culture in France, Australia and New Zealand and is considered an existential threat to US domestic production. Two years after its initial discovery on the US west coast, the virus was detected at a "sentinel" facility in San Diego Bay in mid-July. Depending on the particular origin of the affected oysters, mortality levels ranged from 37 percent to 97 percent, with an average of 77 percent. So far, the virus has not affected commercial production in the US.
"The reappearance of the virus in US waters reinforces the importance of our strategy to produce resistant stocks within our overall breeding programme, including in collaboration with other world-class scientists. A recent award from NOAA's Small Business Innovation Research (SBIR) programme is funding our collaboration with Dr Colleen Burge, the preeminent shellfish pathologist focused on POMS in the US. The project is aimed at discovering the fundamental genomic basis of resistance naturally displayed by some oysters. These insights will allow the development of biomarkers that can be used to find resistant oysters in natural populations, providing a genetically diverse base population for breeding programmes focused on POMS resistance as well as overall yield and resilience," explains Dennis Hedgecock, chief science officer at Pacific Hybreed.
Pacific Hybreed is also starting to work on understanding the genetic and environmental drivers that are causing increasing summer mortality among Pacific oysters, especially triploids. With environmental stressors likely a significant driver, mortalities of Pacific oysters are on the rise, posing a threat to production. Pacific oysters had (as of 2013) a retail value of nearly $300 million on the US west coast alone, yet producers in Willapa Bay, Washington, reported 20-80 percent loss of near market-ready oysters over several growing areas, from the summers of 2018 and 2019, and many west coast shellfish farms have reported similar losses in 2020.
"Mass mortalities among triploid Pacific oysters, which are more valuable commercially and carry minimal genetic risk to wild stocks, have been especially concerning for many farmers. Many growers are seriously questioning whether triploid production is viable given increasing mortality, particularly since there is no real understanding of its causes and no credible path forward toward an adaptive response," Hedgecock reflects.
"These developments substantiate our premise that a triploid Pacific oyster with better yield and resilience, resulting from our breeding programme, would be highly valued in the industry. We helped define and, if funded, will collaborate on a project described in a recent preproposal for funding from a NOAA research programme to investigate both environmental and genetic factors associated with triploid mortality, with specifics closely aligned with the overall plan and strategy for our breeding programme. Notably, our partners on the project, if funded, will include Taylor Shellfish, the Pacific Shellfish Institute (the industry's research arm) and Dr. Ralph Elston, the pathologist who is most closely familiar with the health of shellfish on the west coast," adds Hedgecock.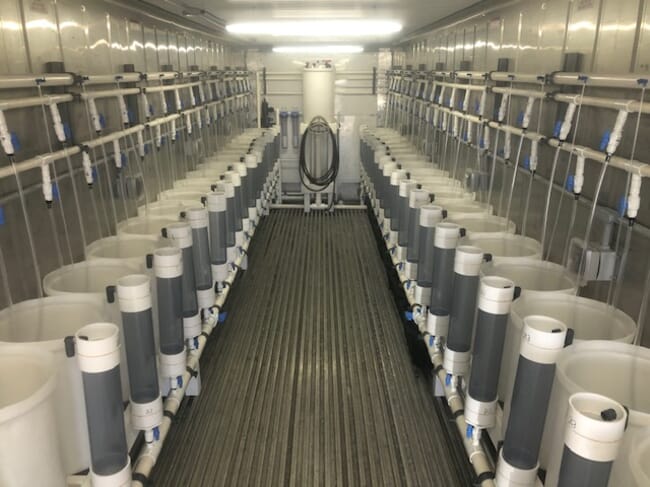 Other recent developments include the opening of the company's hatchery in Hawaii, where the company is currently planning on adding Kumamoto oysters and rock scallops to its breeding programme – complementing existing work on Pacific oysters, Manila clams and geoducks.
"In our earliest thinking, we recognised that establishing a hatchery in Hawaii would be a critical step for the launch of our breeding programme, with the benefit of faster growth rates and higher levels of biosecurity than in our first hatchery at the NOAA Research Station in Manchester, Washington. Our facility at the Natural Energy Laboratory of Hawaii Authority (NELHA) is now fully operational. Dave Mowry and Jeremy Esposito, our hatchery managers, and the rest of our team have heroically overcome a variety of delays and challenges – utility installations in volcanic rock, disruptions in component sourcing and a variety of Covid-19 impacts – to transform three shipping containers into a production hatchery for marketable seed, a specialised facility for our breeding program and an algae production facility to supply food for all of our animals," explains Hedgecock.