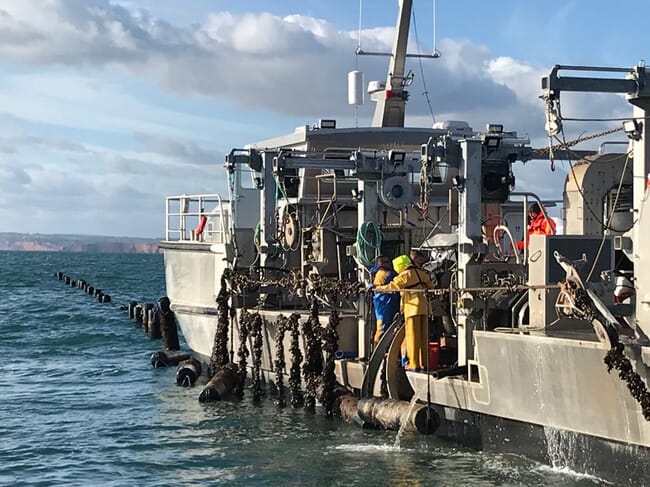 The winners were announced at entertaining awards ceremony, which is now available to watch online.
Amy Novogratz, co-founder and head of aquaculture-focused investment fund Aqua-Spark, receiving the 'Outstanding contribution to the industry' award; and Scottish Sea Farms' Noelia Rodriguez and Offshore Shellfish's George Holmyard being awarded Finfish farmer of the year and Shellfish farmer of the year respectively.
French biotechnology company InnovaFeed, known for its pioneering work producing sustainable feed for aquaculture based on insect proteins, triumphed in two categories – winning both the Environmental Impact Award and this year's People's Choice Award (the latter was decided by popular vote).
Other award recipients included Benchmark Genetics/StofnFiskur, The Scottish Salmon Company, Scottish Sea Farms, Scottish Shellfish Marketing Group, and The Global Salmon Initiative, plus individuals from RSPCA Assured, Imoran Farms, and Karatina University.
"Standing out from the crowd is no mean feat in such an innovative and dedicated industry, but our 2020 winners do just that," says Cheri Arvonio, event director at Diversified Communications UK.
"Big thanks must go to our judges and sponsors for their continued support. And congratulations again to each of our fantastic winners – you really are the very best in the business. We would have loved to have celebrated with you all in person but unfortunately it just wasn't possible this year. We're already looking ahead to May 2021, when we can get together again at our industry show Aquaculture UK."
This year's judging panel was made up of Alex Adrian, aquaculture operations manager of Crown Estate Scotland; Martin Gill, head of aquaculture and fisheries at Lloyds Register; Nicki Holmyard, director of Offshore Shellfish; Professor Dave Little, head of research at University of Stirling's Institute of Aquaculture; Ingrid Olesen, senior scientist at Nofima; and The Fish Site's Rob Fletcher.
The winners in full
Finfish farmer of the year
Noelia Rodriguez, hatchery manager for Scottish Sea Farms (UK)
Shellfish farmer of the year
George Holmyard, manager of Offshore Shellfish (UK)
Outstanding contribution to the industry
Amy Novogratz, co-founder and head of Aqua-Spark (Netherlands)
Environmental impact
InnovaFeed – insect protein producer (France)
Aquaculture supplier of the year
Benchmark Genetics/StofnFiskur (Iceland)
Community initiative
The Scottish Salmon Company – Outer Hebrides Local Energy Hub (OHLEH Project) (UK)
Economic sustainability
Scottish Sea Farms – Eday Employee Housing in Scotland (UK)
Animal welfare
John Avizienius and Malcolm Johnstone, RSPCA Assured (UK)
Innovation
Scottish Shellfish Marketing Group – novel packaging solution (UK)
Rising star
Funke Olatunde, Imoran Farms (Nigeria)
Unsung hero
Professor Charles Ngugi, Karatina University (Kenya)
Collaboration
The Global Salmon Initiative (GSI)
Best Aquaculture Company
Offshore Shellfish (UK)
People's Choice Award
InnovaFeed – insect protein producer (France)